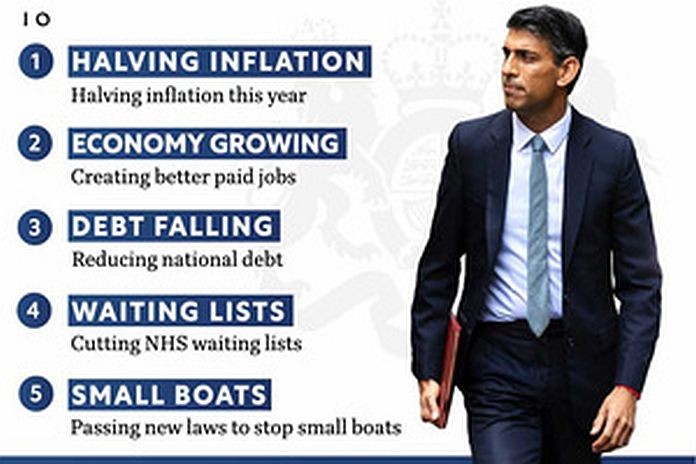 By Caribbean News Global

LONDON, England – Prime Minister Rishi Sunak outlined his top five priorities in a speech  on 4 January 2023.
"As your prime minister, you need to know what my focus will be, so you can hold me to account directly for whether it is delivered," he stated.
"So I'd like to tell you my five immediate priorities. These are the five foundations I know can build a better, more secure, more prosperous future that this country deserves."
We will halve inflation this year to ease the cost of living and give people financial security.
We will grow the economy, creating better-paid jobs and opportunity right across the country.
We will make sure our national debt is falling so that we can secure the future of public services.
By March, NHS waiting lists will fall and people will get the care they need more quickly.
We will pass new laws to stop small boats, making sure that if you come to this country illegally, you are detained and swiftly removed.
"These are five pledges to deliver peace of mind, so that you know things are getting better, that they are actually changing," and " that you have a government working in your interests, focused on your priorities, putting your needs first."
Prime Minister Sunak added: "I fully expect you to hold my government and I to account on delivering those goals."
Read the Prime Minister's full speech here