By Government Press Office | BELIZE
BELMOPAN, Belize – In response to the COVID-19 pandemic, the United Nations Development Programme (UNDP) in partnership with the ministry of health & wellness and the National AIDS Commission, under the framework of the Global Fund project titled "Building Resilience Through Innovation and National Accountability for the HIV and TB Response in Belize" delivered two Cepheid Gene Xpert Machines and 631 Covid-19 testing kits to support the ministry of health & wellness.
During a small ceremony held in Belmopan, the Gene Xpert machines and the Covid-19 testing kits were officially handed over to the minister of health & wellness, Kevin Bernard by Diane Wade, officer in charge for UNDP country office in Belize.
Wade assured the ministry of UNDP's continued commitment to health sector strengthening and national pandemic response. The contribution was secured with finances from The Global Fund to fight aids, tuberculosis and malaria.
"UNDP extends a special thanks to The Global Fund who has provided an additional USD526,486 in funding for Covid-19 support in Belize. This intervention strengthens the ministry of health & wellness expanded capacities for testing resulting in greater efficiency in test administration."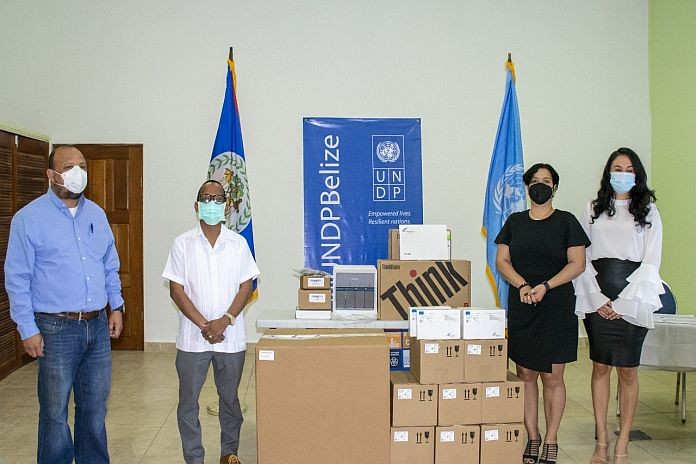 Minister Bernard expressed appreciation on behalf of the ministry of health & wellness for the donation and partnership.
"As we continue to work amidst a fourth wave of the Covid-19 pandemic and its variants into Belize and a growing concern over the most recent and highly infective Omicron variant our teams remain highly vigilant at this non-ending epidemic. The most important task of enhanced surveillance, early testing and diagnosis are crucial elements of the national response."
The donation by UNDP completes a total of five Gene Xpert machines of which three are already in use at the Central Medical Laboratory, Western Regional Hospital and the Southern Regional Hospital.
The two new machines will be utilized at the Corozal Community Hospital and the Punta Gorda Hospital. The donation has a value of US$138,181.00.