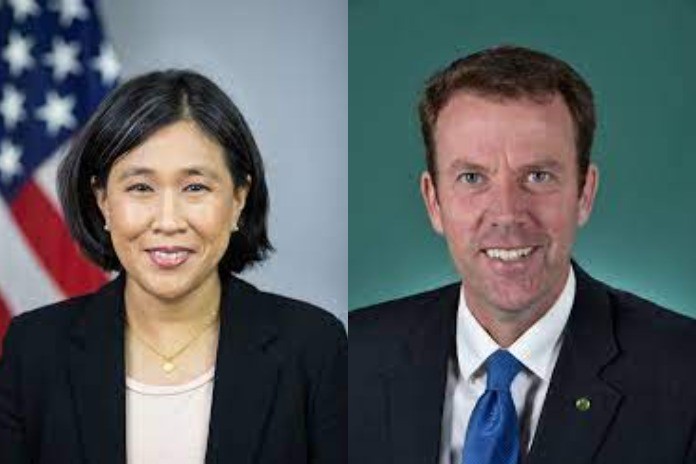 WASHINGTON, USA – United States trade representative Katherine Tai and Australian minister for trade, tourism and investment, Dan Tehan released a joint statement after meeting in Washington to discuss a wide range of global trade issues.
Ambassador Tai and minister Tehan expressed their shared commitment to building a free, fair, open, interconnected, resilient, secure, and prosperous Indo-Pacific. They noted Australia and the United States share an enduring bond as market economies, democracies, and allies. They discussed their shared concerns over the use of coercive trade actions and non-market-oriented policies and practices and affirmed their commitment to effectively deter and address these harmful policies and practices, which threaten the livelihoods of our citizens, harm our workers and businesses, and undermine the rules-based multilateral trading system.
They committed to working together to seek support from other interested partners to tackle these practices head-on – opposed to the use of trade-related economic coercion to pressure or influence the legitimate decision-making of sovereign governments. They also expressed serious concern over the use of non-market policies and practices, including industrial policies and practices that promote excess capacity; pervasive subsidization; discriminatory and anti-competitive activities of state-owned or – controlled enterprises; the arbitrary or unjustifiable application of regulations; forced technology transfer; state-sponsored theft of trade secrets; government interference with or direction of commercial decision-making; and insufficient regulatory and market transparency.
Ambassador Tai and minister Tehan reiterated the shared commitment of Australia and the United States to maintaining an open, rules-based multilateral trading system and, working together with like-minded countries and other interested partners, to identify, prevent, deter, and address trade-related economic coercion and non-market policies and practices, including through the World Trade Organization (WTO); and discussed cooperation in WTO committees and in disputes to challenge these policies and practices, as well as the sharing of information, data, and analysis and the development of new tools.
Ambassador Tai and minister Tehan committed to working together in the WTO to continue to address geostrategic and economic challenges currently facing the international community. In particular, they discussed the ongoing need to maintain a strong stance against Russia's invasion of Ukraine; also exchanged views on negotiation and reform priorities in the WTO, including in the context of the upcoming 12th WTO Ministerial Conference in June. They reiterated their commitment to collaborate on WTO reform so that the WTO can be an organization that empowers workers, protects the environment and promotes equitable development.
Ambassador Tai and minister Tehan also agreed on the importance of working closely together to deliver a high ambition Indo-Pacific Economic Framework that strengthens economic cooperation and reflects the shared realities of our new economy.