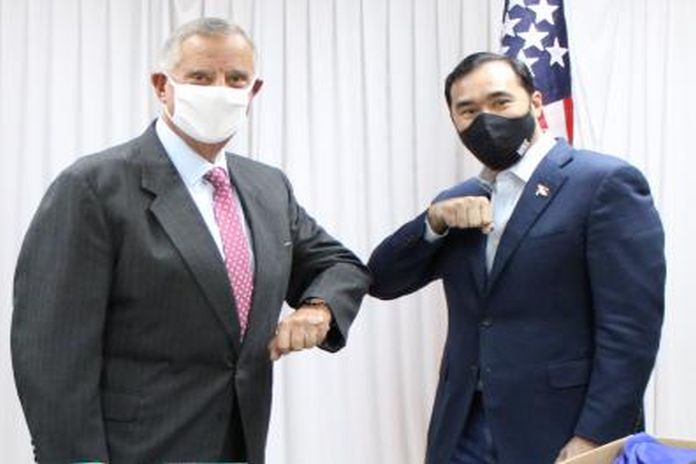 By Caribbean News Global contributor
PORT OF SPAIN, Trinidad – Following an offer by the Embassy of the United States of America in Trinidad and Tobago to provide this country with an increase in International Narcotics Control and Law Enforcement funding, Cabinet agreed to the offer of US$700,000.00.
This increase in funding is indicative of the continued working relationship in the fight against criminality between the government of Trinidad and Tobago, via the ministry of national security and the United States government.
This particular initiative is a continuation of the established framework governing the implementation of security assistance programmes under the Caribbean Basin Security Initiative (CBSI) – a partnership between the United States of America, Member States of CARICOM and the Dominican Republic to advance citizen security in the region.
Through the CBSI, the United States of America and other CBSI Member States have agreed to undertake cooperative efforts to reduce illicit trafficking, advance public safety, and security, and further promote social justice. Assistance is provided in the following areas: Strengthening Counter-narcotic Control Capabilities; Money Laundering/Financial Crimes; Drug Demand Reduction; Rule of Law and Anti-Corruption; Law Enforcement Professionalization and Support Programme.
The United States has donated two full-body security scanners to the government of Trinidad and Tobago to strengthen security efforts at the Piarco International Airport.
The minister of national security Stuart R. Young took the opportunity on July 15, 2020, to express his gratitude to the Embassy of the United States of America for their continued support in national security initiatives and reiterates his commitment to working together to ensure the safety and security of Trinidad and Tobago and the wider region.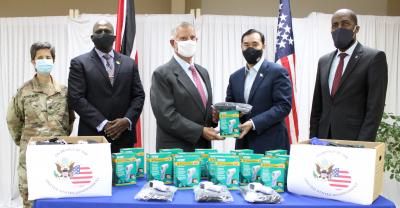 Minister Young also accepted 10,000 cloth face masks and 40 non-contact hand-held thermometer scanners from ambassador of the United States of America to Trinidad and Tobago His Excellency Joseph N. Mondello.
Minister Young expressed his gratitude to His Excellency Mondello for the provision of the equipment, stating that the items will assist with the government's efforts to mitigate the spread of COVID-19 in Trinidad and Tobago.
The Office of Disaster Preparedness and Management (ODPM) will oversee the distribution of these protective items to the various divisions and agencies of the ministry of national security.