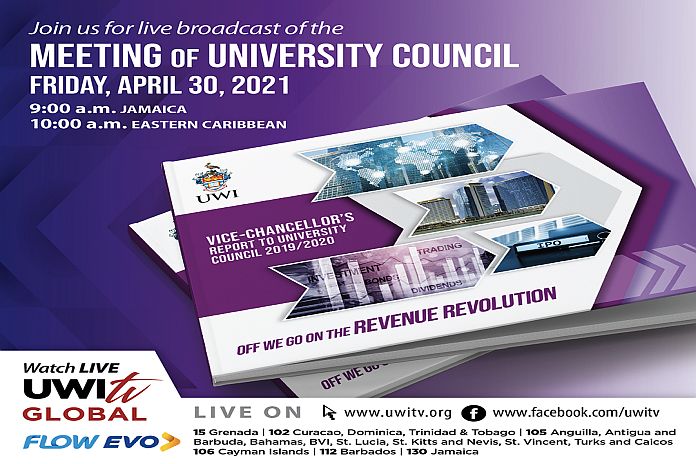 By The UWI
KINGSTON, Jamaica – On Friday, April 30, The University of the West Indies (The UWI) invites you to tune in to the public session of its annual University Council Meeting which includes Vice-Chancellor, Professor Sir Hilary Beckles' report to the University Council.  
Vice-Chancellor's detailed report of the year in review themed: Off we go on the Revenue Revolution, situates The UWI's successes in keeping abreast, and rising to the expectations of stakeholders within the context of an ongoing troubled financial time for the Caribbean region, further crippled by the COVID-19 pandemic. Leveraging its academic reputation as a first-class, globally-respected public enterprise, The UWI has pivoted from the "Reputation Revolution" phase of its strategic plan to the "Revenue Acceleration" phase.
Join us on Friday, from 9:00 am Jamaica/10:00 am Eastern Caribbean on UWItv's website – www.uwitv.org,  Facebook page – www.facebook.com/UWITV OR  Cable TV channels on the FLOW EVO network for Off we go on the Revenue Revolution.
Following the presentation, members of the media can submit questions on the Vice-Chancellor's Report to universitymktgcomms@sta.uwi.edu.
About the University Council
Chaired by the Chancellor, Robert Bermudez, the University Council is the highest governing body of The UWI.