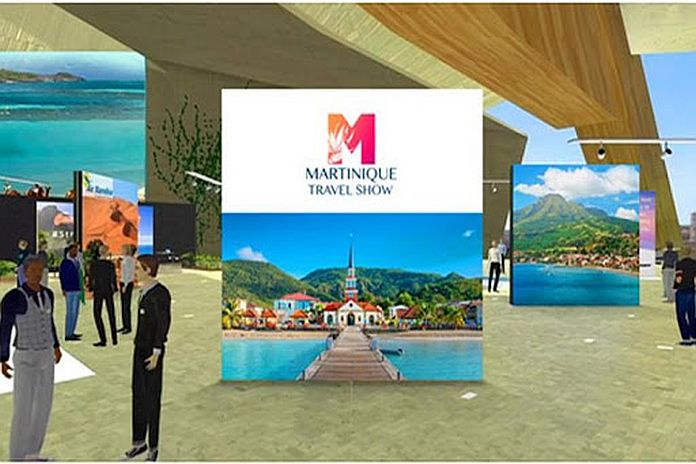 FORT DE FRANCE, Martinique — The Martinique Tourism Authority is organizing the Martinique Travel Show (MTS) from May 18 to 20, the first-ever 100 percent virtual international trade show in Martinique for travel industry players.
Highly innovative and interactive, the MTS will allow national and international travel professionals including tour operators, travel agents, and the trade and consumer press to learn about the latest destination developments and news. It will also be a unique moment for American travel professionals to meet one-on-one with Martinique suppliers.
Visitors will be invited to explore a whole virtual universe. For the one-on-one meetings, visitors and exhibitors will be able to create their avatars to meet «in person » at the virtual booths or just «drop in» at one booth or another. They will be free to « visit » four virtual worlds: the world of Rum, Yole sailboats, Gastronomy & the city of Saint-Pierre, Martinique former capital. There will also be actual press rooms.
Registration for travel professionals will open April 12 @ martiniquetravelshow.com
A 100 percent virtual first for Martinique
With about 50 exhibitors expected, the MTS will be a crossroad of exchanges and business opportunities via an interactive platform, in which visitors will be able to better understand the products and developments of the Martinique destination.
In addition to the individual meetings, several conferences and seminars moderated by guest experts and speakers will be programmed both in French and in English. The Martinique Travel Show will close with an awards ceremony – the Martinique Tourism Awards – to honor and salute the efforts of leading island professionals and the products they offer, especially in these challenging times.
A not to be missed event
"This virtual trade show is of paramount importance in our strategy targeting the North American market. Our recent recognition by UNESCO and TripAdvisor, among others, confirms our efforts to anticipate the grand return of travel and we stand ready to welcome our future US visitors in the best possible conditions," said Karine MOUSSEAU, Tourism Commissioner of the Martinique Tourism Authority.
With the special participation of several public figures of national and international stature, the MTS will be the must-attend event for the tourism industry in Martinique. A detailed program of the three-day event will be available soon and a press conference will be held as well.