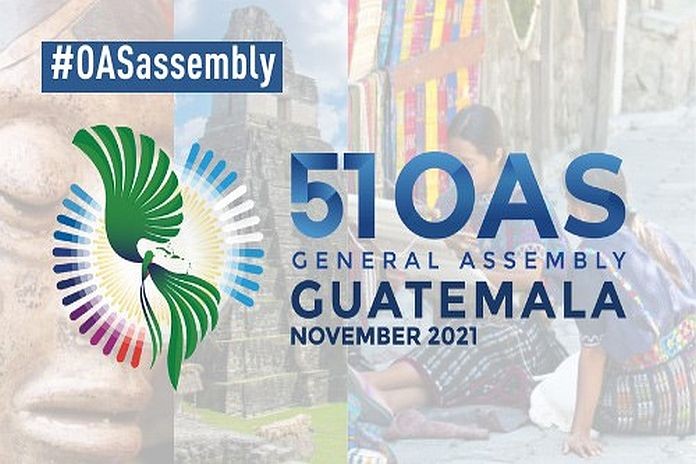 WASHINGTON, USA – The Organization of American States (OAS) today concluded its 51st General Assembly, held this week in Washington DC and during which Guatemala served as host.
In the last plenary session, the Assembly approved resolutions on the situation in Nicaragua and Haiti, the Inter-American Business Charter, and the development of the COVID-19 pandemic and its impact on the Hemisphere, among other documents. All documents approved by the General Assembly are or will be available here.
In a vote held in person at OAS headquarters in Washington, DC, within the framework of the same Assembly, the member states elected Rodrigo Bittencourt Mudrovitsch (Brazil), Verónica Gómez (Argentina), Nancy Hernández López (Costa Rica), and Patricia Pérez Goldbergh (Chile) as members of the Inter-American Court of Human Rights.
Member states also re-elected Joel Hernández García (Mexico) and elected Roberta Clarke (Barbados) and Carlos Bernal Pulido (Colombia) as members of the Inter-American Commission on Human Rights.
Likewise, the Assembly elected by acclamation for the Justice Studies Center of the Americas Jenny Willier Murphy (United States) and Nadia Franco Bazán (Panama); and Michel Bastarache (Canada) for the Administrative Tribunal.
The General Assembly also elected Luis García Corrochano-Moyano (Peru) by acclamation as a new member of the Inter-American Juridical Committee and instructed the Permanent Council to elect two new members of the Committee in January 2022.
In addition, the OAS member states approved by acclamation that Peru host the 52nd General Assembly of the Organization in 2022.