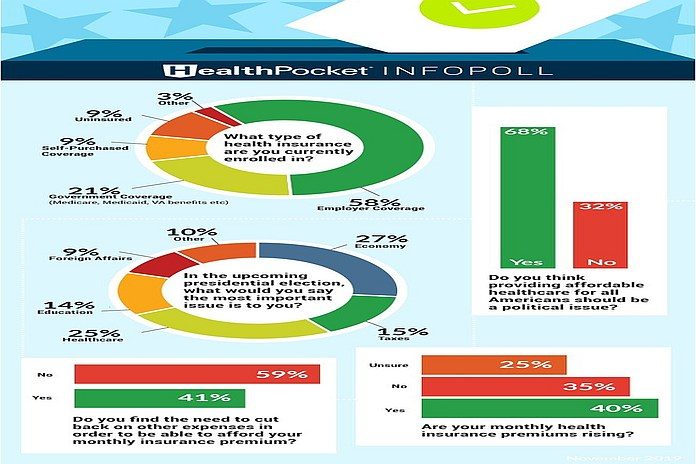 MOUNTAIN VIEW, California – Open enrollment is just kicking off and "survey says": insured Americans aren't impressed. HealthPocket, a free information source designed to help consumers find medical coverage, today released results of a pulse survey which found that many Americans are facing rising healthcare costs. In fact, more than 40 percent of those surveyed have found it difficult to pay their monthly insurance premiums.
The survey also found that another 41 percent are needing to cut back on other monthly expenses in order to be able to afford their monthly insurance premium. Interestingly, nearly 60 percent of those surveyed are on an employer-provided plan.
However, the HealthPocket survey found that Americans are looking to elected officials to bring down costs, as 68 percent say that providing affordable healthcare should be a political issue. Healthcare is the second most important issue to those surveyed next to the economy in the upcoming presidential election.
Some other key findings include:
18 percent didn't know when open enrollment takes place.
21 percent didn't think the Affordable Care Act was in effect anymore.
62 percent pay under $250 a month on their health insurance premium.
25 percent don't think that Republicans, Democrats or the Private Sector have the answer to bring down healthcare costs.
40 percent of those insured are experiencing rising monthly healthcare premiums.
The results above were gathered through an online poll of 1000 Americans between the ages of 18-64. The poll was conducted in October 2019 and was weighted to get representative samples from each state based on population.
The entire survey results is available here: https://www.healthpocket.com/healthcare-research/surveys/Americans-are-cutting-back
HealthPocket is a free information source designed to empower consumers on health insurance. HealthPocket aggregates data from government, non-profit and private sources to increase transparency in the healthcare market in order for consumers to make wiser and more cost-effective healthcare decisions. Through HealthPocket's tools, consumers can compare the coverage, benefits, and costs of health insurance, including Medicare, ACA, and short-term health plans. HealthPocket, Inc. is a wholly-owned subsidiary of Health Plan Intermediaries Holdings LLC (NASDAQ: HIIQ).