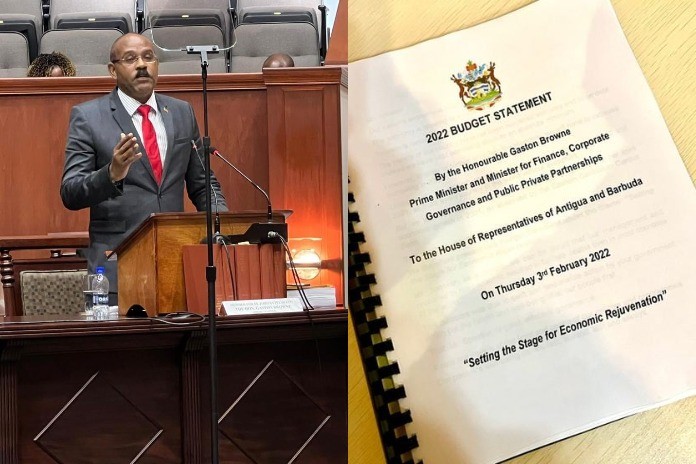 By Caribbean News Global contributor
ST JOHN'S, Antigua – Delivering the 2022 budget statement "Setting the Stage for Economic Rejuvenation" on Thursday, February 3rd, 2022, prime minister and minister for finance, corporate governance and public-private partnerships, Gaston Browne announced "Our nation's economy is bouncing back. The economy is growing at a rapid pace. Tourism is recovering and employment is increasing."
Prime minister Browne told the House of Representatives of Antigua and Barbuda that, "undoubtedly, the COVID-19 pandemic battered our economy in 2020 and 2021, as it did every country in the world without exception. But we bounced back, through solid leadership, to achieve 5.3 percent economic growth in 2021, as assessed by the Eastern Caribbean Central Bank. This is robust growth accomplished in a time of adversity," he added.
" The people of our country have not been burdened with new and huge debt. Instead, we have kept borrowing down to an absolute minimum. However, in order to further stimulate the economy, we will have to increase borrowing in 2022."
GDP growth
Prime minister Browne announced that the economy contracted by 20.2 percent in 2020. And explained, "in nominal terms, the Gross Domestic Product (GDP) contracted from $4.5 billion in 2019 to $3.7 billion in 2020. Yet, the policies and initiatives of this government delivered growth of 5.3 percent in 2021."
Turning around the economy by more than 25 percentage points from a contraction of 20.2 percent in 2020 to growth of 5.3 per cent in 2021 is a phenomenal feat, the finance minister noted, "It represented the single largest rebound of the economy in twelve months. Taking the bull by the horns, your government, in cooperation with the private sector, oversaw an increase in economic output of $270 million to bring our GDP to approximately $4 billion in 2021, just $500 million short of 2019 figure of $4.5 billion."
Prime minister Browne credits this to an " extraordinary feat accomplished by astute management of scarce resources, throughout a period of gravely reduced income and exceptionally high expenditure to safeguard the health of our people," adding. "Our performance reflects a deliberate effort to strike a balance between keeping the population safe from COVID-19 and maintaining economic activity."
In addition, prime minister Browne commended the government's vaccination policy also helped to ensure that, as people from our main tourism markets were ready to resume travelling, Antigua and Barbuda was well-positioned to take advantage of the pent up demand.
"So, too, did this government's investment, through incentives to the hospitality sector, to improve their properties during the worst periods of the pandemic. The construction and refurbishment of these properties helped to keep many workers on their payroll, easing the difficulties they faced."
"That achievement" said the prime minister "required planning, preparation, and careful execution by this administration, including using scarce resources sparingly and utilizing them strategically" which represents " true competence and effective governance in the interest of the people."
The following are extracts from the 2022 budget summary:
Monetary developments
"[ … ] For the period January to October 2021, there was strong growth of monetary aggregates in the banking system. The money supply grew by $314 million or 8.8 percent, compared with growth of 1.8 percent over the similar 10-month period in 2020. This expansion was the result of a 38.5 percent increase in foreign currency deposits and growth of 5.6 percent in corporate savings deposits, the prime minister announced, Thursday.
Within the last year, household savings increased by a further $100 million, evidencing our people's capacity to save even during a pandemic.  
The growth in foreign currency deposits is of particular interest because it signals a significant recovery in the tourism industry and provides good reason for optimism.  It is also pertinent that credit to households and businesses expanded by 2 percent and 6 percent respectively.
This increased borrowing by businesses and households shows recognition that this government is restoring the fortunes of our economy and cementing the people's confidence in our policies.
"We expect to see greater flows of funds in the domestic economy given the level of liquidity in the banking system and the unprecedented rollout of public and private sector projects during this year.  […]"
Major achievements in 2021
When 2021 is compared with 2020, the fiscal balances improved markedly, prime minister Browne reported:
"The primary deficit was lowered by $113 million, and the overall deficit was reduced by $97.4 million. Recurrent revenue, which is comprised of tax and non-tax revenue, is anticipated to be $790.9 million or $41 million more in 2021 compared to 2020. Of this, $667 million represents tax revenue, which is 16.8 percent of GDP.
This means our tax to GDP ratio is the lowest in the OECS sub-region.
In 2021, tax revenue increased by $56.7 million compared to 2020 and is indicative of improved economic activity. One of the significant contributors to tax revenues was stamp duty which rallied in 2021, amounting to $68.6 million.
This is an 83 percent increase compared to $37.5 million collected in 2020, enhanced activity in real estate, demonstrating once again confidence by individuals and the private sector to invest in property purchase and development.
Revenue from the ABST also increased by $35 million in 2021 compared to 2020 and the Revenue Recovery Charge (RRC) and import duties also performed better than in the previous year.
Capital revenue amounted to $21.3 million in 2021 compared to $5.3 million in 2020 – a huge and very beneficial jump. This more than threefold increase in capital revenue was realised through the divestment of a portion of the government's shares in the West Indies Oil Company (WIOC). [Government divested 10 percent or 321,695 of its shares in WIOC, at an aggregate value of $19.3 million.]
The government also received $36.9 million in grants in 2021 which demonstrated confidence by the international community and private persons in our capacity to manage and utilize grants with integrity, scrutiny, and efficiency.
Antigua and Barbuda is one of the lowest tax jurisdictions in the world. Our people do not pay income tax. They do not pay tax on interest earned on their deposits in banks. Our people do not pay inheritance tax or capital gains tax. The people do not pay tax on personal rental income.
Consumption tax revenue declined by 40 percent or $31.9 million to $47.5 million in 2021 compared to the $79.1 million collected in 2020.
Turning to expenditure, there was a slight decline from $990.1 million in 2020 to $987.3 million in 2021. Government expenditure as a proportion of GDP amounted to 24.8 percent. This compares to as much as 43 percent in other jurisdictions in the ECCU region.
While transfers and interest payments increased in 2021 compared to 2020, these increases were offset by a $27 million decline in capital expenditure. The other expenditure items, including wages and salaries and pensions, were largely in line with the amounts spent in 2020.
The reduction in capital expenditure is partly due to the requirement to allocate increased resources to manage and contain the spread of the Coronavirus and to provide additional funds to the Sir Lester Bird Medical Centre.  
The fiscal performance realised in 2021 was possible due to the diligent efforts of the management and staff of the Customs and Excise Division, the Inland Revenue Department, and the Treasury Department.
"This is due to the policies and programmes our government established and implemented, setting us on a course for further advancement and improvement in 2022."
Prices and inflation
"The inflation rate, as measured by the consumer price index, was 1.2 per cent in 2021, compared to 2.8 percent in 2020."
Public sector debt
"Total public sector debt to GDP as at December 2021 is estimated to be 88.9 percent compared to 94.0 percent in 2020."
Access to Financing
"[…] Given our inability to access financing from traditional sources without being tied to the demands of an adjustment programme, the government has explored other options to secure the resources necessary to boost the recovery and transformation of our economy.
In this regard, we issued a US$200 million bond, on the international capital market. This 10-year, 4.5 percent instrument is registered on Euroclear. It is the first and largest bond of its kind issued by Antigua and Barbuda and it has been fully subscribed.
This financing provides an incredible opportunity for the government to re-profile its debt, to ensure sustainability going forward, and to invest in strategic projects that will drive economic growth, create employment, and generate increased revenue to finance government operations.
"The proceeds from this bond will be used to implement projects that will stimulate the economy and secure growth of 8 per cent this year. Two of these projects are:
Acquisition and renovation of the Jolly Beach Hotel. We will also ensure payment of severance due to the Jolly Beach workers upon successful acquisition of the property.
Construction of a hotel resort at Morris Bay."
Budget projections and ministry allocations
"The budget provides for an overall resource requirement of $1.64 billion. This figure represents an increase of 9 percent, or approximately $130 million, over the estimated total spend of $1.51 billion in 2021.
It indicates this government's targeted expansionary fiscal policy that is intended to stimulate the economy and propel a resurgence in domestic output. The budgetary and fiscal position points to an overall deficit of 2.6 percent of GDP or $110 million.
"We are opening up the country, opening up the economy, and opening up the opportunity for all to advance and prosper."
Revenue projections
"With the expected resurgence in economic activity, total revenue is projected to increase noticeably this fiscal year. Recurrent Revenue is estimated at $975.6 million for 2022, which is a 23 percent increase over the $790.9 million generated in 2021.
The components of recurrent revenue are:
Indirect Tax Revenue – $689.5 million
Direct Tax Revenue – $124.6 million
Non-Tax Revenue – $161.5 million
"The amount budgeted for capital receipts is $7 million, while grant funding for fiscal year 2022 is budgeted at $50.2 million."
Expenditure projections
"On the expenditure side, estimated recurrent expenditure, excluding principal payments, is $961.1 million. Therefore, a current account surplus of $14.5 million is projected for 2022.
The components of recurrent expenditure are:
Wages and Salaries – $410.6 million
Transfers and Grants – $159 million
Pensions and Gratuities – $73.4 million
Goods and Services – $167.6 million
Interest Payments – $110.1 million
Statutory Contributions – $40.4 million
The government's capital budget for 2022 is $181.8 million. It more than doubles the almost $80 million spent on capital projects in 2021. Spending on road works will amount to $34.2 million in 2022 and $7.1 million has been allocated for major repairs and maintenance to government buildings."
Budget financing
"This 2022 budget has a financing requirement of $609.6 million. It will be financed by $274.3 million from Securities issued on the Regional Government Securities Market and by loans and advances of $335.3 million.
"Our nation is ready to resume its egalitarian march to prosperity on which we had so firmly and convincingly set our feet."