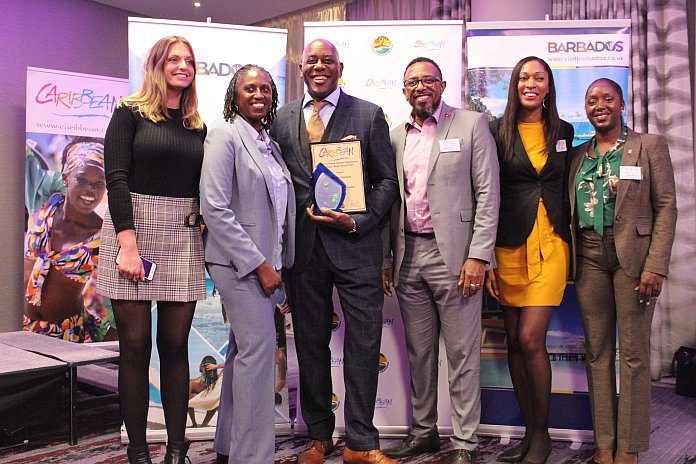 LONDON, England – It was an evening of big wins for The Antigua and Barbuda Tourism Authority as the destination took home awards for Best Social Media Campaign, Best Broadcast Feature, and Best Consumer Feature at last evening's  2019 Caribbean Tourism Organisation's (CTO) Media Awards, held during World Travel Market, in the United Kingdom.
The travel industry continues to recognise the Antigua and Barbuda Tourism Authority's summer marketing campaign #WhatCoolLooksLike, for its innovativeness and effectiveness, rewarding the destination with Best Social Media Campaign, having staged the impactful 'Traverse Antigua Conference 2019', which saw over 30 social media influencers visiting Antigua.
In the judges' words "This campaign, which brought thirty plus creators to Antigua, hit the top score, highlighting a unique way to approach destination coverage.  The diverse range of photos taken by the influencers effectively highlighted the destination. Instagram, Facebook and Twitter were well utilised, and reporting was clearly presented.  Content generated clearly showcased Antigua's key USPs."
Judges also selected Ainsley's Caribbean Kitchen – Antigua as Best Broadcast Feature. Ainsley Harriott is one of the UK's favourite TV Chefs, journeyed to the destination in 2018 for a culinary adventure. In his 9th episode of Ainsley's Caribbean Kitchen Series, Ainsley explored amazing Antigua, taking in the sea, the sights and tastes of the island which lead him to trying his hand at local cuisine at Gina's Cook Show and Beach Limerz, as well as dabbling with rum[s] at Nicole's Table and Carlisle Bay.
For his article, 'Antigua beyond the Beaches' which was prominently featured in Escapism Magazine, Ronan O' Shea hit top scores. "This piece is written, as if one was there, encapsulating all the elements that a Caribbean destination has to offer, highlighting the destination's diversity of culture, history and modern well-being, with inspiring photography", comments the judges.
Antigua and Barbuda Tourism Authority chief executive officer (CEO) Colin C. James said, "We are honoured by this recognition from our industry peers and judges from throughout the media and travel fraternity.
"The Antigua and Barbuda Tourism Authority remains committed to engaging and introducing the travel media, and by extension their readers, and viewers to the very best of Antigua and Barbuda – our uniqueness, our culture, amazing cuisine, attractions, hotel properties, beautiful scenery and most importantly our warm and hospitable people.
"We continue to adapt to the changing media landscape, utilising new ways of reaching the consumer, and are extremely pleased that our #WhatCoolLooksLike social media campaign, has resonated with our target audiences and has been rewarded for its excellence by our industry partners."
The Caribbean Tourism Organisation's (CTO), media awards are held annually and are adjudged by travel trade and media professionals. The event honours the exceptional work of media in promoting the Caribbean via print, broadcast and online. The 2019 awards within the UK market, saw over 130 entries submitted across eight categories. The CTO media awards are also hosted within the US and Canadian markets.