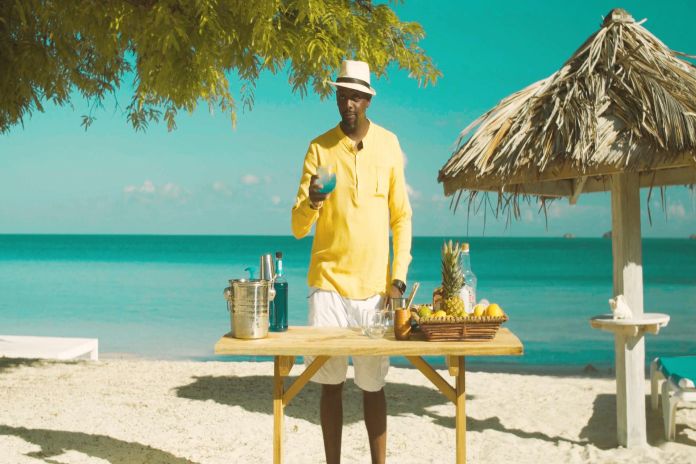 ST JOHNS, Antigua – Jet-off to sunny Antigua and Barbuda with Antigua and Barbuda's newest speciality cocktail, 'The Lift Off.'
With the ever-increasing popularity of virtual and socially distanced happy hours, The Antigua and Barbuda Tourism Authority asked Antigua and Barbuda award-winning mixologist, Altino Spencer, to create a new cocktail to transport people to Antigua and Barbuda.
Inspired by the Antigua and Barbuda Tourism Authority's 'Your Space in the Sun' campaign, the expert mixologist produced the signature cocktail, perfect for those dreaming of an escape to the twin-island paradise. Launched in June when the destination re-opened to visitors, the 'Your Space in the Sun' campaign invites people to come to Antigua and Barbuda to broaden their horizons and enjoy all the space they need: space to move, space to think, space to be you.
Antigua – Barbuda launches 'Your Own Space' summer staycation campaign
Spencer designed 'The Lift Off' cocktail to evoke the flavours and bliss of an escape to idyllic Antigua and Barbuda. While highlighting ingredients found in Antigua and Barbuda, the cocktail can easily be replicated by those at home.
We are welcoming visitors again, but know not everyone can travel just yet, and this cocktail is an ode to them. With 'The Lift Off' people can add some typical Antigua and Barbuda colours, flavours and fun to their gatherings, bringing Antigua and Barbuda to them until they are ready to travel to our shores.
Made with crisp, light flavours, 'The Lift Off' conjures up images of Antigua and Barbuda including the 365 beaches, boundless blue waters, secluded harbours, boutique properties, private villas and one-of-a-kind attractions and dining options. Spencer combines citrus flavours, the famed Antigua Cavalier Rum, a drizzle of blue and fun fruit garnishes to create a drink reminiscent of the turquoise waters surrounding Antigua and Barbuda.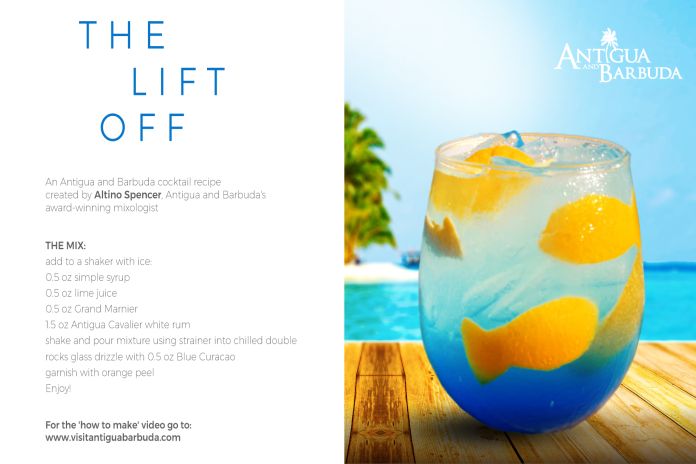 The recipe calls for 0.5 oz simple syrup, 0.5 oz lime juice, 0.5 oz Grand Marnier, 1.5 oz Antigua Cavalier white rum, 0.5 oz Blue Curacao (for drizzling), 1 orange (for garnish) and ice.
To watch the Altino Spencer tutorial on how to make 'The Lift-Off' cocktail with full recipe visit: www.visitantiguabarbuda.com/destinations/lift-off-cocktail