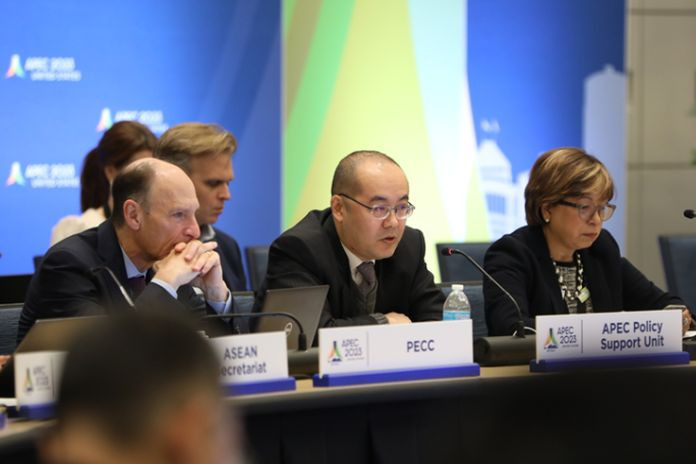 By APEC Policy Support Unit
DETROIT, USA – The APEC region's economic growth is expected to expand slightly to 3.1 percent in 2023, following a 2.6 percent moderation in 2022. Growth is expected to slow down to 2.8 percent in 2024 according to a new economic analysis published by the APEC Policy Support Unit (PSU).
"Higher living costs hinders our ability to drive towards a steady economic recovery post-pandemic," said Carlos Kuriyama, Director of the PSU.
"We see narrowing fiscal space and surging debts following the massive stimulus measures taken to preserve lives and livelihoods during COVID-19," Kuriyama added. "Despite these efforts, income levels have not recovered to pre-pandemic levels in most APEC economies, and inequality has widened, hitting the most vulnerable populations the hardest."
According to the APEC Regional Trends Analysis report, general government gross debt reached the highest level ever in 2022, surging to 112 percent of GDP for advanced economies while it reached 65 percent of GDP for the APEC region.
The report highlighted that supply and demand disruptions due to the compounded effect of geopolitical issues have put pressure on prices. The inflation rate in APEC reached 5.9 percent in 2022, up from 2.9 percent in 2021. It is projected to moderate to 4.4 percent this year.
"Stubborn inflation aggravates income inequality, and while the majority of APEC economies have increased their interest rates to bring down inflation, the announcement by oil-exporting economies to reduce oil production is fueling inflation concerns," said Rhea C. Hernando, a senior researcher with the PSU.
Trade performance also decreased in 2022 due to weak global demand. The volume of APEC's merchandise exports and imports declined to 1.1 percent and 1.2 percent respectively, compared to 2021, when they were at 10.6 percent and 11 percent, respectively.
"As the momentum of the pandemic-related recovery faded for trade, it is likely that merchandise trade volume will post low growth rates as well this year," Hernando said.
"An area of concern for us is the accumulation of trade-restrictive measures in place, especially regarding export restrictions and bans," she added. "On top of that, we are seeing an upward trend in the number of trade remedies in force, such as anti-dumping measures and countervailing duties."
On a positive note, the easing of cross-border travel restrictions has buoyed trade in commercial services, with travel services driving the largest gains followed by transport services and goods-related services. The total export and import of commercial services trade in APEC grew by 15 percent and 17.4 percent respectively for the period of January to September 2022.
"One of the many reasons why APEC was established in 1989 was to lift people out of poverty and increase living standards," said Kuriyama. "We are now faced with the fact that living standards have declined due to the pandemic with significant jobs and income losses."
"Our main task should focus on how to ensure that we don't fall back on our progress and that the future of globalization takes into account equity and equality, leaving no one behind," he continued.
"We need to strengthen our regional cooperation to encourage inclusive dialogue and concerted efforts to achieve our growth objectives," Kuriyama concluded. "Ensuring trade remains open is one thing, but to close educational, skills and digital gaps and open up more opportunities for our people is an essential part of the recovery."
The latest APEC Regional Trends Analysis report was launched in Detroit on the eve of the APEC ministers responsible for trade meeting. The findings and analysis in the report will guide ministers' discussion and support informed decision-making to achieve the APEC vision of an open, dynamic, resilient and peaceful Asia-Pacific community.
To read more about the May 2023 issue of the APEC Regional Trends Analysis, visit this page.