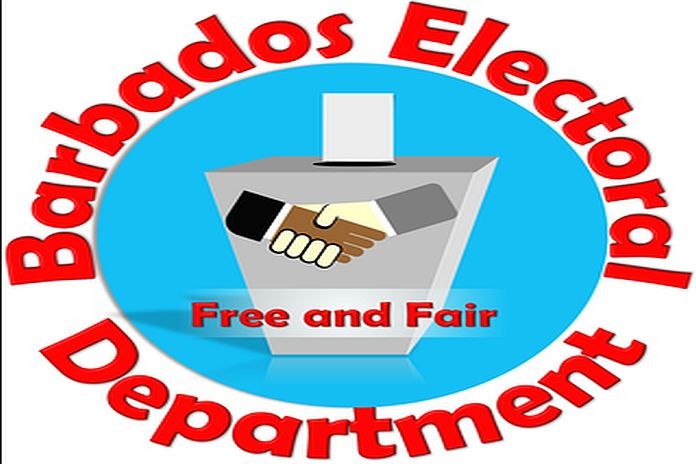 By Caribbean News Global contributor
BRIDGETOWN, Barbados, (BGIS) — Supervisor of Elections, Angela Taylor, has assured Barbadians of the Electoral and Boundaries Commission (EBC) readiness for nomination day January 3 and general election on January 19, 2022.
At a January 1, press conference, Taylor said:
"So, we had already started our preparations and we have just accelerated. I can assure you that our team of election workers are in place; the list of returning officers and election clerks would have been published Friday, so that is available for all to see," adding, "We are doing the training of that cadre – the returning officers and election clerks [today] – and we are ready for nomination day. We have a team of persons working this weekend and we will have all the bags packed with all the supplies needed for the candidates to be nominated at the centres. The list of nomination centres has also been published."
In relation to measures taken by the EBC to ensure compliance with COVID-19, Taylor announced that the COVID-19 monitoring unit had developed a document of the protocols for "special polling day, on election day, the night of the count, and it even includes information for the conduct of political meetings and other political activities".
The supervisor of elections added:
"So, we do have the protocols before us and we will be training our staff to be familiar with everything that they have to put in place. We also have on this occasion, a separate team for COVID-19 matters, so that we have enough persons at polling stations to take the temperatures, to sanitise the hands of voters, to ensure that voters are social distancing, to sanitise the polling booth after persons have voted; we will be training that staff as well. But we do wish to assure the public that we have made every provision for ensuring that the COVID-19 protocols are complied with."
Meanwhile, as reported on GIS Barbados, head of the COVID-19 monitoring unit, Ronald Chapman, had indicated that persons at the Harrison's Point Isolation Facility or any other isolation facility, and those in home isolation would be required to stay put on election day.
"We understand that voting is a cornerstone of our democracy. However, we are still in a pandemic and those persons are highly infectious. We wouldn't want those persons to go out to a polling station where we know that we have all cadres of Barbadians there. […] We still want to be safe, and we are asking persons who know that if they are feeling ill, please stay at home; if you know you have a confirmed diagnosis for COVID and you are in isolation, stay put," he noted. Harrison's Point and other isolation facilities were an extension of the Queen Elizabeth Hospital, and persons hospitalised "stayed put" during an election. Moreover, the ministry of health and wellness recently announced the presence of the Omicron variant in Barbados, and warned that it was even more infectious than the Delta strain.
"So, we have to be able to balance those two. They have to be able to err on the side of continuity of the country as much as possible. I recognise… it is a tough pill to swallow. It is a tough pill to swallow for anyone … who wants to be a part of this process. But we have to be our brother's keeper….," he said.
While legal advice is being sought to facilitate voting for persons with COVID-19, Chapman reportedly made it clear that he was not saying people who were COVID-19 positive could not vote, explained:
"But, we're asking Barbadians please if you know you are ill, if you know you are infectious, please do not come out and share that infection with others," he said. However, attorney-at-law and deputy chairman of the EBC, Hal Gollop, cautioned that the issue had a "strong legal element" attached, and therefore any decision should be deferred until the legal advisor to the Commission expressed an opinion.
"Yes, we're speaking about COVID, but COVID has brought new things with it which were … not taken into consideration in our laws. I have seen on many occasions, people who could barely hold their head up being brought out from places like district hospitals and other infirmaries to go to vote," he said.
"So, that question by the young lady is a very relevant question. Because if somebody is, as she pointed out, at Harrison's [Point], there may be some means of reaching out; having that person put … a mark on the ballot. So I think it goes much further than just passing off a definitive statement that it cannot be done….," he stated.
Related: Barbadians go to the polls on January 19
Source: GIS Barbados