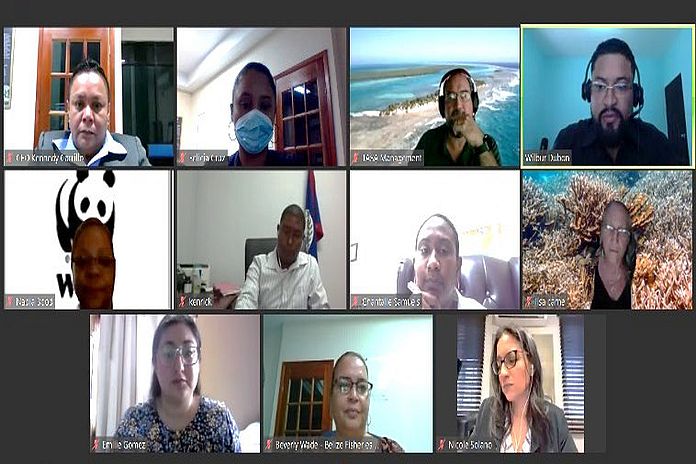 By Caribbean News Global contributor
BELIZE, Belmopan –  Belize ministry of the blue economy and civil aviation, under the leadership of Andre Perez, convened its first blue economy cluster session, in accordance with governments 100-day plan.
"The blue economy cluster is a multisectoral advisory body to the ministry of blue economy as it seeks to forge its vision and mission over the next five years," a government release said. "The group is chaired by Kennedy Carrillo, chief executive officer in the ministry of blue economy and civil aviation, and is charged with articulating the ministry's vision and identifying key partnerships and resources to support the formulation of a five-year strategic plan. At its core, the blue economy seeks to support the sustainable use and development of Belize's ocean space, while minimizing ecosystem degradation and enriching the socio-economic benefits for the country and its people."
One of the key principles of the new ministry is the inclusion of all key partners including governmental, non-governmental, private sector and communities engaged in ocean-based economic and conservation activities.
The interim members of the blue economy cluster include:
Beverly Wade, fisheries administrator, fisheries department;
Valdemar Andrade, executive director, Turneffe Atoll sustainability association;
Nadia Bood, senior program officer, marine science and climate change, world wildlife fund mesoamerica;
Lisa Carne, executive director/founder, Fragments of Hope;
Dr Kenrick Williams, chief executive officer, ministry of sustainable development;
Nicole Solano, chief executive officer, ministry of tourism;
Emilie Gomez, blue economy consultant;
Wilbur Dubon, blue economy consultant;
Chantalle Samuels, chief executive officer, coastal zone management authority & institute;
Robert Usher, manager, northern fishermen cooperative association;
Troy Gabb/ Mike Feinstein – Feinstein Catch Seafood Ltd.
Chief executive officer (CEO) Carrillo took the opportunity to meet with the executive staff members at the fisheries department and coastal zone management authority and institute, two entities that are at the core of the new and innovative blue economy model for Belize.
CEO Carrillo had the opportunity to tour the present buildings and offices within that compound.
"We are excited to discover that important components of the Blue Economy are already being successfully implemented in our country. It will be our Ministry's responsibility to harness all of these under one robust and innovative five-year strategic plan with the overall goal of taking advantage of the economic opportunities provided by our oceanic resources while ensuring that this is done in an environmentally responsible and friendly manner," CEO Carrillo said.