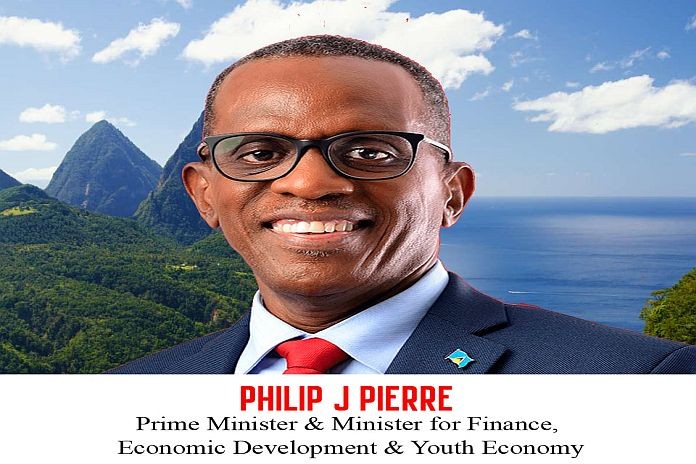 By Earl Bousquet
Ever tried to figure out how prime ministers, presidents and national leaders spend birthdays?
Prime minister Philip J. Pierre observed his first birthday in office yesterday, and many wonder whether it was just another day in his life, or a very special day this year.
Did he just forget all his troubles and dance, or sat back, relaxed and looked back – then ahead? Or did he just disappear – and reappear?
Since the July 26 poll, I've tried to divorce the man I know from the position he now holds, as they are two different beings – a humble man with a not-at-all-humble job.
Quintessential
The Philip Pierre I grew up seeing dropped-off at the College every morning by his dad in car #256 was 'always better at Maths than English' (like he reminds us today) and later cultivated himself into an entirely and always-independent income-earner, who eventually also became a quintessential grassroots politician.
He has been appointed as a radical young Saint Lucia Labour Party (SLP) Senator by then-leader Julian Hunte (in 1992) before Dr Kenny D. Anthony led the party into its historic 16-1 victory over the United Workers Party (UWP) five years later.
But the two today share the enviable parliamentary record of having won six consecutive general elections since 1997.
Ready
Pierre was ready to be prime minister from the night of June 6, 2016, when Dr Anthony abruptly resigned after the party lost that year's general elections.
Dr Anthony, having jumped into the proverbial pool at the deep end in 1997, created the post of deputy prime minister and appointed the first deputy SLP leader Pierre as first-in-the-post.
Having led most of the major government ministries and serving as acting prime minister and minister of finance multiple times had therefore prepared him for the top job, for over decades.
'News Spin' and 'News Maker Live' radio and TV talk show host Timothy Poleon looked and sounded quite bowled-over in crystal-clear disbelief and/or unwillingness to accept, during an interview with Pierre, some time ago, the interviewee's claim to the effect that he was more prepared to be prime minister than Sir John Compton was in 1979.
Not that Pierre was boasting, only stating the simple fact that Compton led the political and constitutional transition from Colonialism (Associated Statehood) to Independence on February 22, 1979, but had never presided over the affairs of an independent nation – and he only served in the post less than five months, outed on July 2, 1979, when the SLP routed the UWP 12-5 at the first general elections after Independence.
By comparison, Pierre had acted and deputized in the position several times over a comparatively much longer period and, if appointed by the majority of his peers following SLP election victory, he would start the job with a vast wealth of accumulated experience in the post.
Sir John made his mark and accumulated much experience between 1964 and 1979 managing the colonial associated state from 1967, leading elected governments but with Britain responsible for defense and external affairs and London still very much in charge.
Pierre, on the other hand, is now prime minister of a young nation 42-years-old, half of which he spent getting ready for whenever the top job came his way
Glimpses
Now leading an inclusive government with a two-thirds parliamentary party majority of 13-4 (and an extended majority of 15-2) and with five years to prove his net political worth, Saint Lucians have started getting slight glimpses of what I said (in my last column here before the election) could very-well turn out to be, after Dr Anthony, 'The best prime minister Saint Lucia never had.'
Pierre has shown he can remain focused on the national vision where others may have visions of grandeur or ideas limited to village or constituency nationalism.
He also remains committed to being guided by 'the science' while others follow conspiracy theories.
He has started delivering on his party's election promises even before appointing his Cabinet, continuing at every meeting of the House.
(Having 'been there and done that' so many times before) Pierre knew the right calls to make and steps to take to ensure as quick a transition as needed in the circumstances.
The Chief Medical Officer (CMO) and president of the St. Lucia Medical and Dental Association (SLMDA) had both warned the day after that a national motorcade sponsored by the then outgoing ruling party could become the super-spreader event that would spark the feared COVID 'fourth wave'.
The new prime minister, in one of his first acts, cancelled all victory celebrations planned in the 14 constituencies his party won.
The new prime minister was roundly congratulated at home and abroad for the strategic and tactical alliance his party worked out with two independent candidates to facilitate the common political objective of replacing the then administration.
But he's also come under criticism by those on both sides of the national partisan fence who feels he's been 'too slow', 'too soft' or 'not ready yet', simply and mainly because he 'hasn't said or done' things they would personally wish to hear and see, including to 'start making the thieves take jail.'
Six weeks in charge, he's instead steered clear of being accused of pursuing political victimization.
Ignoring facts
Those focused on seeking fault and finding every reason to blame 'PIP' for all the negatives his government inherited will ignore or simply not notice the facts behind what others see and feel:
The unemployed parents who didn't have to scrape to find facility fees for the new school year;
The over 4,000 parents whose student children will get new devices for online learning;
The untold number of citizens now able to travel freely or apply for jobs more easily, their police records having been cleansed of minor offenses that created major obstacles.
The Rastafarians and others who use marijuana for recreational, medicinal or other private uses who can now light up at home without fearing a police raid;
The 150 police officers in quarantine – and their peers – who lost a colleague to COVID last week and will now have less direct contact with citizens thanks to the new ticketing policy for COVID protocol violations.
Servant leader
The local political culture being one where too many always expect too much too quickly, the 'PIP' I know, will also do more and talk less.
But the prime minister we have also prepared himself for the long haul by early altering his diet, increasing his physical therapy, shedding weight and otherwise building himself to continue 'leading from in front.'
Having pledged to be Saint Lucia's 'servant leader' and with the support of at least three previous prime ministers (Dr Anthony, Stephenson King and Vaughan Lewis) prime minister Pierre is also best-placed to share from all their individual and collective experiences.
Pierre's tendency to listen more and talk less has ensured he is able to ride the early COVID waves relying on the nation's experienced health professionals – and the science.