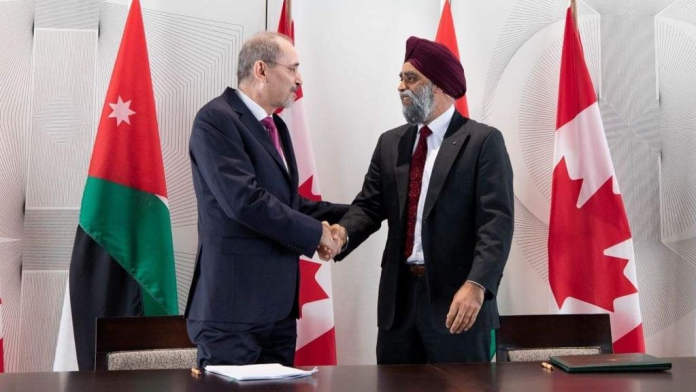 By Caribbean News Global

CANADA / JORDAN – Harjit S. Sajjan, minister of international development and minister responsible for the Pacific Economic Development Agency of Canada, met in Ottawa with Jordan's Ayman Safadi, minister of foreign affairs and expatriates, to sign a $120-million sovereign loan agreement for Jordan's education sector.
"This loan, which aims to strengthen quality public education for Jordanians and refugees alike, builds on Canada's long-standing support for inclusive education initiatives for vulnerable groups, such as girls and refugees," the government press release, added. "Jordan is a long-standing partner of Canada in the Middle East. The two countries work together to promote regional peace and stability, refugee protection, women's economic empowerment and education."
GLOBAL AFFAIRS LOGO
Funding for projects in Jordan
Minister Sajjan also announced $28.5 million in funding for three development projects in Jordan.
"These funds will go toward providing health services for refugees, helping to improve and restore climate-vulnerable ecosystems and addressing barriers to women's participation across the security, military, diplomatic and justice sectors," Global Affairs noted in its press release, adding. "The sovereign loan will help ensure that vocational training workshops and laboratories can be refurbished and support thousands more learners as they get ready for their careers. It will also fund the maintenance and repair of public schools and help to equip classrooms and workshops with the right machinery and modern technology to allow students to thrive."
Minister Sajjan, added:
"Jordan has shown leadership in supporting and educating millions of refugees. Canada recognizes the government of Jordan's efforts to create learning opportunities for students of all backgrounds, especially those who are too often at risk of being left behind. By supporting the Jordanian ministry of education, we are continuing our long-standing relationship and helping to build a brighter future for the next generation."
Quick facts
Under its Middle East engagement strategy, Canada has committed over $354 million in development assistance for Jordan.
Canada is a leading donor to Jordan's education sector and this sovereign loan builds on Canada's long-standing support for inclusive education initiatives in Jordan.
The loan is aligned with Canada's commitment to achieving the United Nations Sustainable Development Goals and fulfilling the G7 commitment to support girls' education in fragile, conflict and crisis situations.
The loan will be provided under the Sovereign Loans Program, which was announced in Budget 2018.
Providing sovereign loans to eligible countries improves their ability to make important investments in poverty reduction and in peace and security.