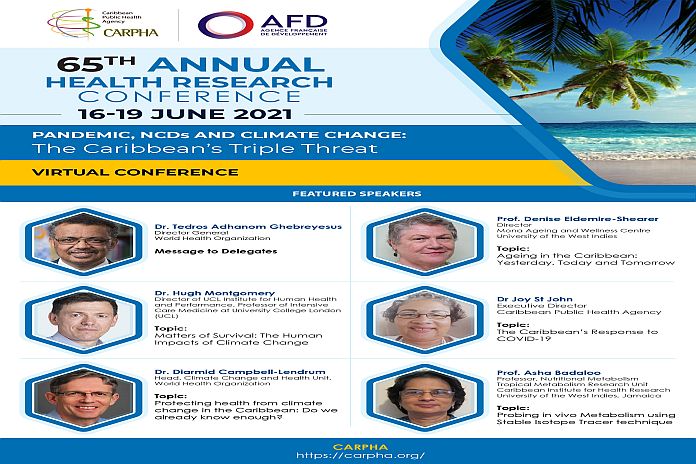 PORT OF SPAIN, Trinidad, (CARPHA) – In the Caribbean, non-communicable diseases (NCDs) are the leading cause of death and disability and takes a heavy toll on societies. Climate change, is now well recognised as a threat to human health with impacts such as severe weather events and hurricanes, increases in mosquito-borne, food and waterborne diseases, water scarcity and food insecurity. Pandemics have also impacted large numbers of people in the Caribbean. The current COVID-19 pandemic has resulted in large numbers of deaths and people being hospitalised. These crises are pushing already fragile regional healthcare systems and public health infrastructures to the limit.
Under the theme: Pandemic, NCDs and Climate Change – The Caribbean's Triple Threat, the Caribbean Public Health Agency (CARPHA) in collaboration with the Agence Française de Développement (AFD), will host its first-ever virtual health research conference, from June 16 to 19, 2021.
Executive Director of CARPHA Dr Joy St John, said: "This year, our Conference, the largest health research conference in the English- speaking Caribbean takes on a special format.  In what has been a largely disrupted year due to the COVID-19 pandemic, we were unable to host our flagship conference in a face-to-face manner. We intend that our virtual Conference will offer a great deal of value, affording more persons from all corners of the world to participate."
Dr St John added that the Conference will deliver an action-packed agenda and sessions with renowned keynote speakers. One of the features of the Conference will be a panel discussion on COVID-19 and the Caribbean region's response to this pandemic. Also included is a Special Forum moderated by the Clinton Foundation on Vaccine Hesitancy. Diabetes, cancers, healthy ageing, adolescent health, and mosquito-borne diseases are some of the topics that will be addressed at the Conference this year.
Philippe La Cognata, AFD regional director for the Atlantic region, stated "The AFD is pleased to support the virtual convening of CARPHA's 65th edition of its Annual Health Research Conference. This partnership with CARPHA will advance the dissemination of new regionally-relevant health research generated by and about the region and provide a forum to facilitate scientific exchange and engagement between CARPHA Member States and the French Atlantic territories."
The conference will kick off with an address to delegates by Dr Tedros Adhanom Ghebreyesus, Director-General of the World Health Organization (WHO).
Over the four days, delegates will also hear from:  
Dr Joy St. John, Executive Director, Caribbean Public Health Agency
Hugh Montgomery, Professor of Intensive Care Medicine at University College London
Dr Diarmid Campbell-Lendrum, Head of the Climate Change and Health Unit at World Health Organization Headquarters
Professor Denise Eldemire-Shearer, a leading authority on ageing and an unwavering advocate for the elderly.
Professor Asha Badaloo, Tropical Metabolism Research Unit, Caribbean Institute for Health Research, University of the West Indies.
The Conference is the longest-running health conference in the Caribbean and Latin America and attracts leading health professionals from across the globe. It attracts regional and international researchers, students and health professionals.
Information about the Conference is avalable here.