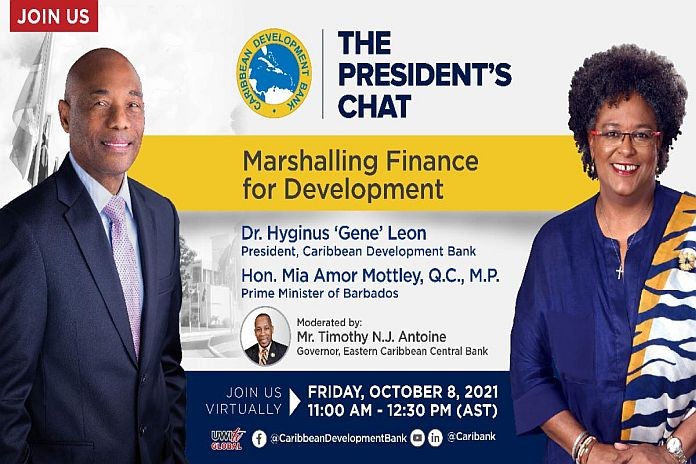 BRIDGETOWN, Barbados – The Caribbean Development Bank's (CDB) President, Dr Gene Leon will host the prime minister of Barbados, Mia Amor Mottley, as his featured guest on the second edition of The President's Chat scheduled for Friday, October 8, 2021, at 11:00 am.
The President's Chat is a discussion programme which CDB launched earlier this year to promote high-level dialogue on issues of regional significance between the bank's president and thought leaders and decision-makers.
The upcoming edition, entitled "Marshalling Finance for Development", will examine options for funding development priorities for the region with a view to enhancing macroeconomic stability and building more resilient and sustainable economies, especially in the wake of the COVID-19 pandemic. Governor of the Eastern Caribbean Central Bank, Timothy Antoine, will serve as moderator.
The programme will be streamed on CDB's social media channels – Facebook , YouTube and LinkedIn and will also be televised on UWI TV and streamed live on UWI TV's social media channels.