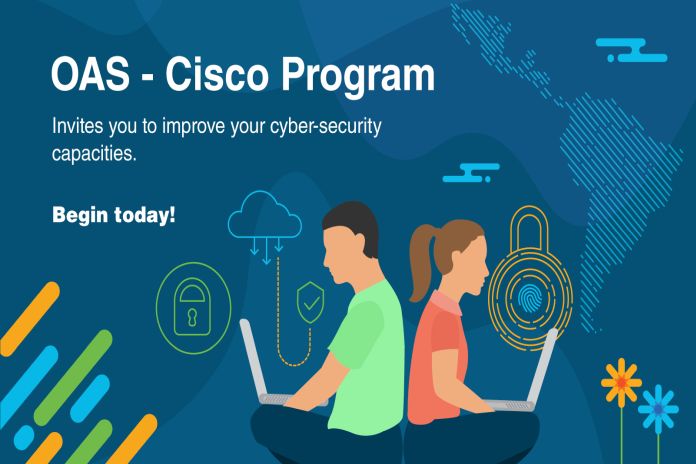 WASHINGTON, USA – The Organization of American States (OAS) together with Cisco, announced today the opening of a fund of US$150,000 to finance innovation projects in Latin America. The fund seeks to foster creativity and innovation in the execution of cybersecurity projects in the context of the COVID-19 pandemic. The process and requirements to submit projects will be announced soon.
As part of these efforts, the OAS and Cisco also announced the launch of the second phase of the free cybersecurity courses, with the support of Cisco's Networking Academy program. The courses, which were available in 2019, now include a digital insignia program that will allow participants to get a certificate upon the successful completion of the coursework. These insignias are for their personal and professional use on social networks to expand their career possibilities.
The 2020 academic offering, which will be available in Latin America from May 13 to August 30, will contain two free courses: Introduction to Cybersecurity and Cybersecurity Essentials. The former will provide students basic knowledge of how to navigate the internet safely, as well as an overview of career opportunities in the field, while the latter delves deeper into specific cybersecurity aspects, such as threat detection and defense.
Both courses will be available in Spanish, Portuguese, French and English at https://www.oas.org/es/sms/cicte/cursos-cisco/
The Secretary for Multi-Dimensional Security (SMS), Farah Urrutia, said "Educational initiatives that respond to current technological challenges and contribute to training cybersecurity professionals are of utmost importance for the future of the region and for our aspiration to provide more rights for more people. This collaboration between the OAS and Cisco is a great example of how the public and private sectors can jointly meet the needs of continued training and promote best practices in the industry."
"Our Cisco team is working hard to ensure that even during these uncertain times, learning and training do not stop," said Laura Quintana, vice president and general manager of Cisco Networking Academy. "We are supporting thousands of educators worldwide who are embracing remote teaching with Cisco Webex, and the Cisco Networking Academy is providing inclusive global online access to IT and cybersecurity courses from our learning portfolio, opening up a world of possibilities to people in the digital economy."
The innovation fund initiative and the free courses with digital insignia are part of the Cybersecurity Innovation Council's initiative, signed by the OAS and CISCO in 2019.
The partnership aims to promote educational resources that can help to close the professional skills gap in cybersecurity, as well as to promote the adoption of cybersecurity practices in light of the demands for remote work in the region.