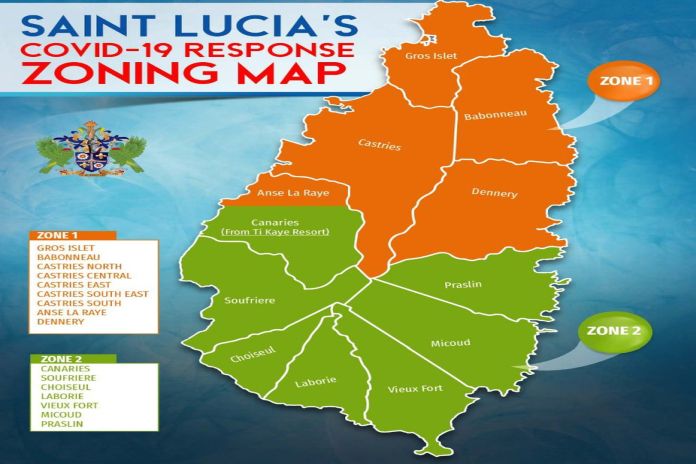 By Caribbean News Global

TORONTO, Canada – A new advisory, on August 6, 2020, from Centers for Disease Control and Prevention (CDC) recommends travellers to avoid all nonessential international travel to Saint Lucia. CDC travellers' health reads, "Warning – Level 3, avoid Nonessential Travel."
Saint Lucia has welcomed visitors since June 4, while attempting to implement extremely strict distancing protocols for reopening of the economy, primarily to US markets. However, reports from government minister with knowledge to COVID-19 operations and the 'State of Emergency' were taken by surprise, expressed shock and disbelief. Hasten to arrange a meeting with local health and CDC officials.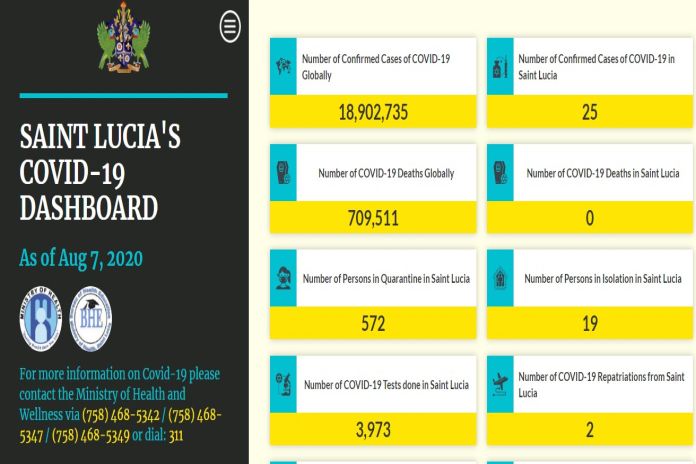 A minister of government remarked "unfortunate" when notified that "COVID-19 risk in Saint Lucia is high. CDC recommends travellers avoid all nonessential international travel to Saint Lucia."
The CDC key points referenced, "Travelers at increased risk for severe illness from COVID-19 should consider postponing all travel, including essential travel, to Saint Lucia.
"Everyone is at risk for getting COVID-19 if they are exposed to the virus. Some people are more likely than others to become severely ill, which means that they may require hospitalization, intensive care, or a ventilator to help them breathe, or they may even die. We learn more about COVID-19 every day, and as more information becomes available, CDC will continue to update and share information about risk for severe illness."
The CDC advisory continued: "Some examples of essential travel may include traveling for humanitarian aid work, medical reasons, or family emergencies. Older adults, people of any age with certain underlying medical conditions, and others at increased risk for severe illness should consider postponing all travel, including essential travel, to Saint Lucia.
If you get sick in Saint Lucia and need medical care, resources may be limited. Plan ahead and learn more about Getting Health Care Abroad."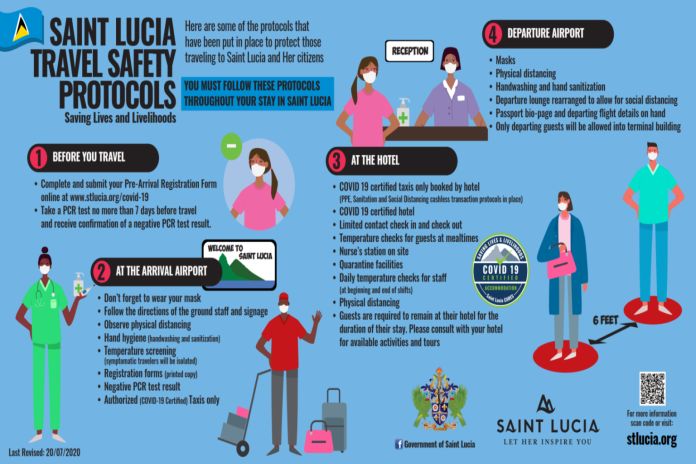 Last month, "the Caribbean's Leading Destination Marketing brand, Caribcation, introduced its latest marketing campaign, "Bubblecation". Travellers from countries within the designated Travel Bubble can reconnect with family and friends or enjoy a romantic getaway in Saint Lucia. "Visitors within the bubble desirous of traveling to Saint Lucia are to prefill the mandatory Arrival Registration Form located on www.stlucia.org/covid-19 ."
The CDC says, "If you get sick with COVID-19 (or test positive for COVID-19, even if you have no symptoms) while abroad, you may be isolated or not be permitted to return to the United States until you have recovered fully from your illness. If you get exposed to a person with COVID-19 while abroad, you may be quarantined or not be permitted to return to the United States until 14 days after your last exposure."
The CDC "Warning – Level 3, avoid Nonessential Travel," has placed Saint Lucia's reopening of the tourism sector and the economy into a further tailspin that health minister Mary Isaac is unable to comprehend. Prior to this, government reports indicated that Saint Lucia was a model for the management of COVID-19 and doing better than the pundits anticipated, albeit limited resources.
"I do not think it is called for, so we are trying to figure out where it is coming from and why they have done this. It is almost as if they are saying we have not done what is necessary, whereas we are one of the countries in the whole world that have done exceptionally well in terms of controlling the spread of COVID," Isaac explained.
The government of Saint Lucia "Pillar 5 – Resilient Health Sector in Saint Lucia" explains:
On March 27, Saint Lucia welcomed a Cuban medical brigade of doctors, bio-engineers to provide support services at hospitals and other healthcare facilities, in the fight to contain and eliminate the spread of COVID-19.
On June 17, three senators, Marco Rubio, Rick Scott and Ted Cruz, introduced in the US Senate, the "Cut Profits to the Cuban Regime Act", which, if it is adopted, will penalise any government, worldwide, that contracts with the Cuban government for the provision of medical personnel. Since many Caribbean governments have such contracts with Cuba, they all stand to be targeted.
Among the measures that the Bill, sponsored by the three Senators, seeks to impose are "a requirement that the Department of State publishes the list of countries that contract with the government of Cuba for their medical missions program", and that the contracts be considered "as a factor in considering that country's ranking for Trafficking in Persons (TIP) report".
Saint Lucia's health minister and the three US senator should be rooted in the writings by Cuba expert Vanni Pettina, a researcher and associate professor at the College of Mexico's Centre for Historical Studies, that describes: "Neither idealism nor pragmatism alone can explain this type of intervention outside the island. The medical missions are not only sources of foreign income, but they are also a powerful source of legitimisation, both at home and abroad because they show the coherence between the supposedly emancipatory ideals of the Cuban Revolution and its benevolent foreign policy, which rushes to the aid of the unprotected."
There is also the understanding that the fight against COVID-19 is a complex task – moreover, it is geopolitical.