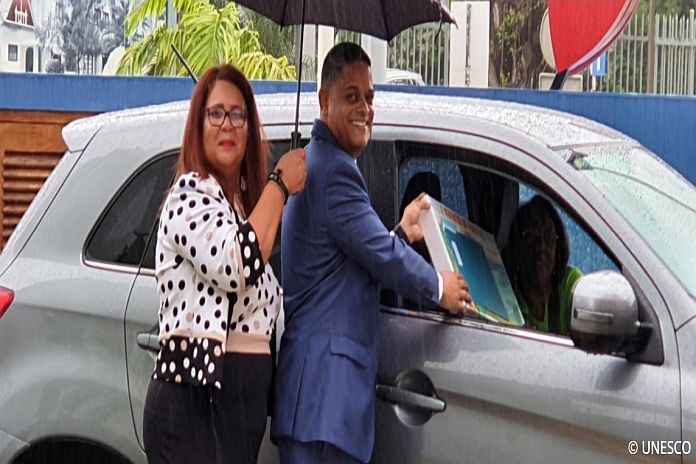 WILLEMSTAD, Curaçao (UNESCO) – On the occasion of the First International Day against Violence and Bullying in Schools, including Cyberbullying, the Curaçao National Commission for UNESCO celebrated the day under the theme "Together against Bullying in school"/"Huntu kontra Bullying den skol"/ "Samen tegen pesten op school". During UNESCO's 40th General Conference in 2019, the 193 Member States of UNESCO unanimously agreed to celebrate the day on November 5.
Adopting an innovative way, respecting the biosecurity measures to prevent the spread of the novel corona virus, the Honorable Eugene Rhuggenaath, prime minister of Curaçao and chair of the National Commission of Curaçao, minister of education, science, culture and sport handed out an anti-bullying toolkit to Schoolboards at a drive-through.
The two schools, J.W.Th. Schotborghschool and Kolegio Don Sarto, both part of the UNESCO Associated Schools Network (ASPnet) took part in this one-day event.
The anti-bullying toolkit "E Kuenta di Fuerte" (The Story of Fuerte (Strong)" was developed as part of the project "Break the Silence: Say NO to Bullying" within the UNESCO Participation Programme 2018-2019 through a collaboration between the Curaçao National Commission for UNESCO, the J.W.Th.
Schotborghschool and IamSynergized, who worked on the toolkit and also held workshops and training sessions for teachers, students and parents on how to deal with bullying. The toolkit is based on the Story of Fuerte, an inspiration from the Dutch version "Het Verhaal van Sterk" (The Story of Fuerte). The Story of Fuerte (strong) leads us into the world of Fuerte, his family and friends. Themes such as compassion, determination, unity, developing one's talents, giving and receiving respect, finding solutions, accepting others as they are, loving one's neighbour, country and friends.
The toolkit consists of five storyboards, a teacher's manual with assignments, an assignment book for the students, a card game about talent and quality and an audio story. The material is easy to use to motivate children to talk about topics that are not easy to discuss. The topics usually relate to the social-emotional area, which concerns the intellectual area of a child. This toolkit aims to empower students to defend themselves against being bullied by others and for teachers and parents to recognize signs of a child being bullied by others.
The aim of the toolkit is for each child to feel strengthened and more resilient because they recognize their talents and know that once they are in the community, they can achieve more than alone. It offers teachers the opportunity to talk to their students about the above-mentioned topics in order to create a positive and friendly pedagogical atmosphere in the school. Empowered and resilient children are less inspired to bully others and more likely to stand up for their peers.