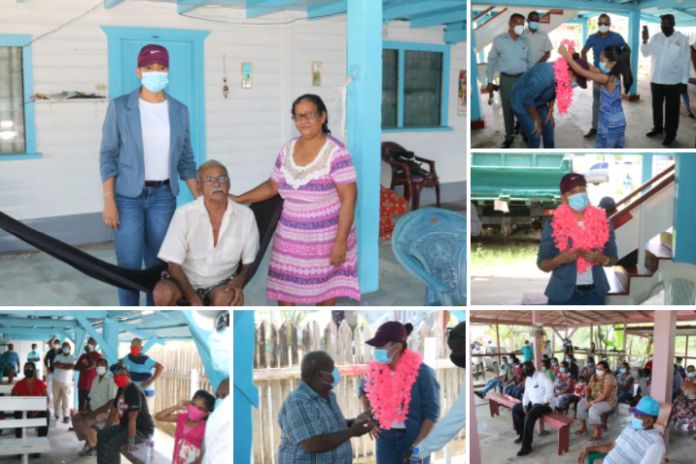 GEORGETOWN, Guyana, (DPI) – Residents of several Mahaicony villages in Region 5, came out in their numbers to air their concerns over issues affecting them as Minister within the ministry of housing and water, Susan Rodrigues held several meetings in the area on Saturday.
Engagements were held in De Hoop, Fairfield, Hyde Park, Dundee, and Trafalgar Mahaicony. The minster was also accompanied by regional officials including, member of parliament, Fizal Jaffarally, regional chairman, Vickchand Ramphal, and Kellon Benjamin of the Guyana Water Incorporated.
Concerns raised included, the need for the development of new housing schemes, better water delivery service, drainage infrastructure, road rehabilitation, and the supply of electricity to some areas.
Residents complained of the long periods they are made to wait for house lot allocation. Over in Fairfield, Dundee, Hyde Park, and Champagne; the residents called on the minister to look into the issue of damages to water mains in these communities which they claim contributes to low water pressure.

Minister Rodrigues assured the residents that the administration is committed to providing better service delivery in every sector, to every citizen, irrespective of their political persuasion or geographic location.
"We were placed here to work for you, and we are committed to that, and more importantly, we believe in inclusiveness, how can we serve you and know what your needs are, if we sit in our offices," minister Rodrigues stated.
She added that the demand for housing will be addressed in the coming months as the ministry will fulfil president Irfaan Ali's vision for the housing sector.
"We have committed to 10,000 serviced house lot per year and we have already started working to make this a reality, only recently we met with the financial institution to address the issue of financing and affording housing for our citizens,"
The proper acquisition of lands for development and distribution is also high on the ministry's agenda, the minister assured residents.
Minister Rodrigues explained that moving forward the ministry will be allocating lots that are in schemes which are developed, that is inclusive of water, electricity, and road network as well as drainage infrastructure.
"We inherited a number of issues with regards to housing and we are working to remedy these issues, we will deliver on our promise but these things take time," the minister reminded residents.
Meanwhile, the issue of damaged mains in the communities will be addressed forthwith as the team from the Guyana Water Inc, have begun mobilisation to remedy the situation.
Additionally, the other issues which were raised will be forwarded to the respective ministries. Minister Rodrigues committed to working with regional officials and other sister agencies to ensure that these issues are addressed within the shortest possible time.