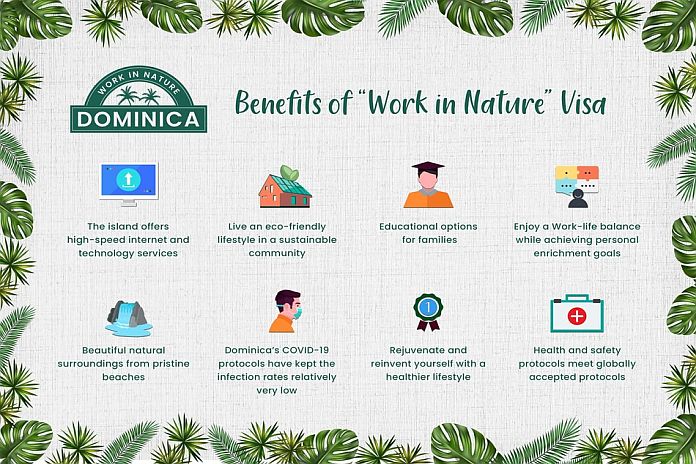 By Caribbean News Global contributor
ROSEAU, Dominica – Dominica is engaging digital nomads under a new visa programme  – Work in Nature (WIN) Visa – that allows relocation to work remotely and live in the "Nature Isle of the Caribbean" for up to 18 months.
The newly launched Work in Nature (WIN) Visa is in addition to the Citizenship by Investment Programme (CBI) where successful applicants enjoy travel freedom to over 140 countries and territories, invest and contribute to the socio-economic development of the island.
WIN Visa is an added facet to the tourism product and economic growth, seeking out alternative ways to travel, conduct business and live for an extended period. This also complements a healthy work-life balance in a country that has globally accepted health and safety protocols amongst the natural beauty of the island.
The WIN visa programme offers individual and family options. The family bundle programme encourages children to attend school on the island. Applicants must make a non-refundable application fee of $100. The visa fee family is $1,200 while the visa for singles is $800.
Applicants must be at least 18 years of age and of good character with no criminal record. In addition, they must expect to earn an income of $50,000 or more over the next 12 months or have a means of supporting themselves, their spouse/partner and any dependants. Upon application, a response is expected within seven days.
Dominica now joins the Caribbean islands of Antigua and Barbuda, Barbados, Montserrat, BVI, Cayman Islands, etc., with similar programmes.
According to the minister of tourism, Denise Charles ", this is one of the initiatives which will help boost our tourism industry in our phased tourism recovery approach, while providing a safe environment for persons to work remotely in a tropical environment. Stakeholders and island partners have all collaborated to provide an attractive programme which also helps to create the opportunity for economic recovery."
Dominica thrives on the protection and preservation of the environment, and following hurricane Maria, pledged to become the world's first climate-resilient nation. Known as the "Nature Isle of the Caribbean," the topography is mountainous with an abundance of rivers, ideal to relax and rejuvenate.
Dominica is a luxury destination with international hotel brands operating sustainably. Likewise, Dominica has been ranked as the best destination for second citizenship by experts at the Financial Times' PWM magazine, over the last four years, thus maintaining the attractiveness to foreign investors making a socio-economic contribution to the development of the island.
The WIN VISA programme and CBI offers immense opportunities and wider options to work remotely, invest and live in the "Nature Isle of the Caribbean," hassle-free.