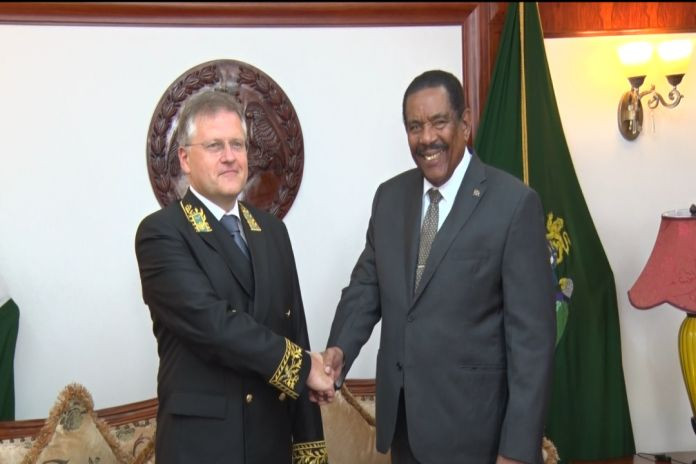 By GIS
ROSEAU, Dominica – His Excellency Sergey Petrovich is the new Russian ambassador to Dominica. He presented his credentials to president of Dominica, His Excellency Charles Savarin on Monday, May 22 2023, reports GIS Dominica. Since establishing diplomatic relations, Dominica and the Russian Federation have fostered friendly relations.
President Savarin said he looks forward to a growing support from Russia on major international issues. Dominica and Russia first established diplomatic relations in 1995.
"It is my expectation that during Your Excellency's term of office that Dominica will be afforded the opportunity to collaborate further and benefit from your country's expertise in these areas. As one of the five permanent Member States of the Security Council, Russia's position on major international issues is of great significance to us as Small Island Developing States (SIDS). We therefore look forward to the growing presence of the Russian Federation in the Caribbean region and to the further strengthening of relationships both bilaterally and multilaterally, in dealing with the challenges confronting small island developing states and more particularly the devastating effects of climate change, covid-19, and rising incidents of crime and violence, all of which threatens our sustainable growth and development and peaceful way of life," president Savarin stated.
His Excellency Savarin thanked Russia for its assistance following the devastation of tropical storm Erika and hurricane Maria. He added that Dominica would continue to lend its support to Russia when it is possible to do so.
"It is my wish that Your Excellency's assignment will be a fruitful and rewarding one and that you will take advantage of the opportunity to visit Dominica periodically to fulfil the aims of the protocol of intentions, and that during such visits, Your Excellency will experience the renowned warmth and hospitality offered by the government and people of our country, and enjoy the beauty of our nature island. Your Excellency, your country has been able to count on the support of the Commonwealth of Dominica in elections to various international bodies when we are not competing for the same positions and we hope to be able to continue to lend that support in future instances, whenever circumstances permit," H.E Savarin added.
Meanwhile, the new ambassador of Russia to Dominica, His Excellency Sergey Petrovich says he will do his best to further develop relations between the two countries.
"As an ambassador of my country to the Commonwealth of Dominica, I am very strongly committed to do my best, to do as much as I can for further development of the traditionally friendly relations between our two countries. We have enjoyed friendly relations with Dominica already for 28 years since the establishment of the diplomatic relations in 1995 and so I think we have a good potential for development of our bilateral relations in different spheres like trade, economic investment, tourism, culture and particular education and many others," ambassador Petrovich stated.