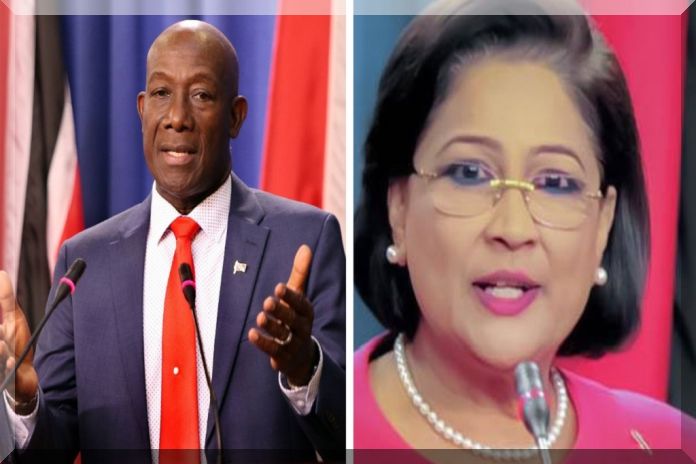 By Caribbean News Global contributor
PORT OF SPAIN, Trinidad — Political leader of the United National Congress (UNC) Kamla Persad Bissessar is accusing the prime minister Dr Keith Rowley of trying to mislead the public on the ability of Commonwealth observers to monitor the 2020 general election in Trinidad and Tobago. A deliberate attempt to hoodwink and avoid scrutiny as observed recently in St Kitts and Nevis.
According to Dr Rowley, during his Friday night virtual "lime" event, Commonwealth observers will not be coming, but the possibility still exists for CARICOM observers to be present. In the same breath said, he is not worried if observers are not able to attend as the country is no "banana republic" and is quite capable of conducting itself.
"On July 8, 2020, the prime minister announced via his Facebook page that he wrote to CARICOM Secretary-General, Irwin La Rocque, and Commonwealth Secretary-General, Patricia Scotland, QC, formally inviting them to send election observers to Trinidad and Tobago.  On Friday, July 24, 2020, after Persad-Bissessar questioned the status of international election observers, and during a virtual "lime" the prime minister indicated that the Commonwealth had replied saying "they didn't think they would be able to come because of the cost," the UNC press release stated. Dr Rowley is once again trying to mislead the population.
Dr Rowley's virtual "lime" talk said "the government could not take it upon itself to bring the team to Trinidad and Tobago as it could be considered a conflict of interest. Because, if the team does a report and it is favourable, you will have people saying, 'Well, the government paid for the team or the government put them up in a hotel'… so, we are not doing that.
"We thought maybe we could ask a third party to help the Commonwealth Association office. We talked to a couple, and we so far have not got an answer as to whether that could be done … So, it appears as though we may not have a Commonwealth team," Dr Rowley said.
Regional and international observers of events pre and post general elections in St Kitts and Nevis and the current situation in Guyana questioned: which Dr Rowley was present on Dr Rowley's virtual " lime" event that "he was not disturbed," sampled marshmallow chow, talked about his favourite People's National Movement (PNM) campaign songs, tried on clothes and showed off his tassa skills?
However, the UNC on Sunday said, "the prime minister is well aware that revised guidelines for Commonwealth election observation were agreed to and released at the Commonwealth Heads of Government Meeting (CHOGM) in 2018, which he attended.
During that meeting of CHOGM, it was stated that the new guidelines "adopt best practice, as also reflected in the Declaration of Principles on International Election Observation, and will ensure the on-going integrity, value and impact of Commonwealth observer missions as they continue to support the strengthening of electoral democracy and the political rights of Commonwealth citizens."
Section 8.2 of these guidelines states: "The costs of each observer mission are covered by the Secretariat. No funds are sought from the host member country being observed…" The UNC in a press release stated, "Dr Rowley's actions can now be viewed as an attempt to not only stall the process so that observer teams would not have enough time to enter the country and undergo the mandatory 14-day quarantine but a deliberate attempt to hoodwink the population mere days before the election and avoid scrutiny."
The UNC reiterated that international observers have in the past, played an important role in Trinidad and Tobago's elections. In the 2007 and 2010 elections, we received observers from the Commonwealth and CARICOM, while the 2015 election was observed by the Commonwealth at my [Kamla Persad Bissessar] request.
"We have seen the pivotal role international observers played in the recent elections in Guyana and we can agree that without them, their elections would have not reflected the true will of the people. Likewise, we have always had a long tradition of international elections observers present in Trinidad and Tobago and as such they must be present. Dr Rowley must take full responsibility international observers are unable to arrive here in time to ensure proper scrutiny of the election process.
"I am calling on the prime minister to act immediately to put the necessary arrangements in place so we will not be left without observer teams for the first time in our recent electoral history.  Let us continue to do all we can to ensure our tradition of free and fair elections in Trinidad and Tobago is upheld while protecting the health and wellbeing of our nation," UNC leader Bissessar said.