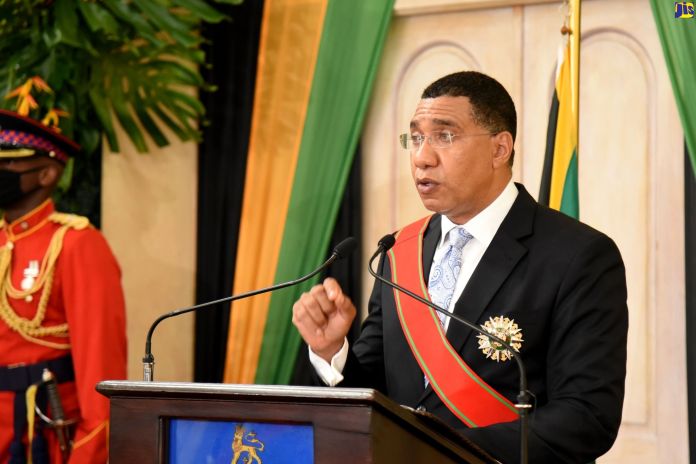 By Caribbean News Global contributor
KINGSTON, Jamaica – Prime minister, Andrew Holness, has announced plans to provide more than $14 billion in support for business, tourism interests, and farmers within three years, strengthen institutions and facilitate recovery from the economic impact caused by the coronavirus (COVID-19) pandemic.
"The funding provisions will include $10 billion in loan guarantees to support micro, small and medium-sized enterprises (MSMEs); $3 billion in agri-care support for farmers and fisherfolk; $1.2 billion in grants to small and medium-sized tourism operators, to be deployed through the EXIM Bank; and $500 million in grants for micro and small community-based businesses. This will help our economy recover stronger, ensure that together we recover stronger, to maintain and strengthen the macroeconomic stability that has been attained," Holness said. "We will diversify our economy to increase resilience, promote innovation, support youth entrepreneurs, and explore opportunities within the green and blue economy."
Minister of finance and the public service, Dr Nigel Clarke, says the government will be focused on economic recovery as the country continues to deal with the effects of the coronavirus (COVID-19) pandemic.
"Jamaica faces, like much of the world, the greatest crisis of our lifetime, and so the first priority of the government is going to be to ensure that we can absorb the effects of the crisis and bounce back stronger, bounce back through economic recovery… to an expansion of economic activity once more," he said.
To maintain macroeconomic stability and strengthen institutions that safeguard stability, the Bank of Jamaica (Amendment) Act will be tabled in the new parliament.
"That legislation came through a Joint Select Committee. One of the first orders of business is going to be the tabling of that legislation and to have it go through its stages in parliament. We are going to bring a Bill to put in place a Fiscal Council to strengthen Jamaica's fiscal responsibility framework, and we are going to pursue the strengthening of our disaster risk framework, to provide fiscal protection in the event of natural disaster," Dr Clarke said. "We will be further capitalising our Contingencies Fund over the course of this term and with the help and assistance of our multilateral partners, such as the World Bank, procuring catastrophe insurance in the event of a natural disaster," he added.
Meanwhile, prime minister Holness advised ministers sworn into office on Monday, – minister of national security, and deputy prime minister, Dr Horace Chang; – minister of finance and the public service Dr Nigel Clarke;-  minister of health and wellness, Dr Christopher Tufton; and minister of foreign affairs and foreign trade, Senator Kamina Johnson Smith, that, "If ministers exercise good judgement across the board, their actions would reflect a government with the highest integrity, dignity and efficiency."
Holness added: "The task ahead is not going to be an easy one, and I'm well aware of this. A part of my job will be to do a constant assessment and evaluation of the performance of the team. I will have to play more of the role of coach rather than player, to make sure that any strategic gaps, any tactical shortcomings, that those are immediately corrected and that when we are taking the long view we are actually looking in the right direction," and "In that regard, I have to ensure that I have a team that is competent, I have a team that has the drive and energy, a team that exercises good judgement, and a team that understands their role and are great advocates for the mission of the government. In this regard, I'm confident that I have enough personnel who fit the criteria."
Prime minister Holness reappointment of ministers Monday is said to be 'based on their work ethics' affirmed: "I have had the opportunity to serve with the four ministers who have been appointed today and like the others who will be appointed shortly, I know that every day they give of themselves and I am satisfied. I am, indeed, honoured and privileged to have served with them and I make the recommendation to you Your Excellency for their reappointment without hesitation," he said, noting that, the ministers have given their commitment to do their best to ensure the success of the government. "They have said to me that they do not want to fail the people and that they will work with every fibre in their body, with all their energy to ensure that we are a successful government and we deliver on behalf of the people," Holness said.