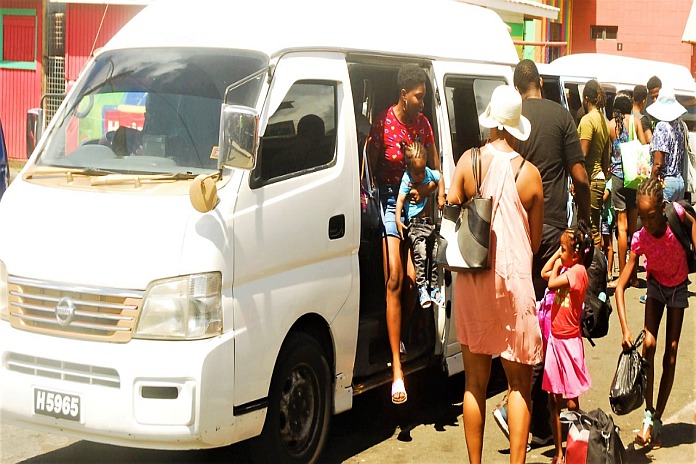 By Caribbean News Global contributor
KINGSTOWN, St Vincent — An agreement has been reached between the government of St Vincent and the Grenadines, and the Vincentian Transportation Association (VINTAS) in-line with the economic support package – Rising stronger from the ashes of COVID-19.
VINTAS urged both omnibus operators and commuters to adhere to the government's recommendation to reduce the number of passengers in omnibuses from 18 – 12 inclusive of three passengers per row.
"This measure is temporary, and represents the commitment of omnibus operators to minimize the risks in spreading the COVID-19 virus," VINTAS said in a statement.
Last week, the government of St Vincent and Grenadines recommended that omnibus operators will be given a stipend for two months in the first instance beginning in April 2020. The stipend will be between EC$250.00 and EC$300.00, and the registration process for collection of the stipend and the amount to be collected will be determined by the government after further consultation with the ministry of finance.
Additionally, the price of gasoline was reduced from EC$12.97 to EC$11.97 per gallon, and diesel was reduced from EC$11.79 to EC$10.79 per gallon, effective March 23. Also agreed is that all omnibuses vans will be sanitised by the ministry of health at two designated centralised locations in Kingstown at least twice daily.
Omnibus operators who are credit/loan customers of financial institutions may also be eligible for a loan repayment moratorium.
"Social Supports for vulnerable and affected persons … including cruise buses and taxis, through a Displacement Supplementary Income for three months in the first instance; hiring an additional 20 Home-Helpers for the elderly; additional transport support for students, including from the Grenadines): EC$5 million."
VINTAS advised in a statement, "Omnibus operators are encouraged to contact their bank and/or credit union to clarify what support they may be eligible to receive".
This is per "policy initiatives touching and concerning the socio-economic recovery advanced, by the government of St Vincent and the Grenadines economic stimulus: "The banks, credit unions, and other financial institutions have agreed to provide a six-month moratorium on the payment of principal and interest on home mortgages, business loans, personal and consumer loans, and credit cards."
VINTAS affirmed that the Association is willing and ready to co-operate with government measures to contain and prevent the community spread of COVID-19. VINTAS was established September 2018 and currently represents 200-members.