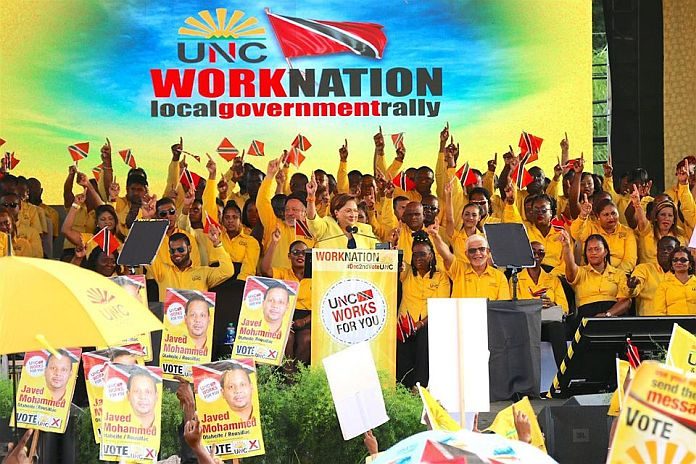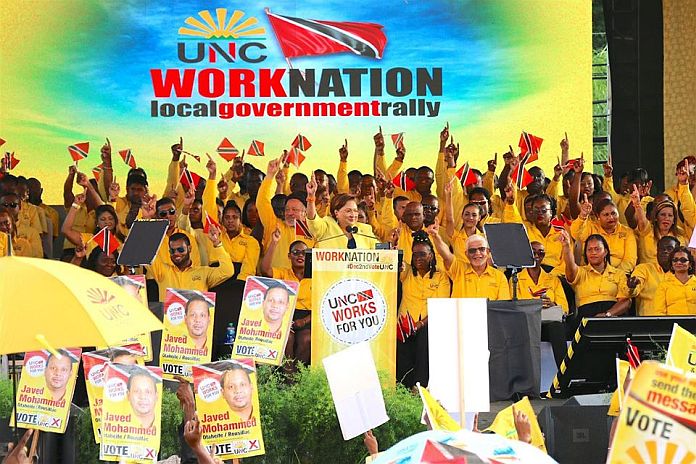 By Kamla Persad-Bissessar
Look at us, the United National Congress (UNC) is growing ever stronger. And as I look on this stage at these bright, talented, enthusiastic candidates, the young, the not so young, resplendent in their yellow UNC colours, I am reminded of my own start in politics.
I am where I am today, because of where I started in politics and the choices I made along the way. If I were to start at the very beginning, it would be to my early childhood and then, later on, to further my studies in England.  I was born and grew up in one of the best places in Trinidad – Siparia.
At the young age of 16, I said to my parents that I am going to study in England. We were not rich, I had no idea how I was going to do it, but I was determined. Yes, that may seem a simple thing to most of you, but to me, it was a major milestone.
You see, at that time, women were expected to settle down and start a family. But from a very young age, I knew I wanted more for myself, and I knew that the way I could achieve my goals was through education.  And I had my mother's support. So strong was my belief in the power of education that I later became a teacher.
My decision to enter politics, however, came about after I saw first-hand the suffering of people, particularly the less fortunate in our society. I was determined to do something about it.  So, in 1987, I became an alderman for the then-St Patrick County Council. I worked on the ground, in the communities, doing my best to help people, to improve the quality of their lives.
To all our candidates, there is no limit to what you can achieve. It was not at all easy. I faced many stumbling blocks and opposition, and all along the way, there were people ready to tear me down. But I stood strong. I was as resolute then – as I am now. Because I know we have a mammoth task ahead of us. I served as an alderman until 1991, and this experience has stayed with me throughout my career. It is one that I will never forget, and I will always value.
From there, I went on to the Senate, and then government minister, and of course, it was my honour and privilege to serve you as prime minister of this great nation. I am recounting this story to you today because before you, are 139 people ready to serve you. And they are the future leaders of Trinidad and Tobago.
As a leader, it is my duty to empower the youth to be able to take up leadership roles themselves. This is especially important now, given the current state of our country.  What we are seeing is a rapid deterioration in the quality of our lives, as a result of the incompetence, mismanagement, and recklessness of this, Dr Keith Rowley regime. 
The UNC's plan for Trinidad and Tobago
[Today,] as we face an economy in freefall, out of control crime, an ailing healthcare system, rising unemployment levels, and misconduct in public office by some in the Rowley administration, I know you may feel a sense of hopelessness, or despair. But I say to you, never, ever give up hope. Just as the darkest night comes to an end and the sun rises, so too will the darkness in our country soon come to an end.
Your great party, the UNC has been preparing and finalizing a comprehensive plan to rescue our nation and return to sustainable growth.  We know that you need jobs. You need to be able to care for your families – to put food on the table and send your children to school.
Under this government, more than 60,000 jobs have been lost. Do not believe them when they say they've created jobs. Nothing they say can be trusted.
When we took office in 2010, we promised that we would create meaningful and sustainable jobs for the citizens of Trinidad and Tobago – and we did. We created 56,000 new jobs. And we did that without raising a single tax.
My vision was not geared towards short-term success for our country. Our plan was to ensure that for seven generations to come, your children and your grandchildren would be able to work in jobs that would propel our country into the fourth industrial revolution. That is why we built 106 schools, that is why we distributed 95,000 laptops, that is why we revamped the technical and vocational skills programmes. It was all part of our vision of an evolved and diverse workforce.
A competent and working Trinidad and Tobago 
The UNC has a solid plan to create 50,000 jobs by 2025.  How will we do it? Our plans are laid out in our National Economic Transformation Masterplan 2020-2025.
To better prepare our citizens for the future of work, a new UNC government will align GATE funding to economic priority areas and labour market needs and foster a business environment that is conducive to entrepreneurship and innovation.
I have spoken to some of these already, and we will reveal more details in the weeks and months to come. Those on that side have no clue, no idea, no vision – they have done nothing in four years, and they have failed to produce a single plan to create jobs, generate revenue, or do any of the responsibilities of a government.
Have they protected you?  Do you feel safer today? You don't need to look at the headlines of the newspapers or the news media or social media to tell you that crime is out of control. Because no one feels safe or is safe in this country. We live in virtual prisons, afraid to do even the most mundane things, let alone enjoy public spaces with our families.
We cannot continue to live like this. The citizenry is traumatized, and it is this Rowley-led government that has failed to create a safe and secure environment for all of us.
Last night I re-stated some of the UNC's plans to address the spiralling crime rate, and which is realistic and achievable. We will get it done. I have spoken at length about the fourth industrial revolution.