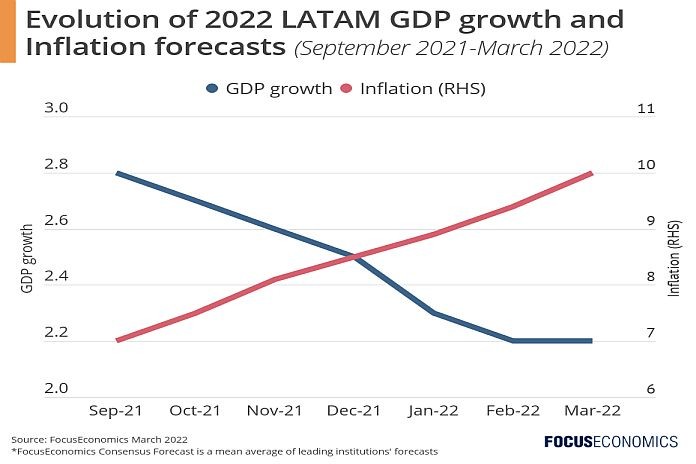 By FocusEconomics
ASIA – On the one hand, a prolonged Russia-Ukraine war is expected to weigh on external demand as both countries' economies implode and Euro area economic growth takes a hit, with higher energy prices and renewed supply chain disruptions set to stoke price pressures. On the other hand, surging commodity prices are set to benefit specific LATAM countries' terms of trade, which could more than offset weaker external demand ahead.
Mexico and Colombia, and to a lesser extent Brazil, are set to benefit from heightened crude oil prices. Moreover, Chile and Peru are projected to take advantage of rising copper prices, while Brazil and Peru will likely also receive a boost from rising base metal prices more broadly. Furthermore, Brazil and Argentina will also see their terms of trade improve due to elevated agricultural prices.
Nevertheless, while the hit to external demand in LATAM should be relatively limited due to weak trade linkages with Russia and Ukraine, inflation both domestically and abroad – mainly the result of higher energy prices and supply bottlenecks – also poses a major downside risk to the outlook. Stronger price pressures in developed economies make it likely that major central banks raise interest rates, which risks investment and liquidity fleeing LATAM and going into developed economies amid rising safe-haven demand due to the war.
Insights from our analyst network
On LATAM's economic outlook with respect to the war, James Haley, special advisor at Scotiabank, noted:
"Against this backdrop of economic and geopolitical uncertainty, early indicators suggest that for most Pacific Alliance countries the positive terms-of-trade effects associated with the current geopolitical risk-on environment—higher commodity prices—could outweigh possible negative effects from, say, weaker external demand. […] the full impact of the whirlwind unleashed by Mr. Putin remains unknown. What is clear is that, whatever the economic effects, the invasion of Ukraine has already been a humanitarian disaster." 
Commenting on the conflict's impacts on the global economy, economists at EIU noted:
"The economic impact of the conflict will be felt mostly in Ukraine and Russia, which will both experience double-digit recessions this year. Those eastern European countries that are most exposed to trade with Russia, such as Lithuania and Latvia, will also take a hit from the conflict. Elsewhere in Europe, the EU will suffer from an energy and trade shock. In view of this situation, we have revised down our growth forecast for Europe in 2022 from 3.9 to 2.3 percent. We now expect growth in the eurozone to stand at 3.6 percent this year, from a previous forecast of 4 percent. These downward revisions to Europe's growth outlook have prompted us to revise down our global growth forecast by 0.5 percentage points from 3.9 to 3.4 percent."