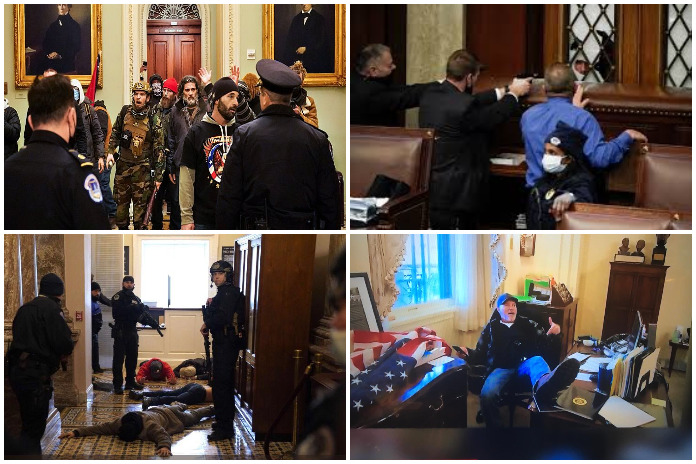 By Caribbean News Global

WASHINGTON, USA – Following guns and teargas in the US Capitol, Wednesday, as Trump supporters attempted to overturn losing the presidential election, a woman who was shot inside US Capitol was pronounced dead spokesperson Dustin Sternbeck with the Metropolitan Police Department confirmed.
A statement by acting Secretary Miller on full activation of DC National Guard, said: "Chairman Milley and I just spoke separately with the Vice President and with Speaker Pelosi, Leader McConnell, Senator Schumer and Representative Hoyer about the situation at the US Capitol. We have fully activated the DC National Guard to assist federal and local law enforcement as they work to peacefully address the situation. We are prepared to provide additional support as necessary and appropriate as requested by local authorities. Our people are sworn to defend the constitution and our democratic form of government and they will act accordingly."
As night fall arrives, a 6-6 curfew is in effect riot police have been deployed, battling Trump's mob away from the Capital. Meantime members of Congress and Speaker Nancy Pelosi are determined to reconvene Wednesday 08:00 pm Eastern Time to certify the presidential election.
A statement by Jonathan Hoffman, chief Pentagon Spokesman, on DC Guard Mobilization, said: "The D.C. Guard has been mobilized to provide support to federal law enforcement in the District of Columbia. Acting Secretary Miller has been in contact with Congressional leadership, and Secretary McCarthy has been working with the D.C. government. The law enforcement response will be led by the Department of Justice."
Former president George W. Bush condemned the riots: "This is how election results are disputed in a banana republic", added: "I am appalled by the reckless behavior of some political leaders since the election and by the lack of respect shown today for our institutions, our traditions, and our law enforcement."
Meantime @realDonaldTrump, said:  "These are the things and events that happen when a sacred landslide election victory is so unceremoniously & viciously stripped away from great patriots who have been badly & unfairly treated for so long. Go home with love & in peace. Remember this day forever!"
Reportedly Twitter has since locked president's Trump twitter account for 12 hours.
World leaders reaction
United Kingdom
"Disgraceful scenes in US Congress. The United States stands for democracy around the world and it is now vital that there should be a peaceful and orderly transfer of power," UK prime minister Boris Johnson
Germany
"Trump and his supporters must accept the decision of American voters at last and stop trampling on democracy," German foreign minister Heiko Maas.
Sweden
"President Trump and many members of Congress bear significant responsibility for what's now taking place. The democratic process of electing a president must be respected," Swedish prime minister Stefan Lofven.
France
"The violence against the American institutions is a grave attack on democracy. I condemn it. The will and the vote of the American people must be respected," French foreign minister Jean-Yves Le Drian.
Canada
"I think the American democratic institutions are strong, and hopefully everything will return to normal shortly," Justin  Trudeau, while foreign minister Francois-Philippe Champagne said: "Canada is deeply shocked by the situation in Washington DC. The peaceful transition of power is fundamental to democracy – it must continue and it will. We are following developments closely and our thoughts are with the American people."
Calls to remove president Trump from office
There are calls to invoke the 25 Amendment to remove president Trump for office with immediate effect albeit 14 days to the inauguration of president-elect Joe Biden.
"The Twenty-fifth Amendment (Amendment XXV) to the United States Constitution says that if the President becomes unable to do his job, the Vice President becomes the President. This can happen for just a little while, if the President is just sick or disabled for a short time."