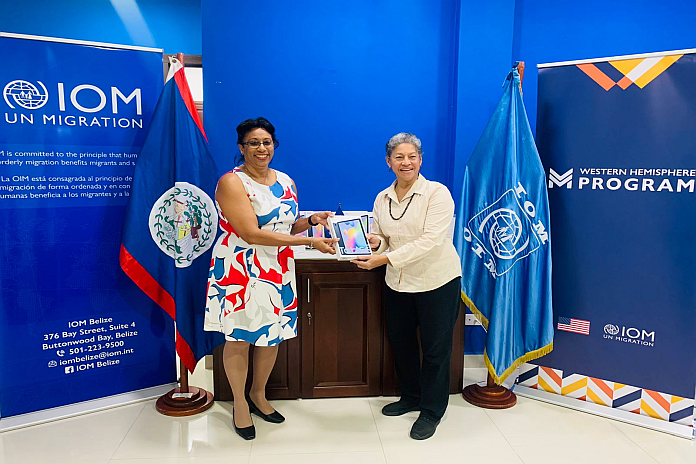 By Government Press Office | BELIZE
BELMOPAN, Belize – Thursday, April 7, 2022, Diana Locke, head of office of the International Organization for Migration (IOM), handed over 30 tablets to Dolores Balderamos Garcia, Minister of Human Development, Families, and Indigenous People's Affairs (MHDFIPA). This donation forms part of IOM's continued support to improve data management within the context of human trafficking.
The donation of tablets follows the development and launch of a Trafficking in Persons Module on the ministry's case management system – FAMCare, which was funded by IOM in 2021. This delivery of tablets will further support the ministry's fieldwork to better document cases of human trafficking, leading to more informed decisions, and more appropriate actions for clients of the ministry.
With this donation, MHDFIPA and IOM undertake, to the extent possible and in accordance with their strategic plans, to take immediate and effective measures to eradicate human trafficking and secure the prohibition and elimination of forced labour, including child labour. This action responds to Goals 1, 7, 9 and 10 of the Global Compact for Migration, as well as Goals 5, 8 and 16 of the Sustainable Development Goals.
This donation was made possible by the Western Hemisphere Program, a regional initiative implemented by IOM and generously funded by the US Department of State, Bureau of Population, Refugees and Migration.