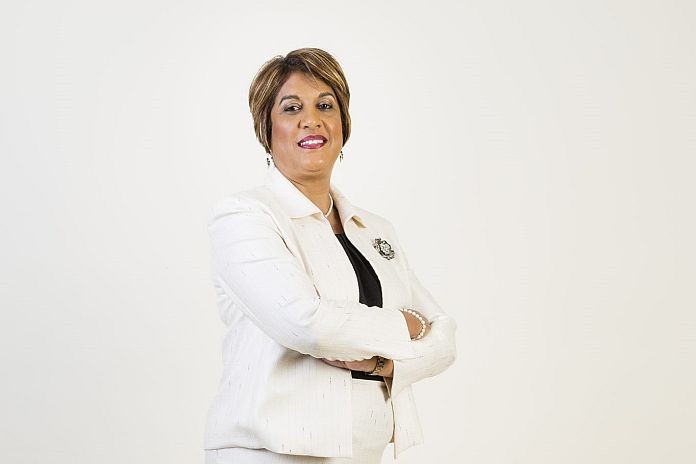 By Lisa Rowe
KINGSTON, Jamaica, (JIS) – Deputy Governor of the Bank of Jamaica (BOJ), Natalie Haynes, says Central Bank Digital Currency (CBDC) implementation is consistent with the Government's overall financial inclusion strategy.
CBDC is a digital form of central bank-issued currency and, therefore, is legal tender that can be exchanged dollar for dollar with physical cash.
Households and businesses will be able to use CBDC to, among other things, make payments as now obtains with cash.
"Financial inclusion is access by all to financial services and products [and] is a critical factor of Jamaica's digital transformation. The Bank of Jamaica contributes to this by acting in its role as technical secretariat of the country's national financial inclusion strategy," Haynes notes.
Through the CBDC, the BOJ will contribute to the financial inclusion process by enabling Jamaicans to seamlessly access financial products and services.
"CBDC is simply a digital form of money issued by a central authority. The Bank of International Settlements defines CBDC as a digital payment instrument denominated in the national unit account that is a direct liability of the central bank. In other words, the Central Bank is responsible for the CBDC that is issued," Haynes explains.
"With amendments to the Bank of Jamaica Act, CBDC will become legal tender. Legal tender means that all merchants, whether for goods or services, will confidently accept CBDC and know that they will get value for the good or the service that they provided," she adds. Haynes points out that the CBDC should not confused with cryptocurrency.
"CBDC is not a cryptocurrency. A cryptocurrency is privately issued, and it's not backed by a central authority. So,  you have some of them out there [such as] Bitcoin, Ethereum and Ripple," she informs.
The deputy governor told JIS News that the central bank will be using the hybrid approach in introducing its CBDC.
"BOJ will not be issuing CBDC directly to retail customers. We are going to be issuing directly to deposit-taking institutions (DTI) that are licensed under the Banking Services Act; these are commercial banks, building societies, and merchant banks," Haynes outlines.
She adds that in order to foster financial inclusion, "we will also issue to a group called payment service providers, that are currently operating and testing payment products in the bank's FinTech regulatory sandbox".
The BOJ will be issuing CBDC to payment service providers and DTIs who, in turn, will distribute it to their customers, clients, merchants and consumers through either an E-money wallet, card networks or other digital options for persons and entities to utilise in transactions.
"In this case, the BOJ issues to wallet providers (the collective name for DTIs and payment service providers) on a wholesale basis, just as we do with physical cash. When a bank wants physical cash, they place an order with BOJ and then they send their cash in transit courier to BOJ to collect the cash. In this case, they will still place their orders with BOJ, and we will issue them with the digital currency," Haynes explains.
The deputy governor is reassuring Jamaicans that the CBDC will add to the current pool of retail payment instruments in Jamaica, such as debit and credit cards, as well as prepaid cards offered by payment service providers.
"Think of it, basically, as cash that you have in your wallet. In this case, you're going to have a digital purse or wallet. It is not e-money, which is a liability of e-money issuers, and, of course, because it is very much like cash, it does not earn interest. CBDC in Jamaica is going to be only for domestic use and will not be used for cross-border transaction," Hayes says.
She points out that one chief benefit of the CBDC is that there will be a more inclusive system for persons where every citizen will have a quick, safe and reliable digital retail payment instrument.
"It's more efficient than cash. It is instantaneous, even for remote transaction, meaning you don't have to be in front of the person. For cash, you have to be in front of the person to exchange cash. We can do person to person, person to business, and it goes both ways," Haynes adds.
She says the CBDC is also an incentive for persons who are apprehensive about the formal banking system to reap benefits if they plan to start a business.
"For example, you have a CBDC wallet with bank 'A' and then after a couple months of operating, your bank knows you and you can say 'hey, I need a loan for my medium to small or microbusiness'; it gets you into the formal system. If your bank doesn't know you and doesn't know you exist, then it's going to be very difficult to obtain those facilities," Haynes tells JIS News.
To access the CBDC, the Deputy BOJ Governor says customers will need to have a wallet, which is going to be different from your regular bank account.
"Of course, it's going to be much easier and simpler to obtain with streamlined and simplified Know Your Customer (KYC) requirements," Haynes states.
She also states that once an individual has a relationship with a bank, in that they already have a bank account with them, they can automatically get a CBDC account.
For those who are unbanked or do not have an account, then DTIs and authorised payment service providers will be able to onboard these individuals, who can then request a CBDC account.
To carry out CBDC transactions, consumers will be able to access, download and deploy a mobile wallet app on any mobile phone, tablet or similar device using the networks of both major telecoms service providers.
Customers will be able to top up their accounts with CBDC through all authorised agents or smart ABMs and do business using CBDC phone-to-phone with merchants.
"To get CBDC wallet, simply contact your wallet provider of choice. If you do not have a bank account, all you need when setting up your CBDC account is your name, Tax Registration Number (TRN), and government-issued photo ID (driver's licence, passport or voter ID card)," Haynes said.
When the CBDC is fully launched, all Jamaicans will be eligible for a CBDC wallet subject to the simplified KYC and the wallet providers' risk assessment of the customer.
The BOJ is slated to commence national rollout of the CBDC platform during the first quarter of 2022.
It is anticipated that, by then, additional deposit-taking institutions (DTIs) will be onboarded to enable the issuing of wallets to facilitate an expansion of the number of individuals and businesses utilising the currency.
National Commercial Bank (NCB) is currently the sole DTI participating in the CBDC pilot, which commenced in June and is slated to conclude in December.