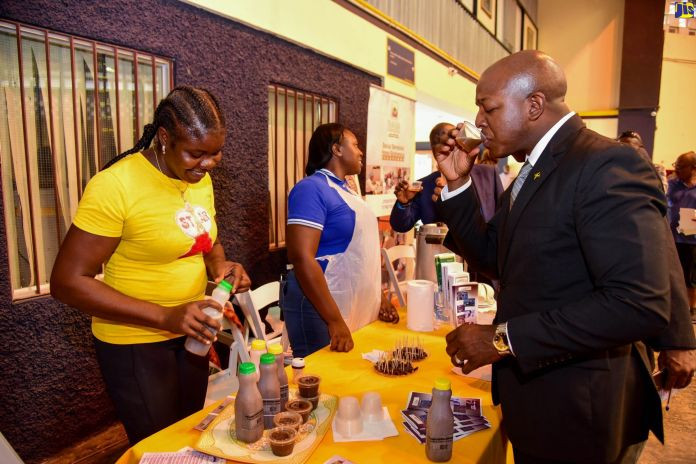 By Mickella Anderson
KINGSTON, Jamaica, (JIS) – Coffee production increased by 5.1 percent in 2022, when compared to the previous year, and is projected to continue an upward trajectory in 2023.
This was revealed by minister of agriculture and fisheries, Pearnel Charles Jr., while speaking March 14 at a 'Coffee Farmers' Trade Day' expo, at the University of Technology (UTech) in Kingston.
The minister informed that last year, a total of 251,296 boxes of coffee were produced. This consisted of 239,885 boxes of Blue Mountain coffee and 11,411 boxes of High Mountain coffee, with an export value of US$17 million.
In addition, Charles Jr. noted that the projection is for the current crop to yield 264,900 boxes, with 251,000 boxes being Blue Mountain coffee and 13,900 boxes being High Mountain coffee.
"So, we're moving up in increments, and that's a positive thing. This is an encouraging sign of growth and progress in the industry," the minister said.
He also thanked and commended the "hard-working, dedicated coffee farmers across Jamaica" who have contributed to the growth of the industry, while encouraging them to continue making strides.
The 'Coffee Farmers' Trade Day' expo was one of several activities being held ahead of the sixth annual Jamaica Blue Mountain Coffee Festival, which is slated for Saturday, March 25.
The expo was attended by coffee farmers from Portland, St Andrew and St Thomas and was organised by the Rural Agricultural Development Authority (RADA) and the Jamaica Agricultural Commodities Regulatory Authority (JACRA), with support from the Tourism Enhancement Fund (TEF).
Related link: Jamaica Blue Mountain Coffee Festival