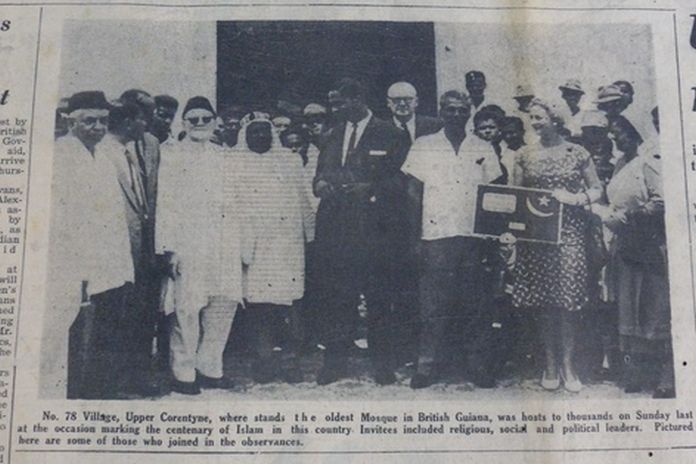 By Ray Chickrie
It is the last ten days of Ramadan 2020, Guyana is facing two crises; an inconclusive general election and the COVID-19 pandemic which will require resilience and sacrifices similar to many of our Muslims and non-Muslims ancestors have made. In this context, I would like to reflect on the history of Muslims in Guyana based on publications of the # 78 Mosque centennial celebration in the Corentyne in September 1963.
The event attracted noticeable attention from local and international stakeholders leading up to the 1964 election and independence in 1966. Dr Cheddi Jagan, Forbes Burnham, Randolph Cheeks, civil society and religious actors, including Hindu and Christian leaders joined the event.
Despite the marked turbulence that loomed over the celebration—the British and US government were busy sorting their self-interests —Guyana's key figures attended. However, just as divided as the nation was in the1960s, Guyana made little progress. More recent political events in Guyana have only created more fear and mistrust.
Besides, Governor-General, Sir Ralph Grey, and his wife attended, prominent business, political, and religious personalities such as Haji Ramjohn, Abdool Majeed of the Sadr Islamic Anjuman and MoulviMohammad Ahmad Nasir joined. Guests also arrived from Pakistan, Suriname and Trinidad and Tobago.
In 1963 there were 60 mosques throughout Guyana and Muslims numbered about 60,000 (more like 50,000) of the total population according to centennial publications. Arabic and Urdu were still being taught; they were "not altogether neglected." But there was as an issue of " limited finances, but with "great morals and great love for Islam, our forefathers saw to it that Madrasas spring up," the Muslim ulema told the gathering.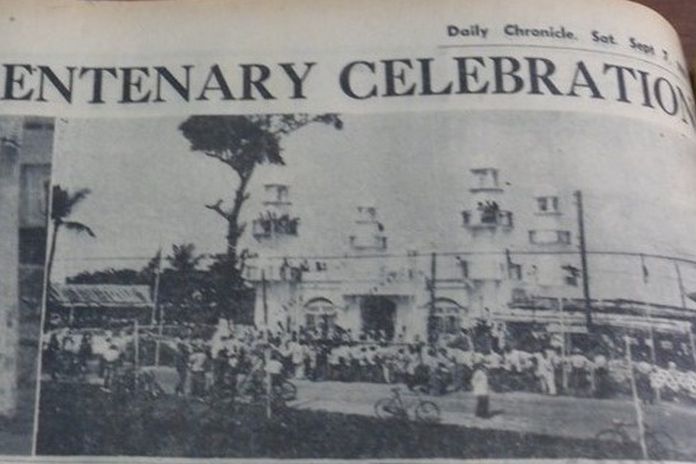 Haji Ramjohn (in Urdu Ramazan) who had just returned from a Haj tour of Makkah, the Middle East and India, "appealed to the Muslim throughout the colony for assistance and cooperation to construct a concrete Mosque to replace the wooden structure."  This mosque has since been modified several times and in the past decade, a tall and much bigger structure has dominantly graced the upper Corentyne region.
The Ulema in presenting their research wrote, "Extensive and exhaustive research has revealed that the mosque was built in 1863 by Sohabeth Subrati, father of the late Moulvi Ibrahim, Ishmile Shahabuddin, Wajid Ally and Begum (Mrs) Khadmi, mother of Messrs, Dookie and Sankar. These people "evinced and shown keen interest in Islam and it was by their instrumentality that they have been fortunate to acquire a piece of land and built a small mosque." Women like Begum Khadmi and others have remained silent in our narrative, but hopefully, people will start writing more about the role of women played in nurturing their families and the community.
The article cited, "some of the pioneers workers of Islam who contributed invaluable services to our noble religion are late- Hafeez Mohammad Hayat of Enmore, Moulvi Chand Khan of Philadelphia, Essequibo Coast, Gool Mohamed Khan of Springlands, Meer Abdool Rahaman of Hapsburg, Essequibo, Mohamed Isahack of West Coast Demerara, Abdool Rahaman (Father of late Sultan Rahaman) and Karim Baksh both from Springlands, Corentyne Berbice.
Today, we can add many other people like Moulvi Mohammed Ahmad Nasir, Haji Ramjohn, Haji Ghulam Abbas, Haji Mohamed Ballie, Moulvi Muhammad Ibrahim Baksh, Cane Grove, Moulvi Rahamat Ally, Rahaman Baksh Gajraj, Khuda Baksh of Clonbrook, Akbar Khan of Mon Repos, and Haji Sheikh Mohammed Shakoor, Sheikh Abdool Sattaur, Dr Barrakat- Ullah Khan, among many others whose contributions have planted Islam firmly in the everyday lives of Guyanese.
But one of the earliest periods, 1850 to the turn of the 20th century, where information is vague, is recorded a group of "Mahomedans merchants from Georgetown led by Gool Mohumad Khan, Goolam Ally, Goolam Aidin, K. H. Dharsee, Kareem Baccus, and a few others of the Mussulman faith sent a petition to the British government to build a mosque in the capital. It did not happen; they received no money but they were able to raise the funds themselves. These were some of the early nation builders.
Premiere of British Guiana, D Jagan, in his address said: "The day is one of great achievements for the Muslim who have played their part in all aspects of life in the country. We in the government are happy that we are able to do whatever possible to help such organizations by way of small gratitude and we hope to increase those grants."
Indeed this was the first time that the Muslim community of British Guiana was given a grant to fund their Islamic/Urdu Schools. The Muslims had been pleading with the British Crown for over a century for education grants. It never happened. The idea was cultural suppression with aim of conversion. Muslim marriages were not accepted and to hold jobs like teaching and others in the public bureaucracy, people were pushed to convert. "But not the Musalman, who are keen about education, stubborn to convert an excellent debater" observers recorded in 1931.
After all, the Muslims were very represented in rebellions across the country; from the era of slavery to the 1913 Rosehall Sugar Plantation uprising involving- Maula Bux (Baksh), Jehangir Khan, Dildar Khan, Chotey Khan, Alladi, and Amir Baksh who stood up to the injustices of servitude (Basdeo Mangru).
Political actors were sowing seeds of division in the 1960s. Dr Jagan tried to convince the country and the Muslim community that he was not going to "destroy religious freedom."  He said, "government has been accused of wanting to destroy religious freedom but the truth is that the government was only seeking to bring about equality in religion. My government will do everything possible to ensure freedom of religion for they recognized that mosques and temples are playing a great role throughout the country, "He ended, "If we can do such a wonderful job on the cricket field why can't we have goodwill, harmony and peace everywhere?"
Forbes Burnham then greeted the Muslim community- "Asalaam Walaah Kum, and congratulated the gathering. He said, "you have done exceedingly well."  Burnham said that the universality of the religion attracted his attention because "it knows no race nor national barrier." He expressed hope that all people can learn from the precepts of the Muslim religion. The "Muslims have achieved something wonderful in that they got the leaders of three political parties sitting in harmony without attacking each other."
Forbes ended, "I hope that my grandchildren will come here to celebrate the bi-centenary. They may no doubt be member of the Muslim faith. I hope you will go from one … to another and that you will be able to persuade all Guiana that we are all children of God and one human race."
Randolph E. Cheeks, member of the legislative assembly and deputy leader of the United Force, on behalf of  Peter D'Aguiar, who was "in the United States on business, "left the gathering with an important message. "I wish the message of unity, peace, and harmony would … reach every corner of the country. These are two particular qualities that have been brought out by a speaker and the unifying points can add to many advantages."
Today, Guyana is at the crossroads again. There is a void of honest and visionary statesmanship committed to the country's crisis. What is the role of the Central Islamic Organisation of Guyana (CIOG) and Guyana Islamic Trust (GIT,) in filling this void?
The Muslim leadership in Guyana can act as a platform to foster inter-communal and ethnic voices in the spirit of Islamic universality. If we can learn from the 1960s, a dark chapter in Guyana history, we should ask what is the role of the Muslim community today?
What can NGOs like the CIOG, the GIT; churches, and temples offer to bridge the divide in society?