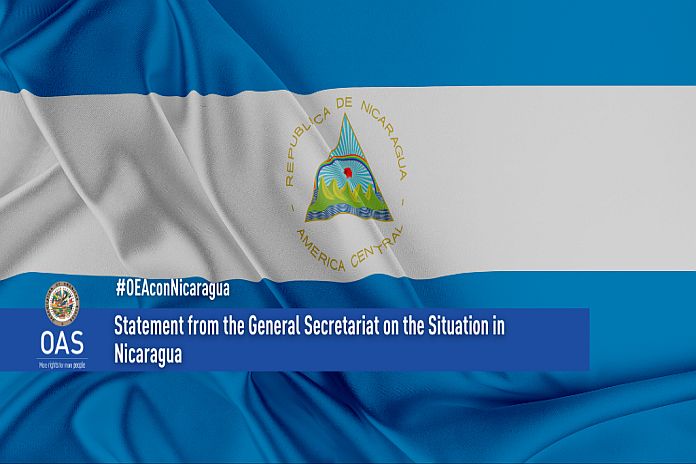 By Caribbean News Global

MANAGUA, Nicaragua — The general secretariat of the Organization of American States (OAS) informs the public about the meetings held with members of Nicaraguan civil society while expressing its condemnation of the persistent human rights violations that occur in Nicaragua.
The following is a statement from the general secretariat, October 15:
"We have continued to receive complaints from civil society actors that force us to alert regional leaders and the international community in general. From them it can be inferred that human rights violations, the systematic attack on public liberties, as well as mistreatment and torture of political prisoners persist.
The governments has refused to comply with the recommendations of the Inter-American Commission on Human Rights, the Interdisciplinary Group of Independent Experts (GIEI), and the office of the United Nations High Commissioner for Human Rights and to fulfill its duties under the Inter-American Democratic Charter, especially articles 4 and 5.
Today there are 113 political prisoners in Nicaragua, who have been on hunger strike for 14 days. In protest of their situation, political prisoners have sewn their lips shut and have discussed taking the measure of stitching up their eyelids as well. This situation is intolerable and inhumane. All have been publicly presented as criminals and have not had access to a fair judicial process, thus violating the principle of the presumption of innocence and all their fundamental freedoms.
On September 14, Daniel Ortega formulated an "orientation" to the Supreme Court of Justice, an act that violates the separation of powers. This was done in relation to a bill that threatens the opposition with life imprisonment for so-called "hate crimes." This is a vaguely typified charge. This leaves enough room for arbitrariness, and could be used as a tool for repression.
On the other hand, the National Police, which President Ortega calls the "Sandinista Police," have been implementing a strategy of harassment and persecution of opposition leaders, as well as relatives of political prisoners and victims. All of this carried out in coordination with paramilitary groups. The murders perpetrated transform them into the executioners of an entire people.
This pattern is part of an alteration to the constitutional order that continues over time. This general secretariat urges the government of Nicaragua to restore the normality of the constitutional order, respecting the separation of powers, public liberties, and the rule of law, while complying with its international obligations in the matter.
The next general assembly of the Organization must be consistent and endorse complaints of human rights violations, demand that political prisoners be released, fundamental freedoms be restored and that the necessary electoral reforms be carried out that allows for the return of democracy to Nicaragua.
"We call on the government of Daniel Ortega to act to correct the repeated violations of the rule of law and the alteration to the constitutional order that have been verified in the country."