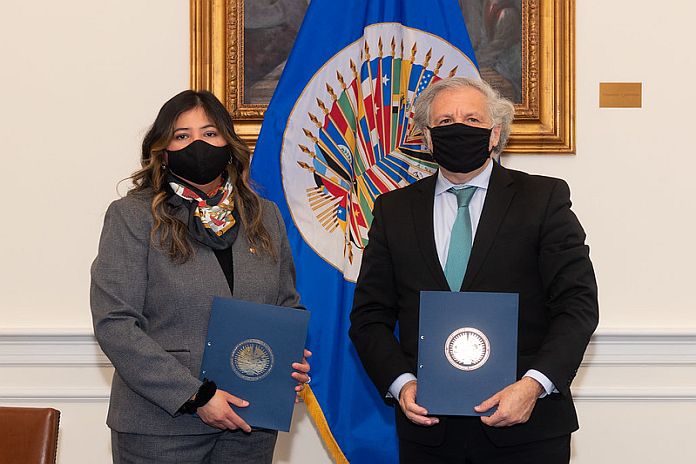 By Caribbean News Global

WASHINGTON, USA – The Organization of American States (OAS) announced Friday, February, 19 that it has formalized with the government of El Salvador to send an Electoral Observation Mission for the legislative, municipal and Central American Parliament (Parlacen) elections on February 28.
OAS secretary-general Luis Almagro named former governor of the province of Buenos Aires, Maria Eugenia Vidal, as chief of Mission. He noted that this will be the 16 observation mission that the OAS has deployed to El Salvador. "This fact reflects, on the one hand, El Salvador's will to have better elections. And, on the other, our commitment to strengthening democratic institutions in the country and in the Americas," he said.
Wendy Acevedo, Interim Representative of El Salvador to the OAS, welcomed the agreement to send the Mission.
"For the government of president Nayib Bukele, the holding of free, fair, and transparent elections with international, independent and credible observation are indispensable elements to guarantee that the will of the people is respected and that democracy is strengthened in El Salvador and in the region," said ambassador Acevedo.
The Mission will be composed of 21 people, of which 11 are women and 10 are men. Sixteen of the observers will work in person and five will work virtually. The members of the Mission will meet with electoral and government authorities, political leaders, candidates and representatives of civil society and academia, among others.
"The Mission will be present in the five departments with the largest electorate in the Central American country: San Salvador, La Libertad, Santa Ana, San Miguel and Sonsonate, which account for 63.4 percent of the voting population. The Mission is made possible thanks to contributions from Italy, France, Canada, the United States, South Korea and the Dominican Republic, and will present a final report to the Permanent Council weeks after the election," said the OAS in a press release.