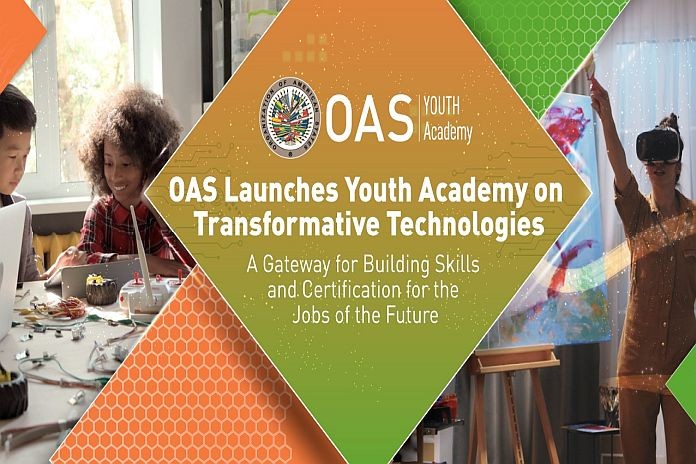 USA / JAMAICA – The Organization of American States (OAS) launched the OAS Youth Academy, an initiative designed to train, certify and expand job opportunities for 10,000 youth in transformative technologies by 2024, during the Sixth Meeting of Ministers and High Authorities of Science and Technology, chaired by Jamaica.
The Academy aims to address the region's skills gap and workforce readiness to fill the jobs in the digital and virtual economy. Women and girls, rural and indigenous communities and other underserved communities are the Academy's key priority.
In addressing the ministerial meeting, prime minister of Jamaica, Andrew Holness, said:
"We must accelerate our investments in the markets and jobs of tomorrow to get our fair share of these new digital economy jobs. In order to remain relevant and compete in the 21st-century global economy, we have to fundamentally transform ourselves." The Prime Minister added that the region's efforts "must focus on equipping our young people with the necessary skills to harness the power of transformative science and technology to collaboratively propel our communities forward."
Highlighting the relevance and contribution of this initiative, the OAS secretary-general, Luis Almagro said that "while COVID has accelerated the digitalization process of the economy, it has also worsened inequalities and widened existing gaps. Many have been left out, with no or little access to connectivity and the skills needed to benefit from the digital economy. We are looking forward to working with member states to make the Youth Academy on Transformative Technologies a cornerstone of COVID recovery."
Likewise, the minister of science, energy and technology of Jamaica, Daryl Vaz, applauded the OAS initiative and commented that "science, technology, innovation and entrepreneurship are crucial to bridging the digital divide and as a priority, should promote the inclusion of women and girls, rural and indigenous communities, and other populations in vulnerable situations. Likewise, effective public-private-academia collaboration is necessary to enhance competitiveness and quality of life."
In the post-pandemic recovery phase, the participation of young people in the formal labor market will depend, in part, on them having the critical skills and capabilities to pursue job and entrepreneurship opportunities in transformative science and technologies (often referred to as Industry 4.0). The Youth Academy will provide training, access to remote labs mentoring and hands-on learning on ten transformative technologies – artificial intelligence, virtual and augmented reality, Big Data,  Fintech, machine learning, quantum computing, blockchain, digital transformation, robotics, and remote labs.
The new initiative reflects the OAS' commitment to provide youth across the Americas with the tools they need to transform their lives, lift their communities, and drive the social and economic development of the region. Importantly, these new technologies can be leveraged to address climate change and other exogenous shocks.