By Caribbean News Global

TORONTO, Canada – A readout, attributed to Spokesperson Ned Price, said Secretary of State Antony J. Blinken met virtually with several foreign ministers and representatives of regional organizations involved in the response to the Omicron variant, December 21 and exchanged information to better understand the Omicron variant, coordinate a global response, and accelerate efforts to combat COVID-19.
In accordance with the health and economic recurrence of Covid-19, Barbados minister of health and wellness, Lieutenant Colonel Jeffrey Bostic, has cautioned that it was only a matter of time before it reached our shores. Meanwhile, a press release from the ministry of health, in Saint Lucia, says, there is a very high risk of the new variant Omicron being imported into the Caribbean region given its detection in a wide range of countries. At this point, countries are advised to continue strengthening their national protocols that are already in place.
With regards to the very high risk of the Omicron variant being imported into the Caribbean region, the government press release stated:
"The ministry of health continues to send samples to CARPHA monthly as part of the surveillance system to detect the existence of Variants in country. CARPHA has the capacity to detect the Omicron variant. To date, Saint Lucia has not detected any Omicron variants cases in country.
"Based on the information on Variants, we know that they can cause severe disease or, in particular to the most vulnerable. Our first line of defense must be prevention followed by control and reduced transmission measures. The effectiveness of the available vaccines suggests that the current vaccines remain effective against severe disease and death.
"In an effort to reduce the impact of this new variant and COVID-19 in general specific interventions are necessary. These include prevention and control measures, public health and social measures. Vaccination and booster doses for those advised remains our most important measure at this point in reducing the health implications of this new variant."
On Tuesday, December 21, 2021, the ministry of health, wellness and elderly affairs confirmed 32 new cases of COVID-19, further advised: "The positive cases make up 9.58 percent of all the samples processed on that date. These new cases bring the total number of cases diagnosed in the country to date to 13, 209. To date, a total of 48, 691 individuals have been fully vaccinated. Another 6, 773 are partially vaccinated and 2, 865 have received their booster shot," said the ministry of health in a press statement.
"This region, the CARICOM region, will have to face this variant.  And the numbers, according to everything else that has been happening, will continue to be higher than the Delta variant.  But, we have faced things before, and we will continue to deal with what is coming," he assured.
Lt. Col. Bostic has also urged persons to continue observing the protocols, and to wear their face masks; sanitise and maintain their social distance as the best defence against the emerging threat.
"These are the things that will help us to see through any difficulty that we face. And in this particular case, even though we can't stop it from coming this way, we can do some things that will help us to cushion the blow….  Promise yourself and promise the country that you will try your best to do what I am asking you to do. And I say so because I am convinced that if we do that, that we will find ourselves in a position where we can fight and fight well against this variant…," the minister underlined, in a GIS report.
United States
Returning to the US Department of State, readout, it reads: "Secretary Blinken reiterated the United States' appreciation to scientists from South Africa and Botswana, as well as others, who quickly identified the new variant and shared samples and data, noting that this type of transparency is core to our collective global health security." In addition, "The ministers were briefed on initial scientific findings of the variant's severity, transmissibility, and existing treatments and vaccines. They discussed regional impacts of the Omicron variant and policy responses going forward. The Secretary noted that the emergence of variants underscores the urgent need to accelerate efforts to end the COVID-19 pandemic, and called on partners to redouble international and domestic efforts."
Three weeks after the first infection was recorded, The Houston Methodist hospital system said Monday that 82 percent of its cases were Omicron as of December 15. In New York City, a major tourism source market, cases have risen approximately 277 percent in two weeks, according to CDC statistics.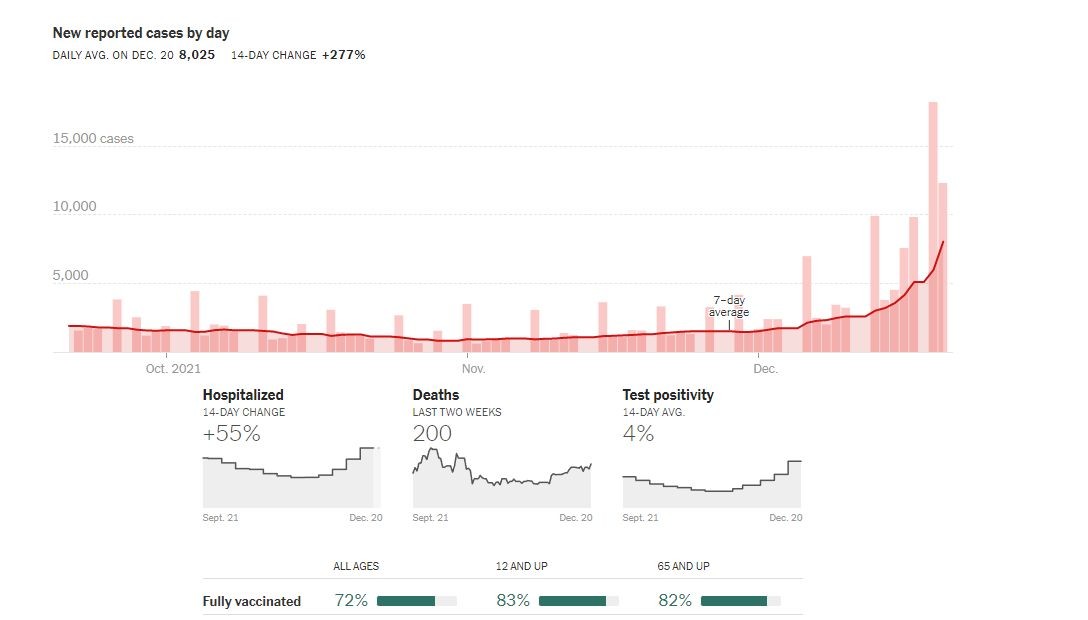 [New reported cases by day – DAILY AVG. December 20, – 8,025  14-DAY CHANGE +277%]
However, just 30 percent of the US or approximately 60 million people have received a booster shot, according to CDC data.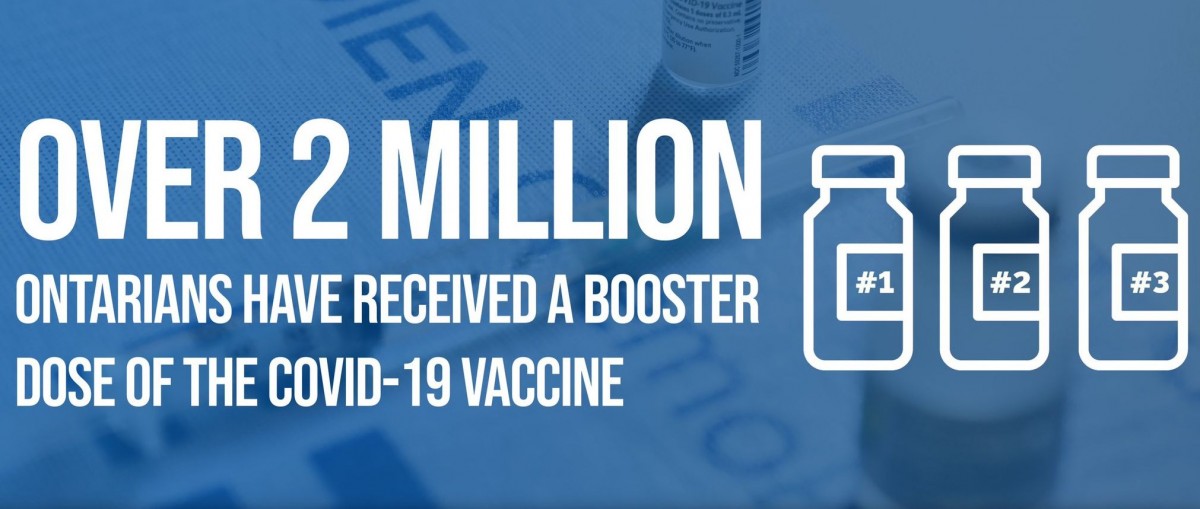 Book yours as soon as you can at http://Ontario.ca/bookvaccine.
Moreover, the office of the Spokesperson, said: "Secretary Blinken reaffirmed the US commitment to partner with countries and organizations to end the pandemic in 2022, which includes the US Initiative for Global Vaccine Access (Global VAX) as our whole of government effort to speeding shots into arms and reflects a US commitment of over $1.6 billion to date. To further this effort, the Secretary announced $580 million in new funds for seven multilateral partners to support the critical work they are doing to help end the pandemic, strengthen public health capacity, and provide urgent relief, bringing the total of US health and humanitarian assistance to combat COVID-19 to more than $19.6 billion."
Reportedly, the Secretary also shared that "the United States has now provided over 330 million vaccine doses in partnership with COVAX or bilaterally, as part of our 1.2 billion dose commitment."
Trinidad and Tobago
The ministry of health advised recently of the Omicron variant presents in-country; the fifth patient had no recent travel history. Thus reminds the population of the importance of vaccination.
The National Health Service (NHS) test and trace services announced that it will continue every day over Christmas and the New Year, providing and processing tests for those who need them and tracing contacts of positive cases.
[…] With COVID-19 cases currently at record levels, we must continue with precautionary measures to help prevent the spread of the virus," said, Dr Jenny Harries, chief executive of UKHSA. "It remains vital to follow the guidance and make sure to take up the offer of a vaccine."
Overview
COVID-19 Weekly Epidemiological Update Edition 71, published 21 December 2021
During the week 13-19 December, the global number of new cases remained similar to those reported during the previous week; however, the weekly incidence of deaths decreased by 9 percent. Nonetheless, this corresponds to over 4.1 million new cases and just under 45 000 new deaths. As of 19 December, over 273 million cases and over 5.3 million deaths have been reported globally.
In this edition an update is also provided on SARS-CoV-2 variants of concern (VOCs) and variants of interest (VOIs).
Conclusion
Meanwhile, the Caribbean region hails the return of airtravel and cruise ports buzzing with activity, and as arrival figures continue to return at a strong pace, so will Omicron be the dominant COVID variant in the region.
"We are now into the Christmas week," said  Lt. Col. Bostic of Barbados: "I just want to remind all of us that we need to enjoy ourselves; spend time with families, loved ones and friends, but operate within the protocols.  And remember that we are still in the midst of a pandemic."
Tedros Adhanom Ghebreyesus told journalists at WHO headquarters in Geneva that it was also more likely that people who have been vaccinated or recovered from the virus, could be infected, or reinfected.
"There can be no doubt that increased social mixing over the holiday period in many countries will lead to increased cases, overwhelmed health systems and more deaths", he said. "All of us are sick of this pandemic. All of us want to spend time with friends and family. All of us want to get back to normal.
"The fastest way to do that is for all of us – leaders and individuals – to make the difficult decisions that must be made to protect ourselves and others."
Thus, will the Omicron variant make Christmas celebrations or for that matter – 'The Vaxxed Mas' make infection and re-infections risk much higher?