By Caribbean News Global

Caribbean News Global had the opportunity to tour Paradise Valley and converse with the wonderful power-couple Dian Peter Douglas owner-operator of Douglas Landscape & Hardscape Services; and Caren Le blanc who coordinates the flower shop at Cabrits Resort & Spa Kempinski, Dominica, utilizing exotics from Paradise Valley Garden & Nursery and adjacent property, with a local Anthurium habitat, primarily orchestrated by Garth Oliver Douglas.
PORTSMOUTH, Dominica – Paradise Valley and Nursery is a 60-acre oasis in the nature island of Dominica with the vision to cultivate a variety of plants and animal species 'bringing life to the outdoors' in an atmosphere that depicts Dominica, in a valley setting, where visitors can experience the true essence of Dominica.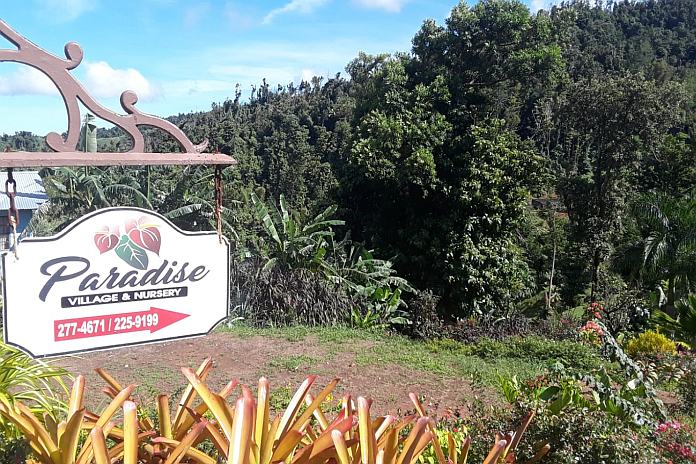 What inspired you to craft this investment portfolio?
Douglas: From a kid, I love my nature island. I love plants, trees and animals. This was further developed when I went to the US to further my education and engaged in business for about 30 years, nurturing my craft in landscaping.
Consequently, my dream was to return to Dominica and put something together primary for the family to enjoy; and secondly, to leave something behind so the public can marvel.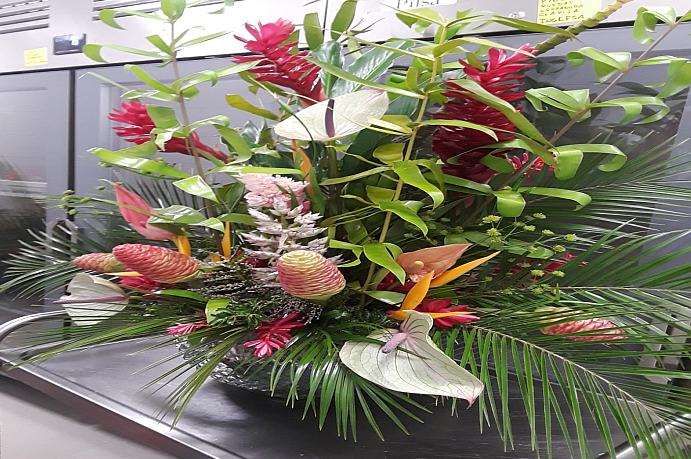 What are your guiding principles at Paradise Valley Nursery?
Douglas: Quality is the guiding principle at Paradise Valley Nursery. Every single plant and Fern is strategically chosen and placed for the future, while leaving some of the naturals grown here in the valley, incorporating plants from around the island, comprising medicinal, and gradually introducing new plants, including imports.
What you're seeing here is only two years old. This is after hurricane Maria – see how quickly this stuff is growing. We started one year before Maria and then Maria devastated us. Before Maria, you couldn't see the street from here. That was a little oasis you could hear the traffic, but you could not see it.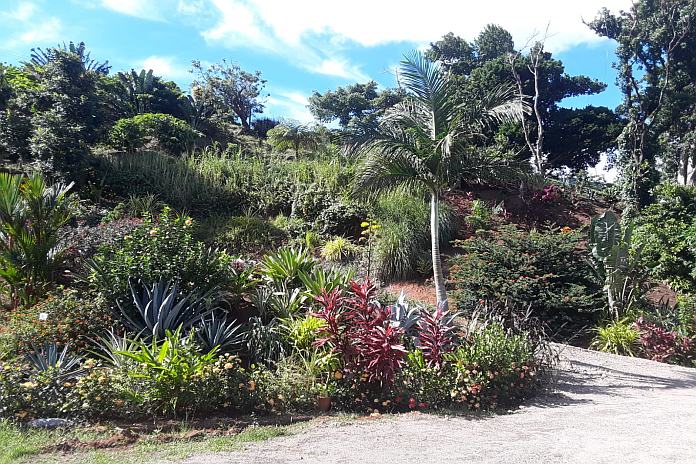 What happened next?
Douglas: So now we've been exposed – even so it helped, you know, it helped because people say, Oh, now I know what's inside here … what's inside Paradise Valley Nursery.
And just like Kempinski hotel, I think that's what Kamal Shehada, managing director of Range Developments, charged with the Kempinski portfolio saw. He came here and explored Paradise Valley Nursery. And it so happened that fortunes multiplied exponentially.
Shehada gave us a great opportunity with the landscaping contract for Kempinski Hotel, plus capital to incorporate all the plants, palms and flowers on display at Kempinski. We travelled around Dominica collecting flowers and plants indigenous to the island.
Most of the flowers you see at Kempinski were grown and propagated at Paradise Valley Nursery. Others were imported from the US. So, we did that. Take, for instance, at the front of the hotel there are two-palms, and there's only one colony that's found on Dominica. I'm not sure about the rest of the Caribbean.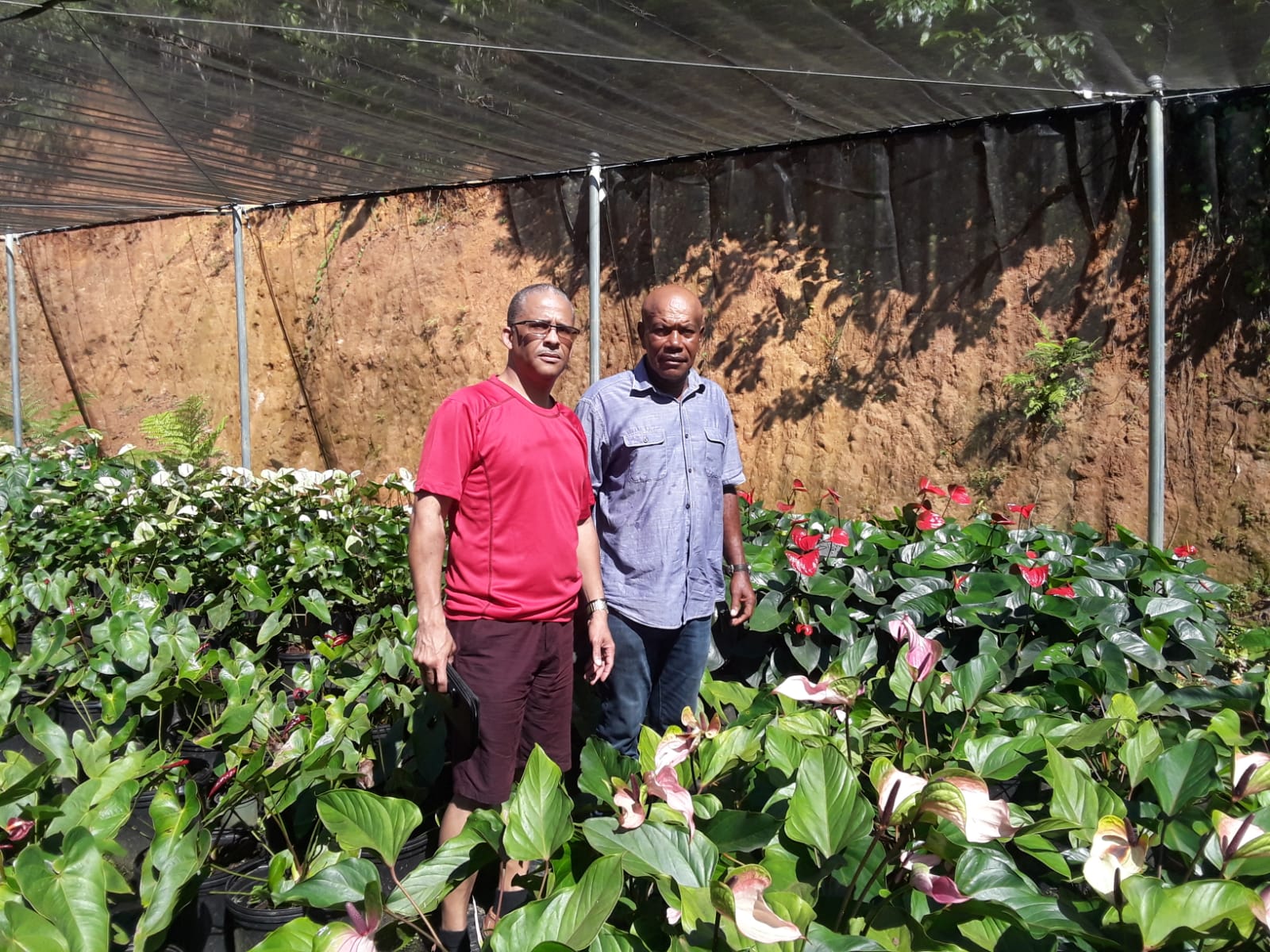 Tells us about the vision of Paradise Valley Nursery
Douglas: You would have recognised that we had the vision to propagate Paradise Valley Nursery not only for the landscaping but the cut-flower business. One of my early passion was to grow Anthuriums in Dominica.
At one-time Anthuriums were on the decline in Dominica. There was a disease affecting the plant, and when we attempted to seek funding we were turned down. Nobody wanted to invest. However, after hurricane Maria we went to a show in the US and found a company that was willing to export from Holland to Dominica. We were able to purchase some plants.
There is also a bit of history here, not known at the time, in that adjacent to Paradise Valley Nursery nestled deep in the interior was an untouched Anthurium garden. Garth Oliver Douglas, my cousin, had an established Anthurium habitat there and this area was the sole survivor of the disease that destroyed the majority of Anthuriums on Dominica. We are grateful to him, for allowing us to commence propagating these Anthurium plants, that now forms part of Paradise Valley Nursery, in anticipation of the opening of Cabrits Resort & Spa Kempinski, Dominica.
So those plants are still there. You will see them and others growing in the greenhouse, funded with capital provided through Shehada, managing director of Range Developments and displayed in the landscaping architecture at Kempinski, Dominica.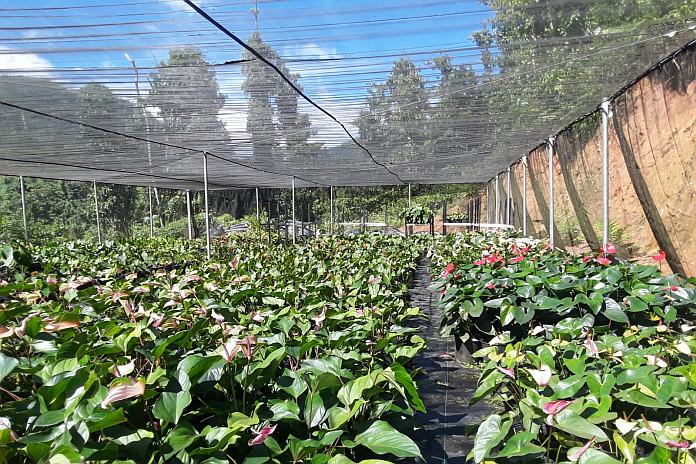 How has Kempinski impact Paradise Valley Nursery
Douglas: So, as you can see, Kempinski has been transformative for the tourism industry, Portsmouth and Dominica. Paradise Valley Nursery has been transformed, and the community in a manner that will last for a long time, creating jobs, providing avenues for entrepreneurs and vertical integration on aspects of the tourism/travel business.
Currently, we are reinvesting the returns on this initial investment, improving our infrastructure, propagating plants and attending to the immense landscape, at Kempinski and Paradise Valley. There is also further opportunity in tours to Paradise Valley Nursery and surrounding communities, investing in aquaculture and food production.
Another historical fact is that my heritage and ancestors are part Kalinago. My Mother was a Kalinago, Dominica's indigenous people who were never enslaved, never conquered. Throughout the hotel project we at Paradise Valley Nursery, employed 40 people from the Kalinago community, all of whom were committed and dedicated, taking this project to completion. It was a beautiful thing to see them worked together, fish, drink, eat together; they lived like a community. It was amazing. And in the end, that's why you see the landscape looking so beautiful.
Shehada, managing director of Range Developments, sponsored us well, nurturing, guarding, protect and growing the community. All of these young Kalinago people were able to make a decent living, caring for their family, having suffered tremendous hardship following hurricane Maria.
They will forever appreciate the connection with Kempinski Dominica landscaping architecture, participating in the economic viability of the community.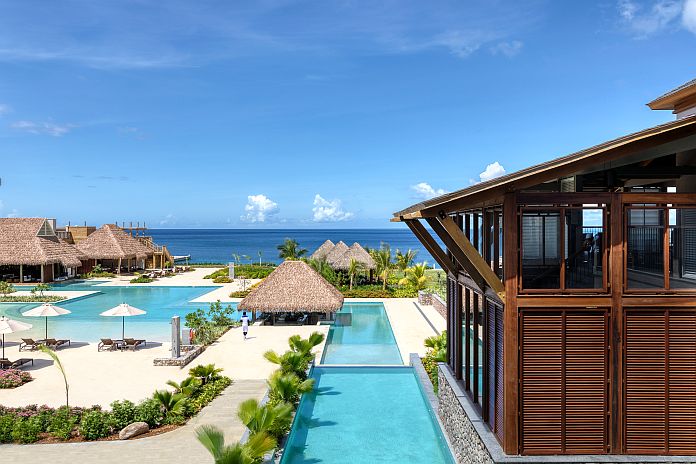 How would you describe the last four years?
Douglas: The Kalinago people have a vested interest in landscaping Kempinski and exhibited proud labor of love, that demonstrates the capabilities of our people, blending history, topography, and architecture.
Kempinski has been four years in the making with long-lasting evidence that there are real benefits that impact public/private sector partnership every step towards completion. Paradise Valley Nursery and the Kalinago people know this well. Kempinski Dominica has been central to our success.
And oh, what a wonderful evening it was celebrating the opening of Kempinski Dominica.  Paradise Valley Nursery is proud of the opportunity to be a part of rebuilding Dominica.
For inquiries contact: Dian Peter Douglas: diandoug@gmail.com  – Telephone +1 (767) 277 4671 and Caren Le Blanc: Icaren95@gmail.com  – Telephone +1 (767) 225 9199