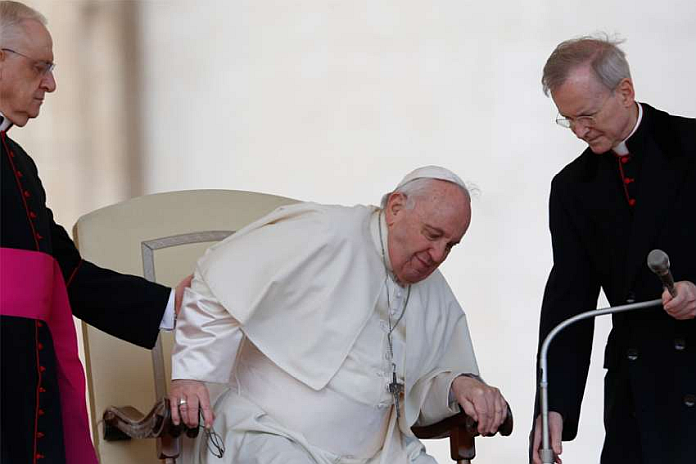 ITALY, Rome – The Vatican's press office announced today that because of continuing problems with his knee, the Pope has postponed his planned African trip scheduled for July 2-7.
Pope Francis is scheduled to visit Canada July 24-29. Matteo Bruni, director of the Vatican Press Office, did not mention whether that trip is still set. Either way, plans are still being made for papal visit to Canada.
"At this time, we continue to move forward with our planning," said Neil MacCarthy, Canadian Conference of Catholic Bishops communications lead on the papal trip.
Among the plans is ensuring plenty of rest for the Pope.
"Great care is being taken to provide significant periods of rest for the Holy Father," he said. "And also to ensure his participation at events is for a limited period of time."
Pope Francis will typically be present for about an hour at any of the events scheduled for the five-day sojourn through Edmonton, Quebec City and Iqaluit, where he is expected to apologize on Canadian soil to Indigenous people for the Catholic Church's past wrongs against them, including the Church's role in the residential school system.
"We continue to pray for the health of Pope Francis and that he will be able to join us in Canada next month," MacCarthy said.
Although Pope Francis has canceled several events since mid-January and has begun using a wheelchair or a cane, the Vatican had continued to insist that he would make the two trips in July. The Vatican press office published a detailed schedule for the Africa trip May 28 and released a list of the journalists accredited to the papal flight to Africa June 8.
The Vatican has not provided details about Pope Francis' knee ailment or his therapy.
In an interview May 3 with an Italian newspaper, he said, "I have a torn ligament; I will have a procedure with injections, and we will see."
(With files from CNS)