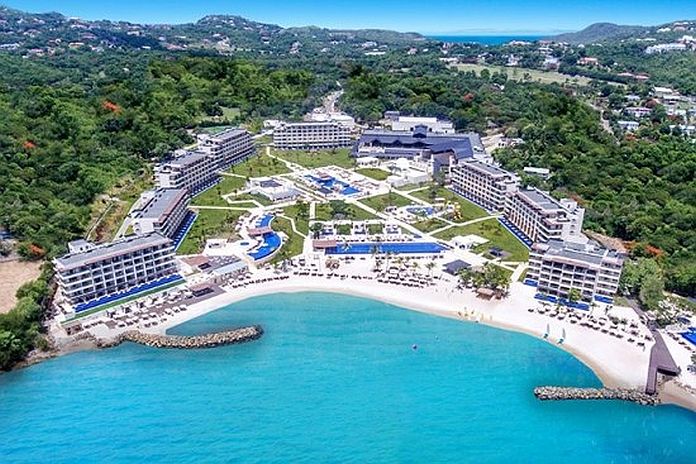 By Caribbean News Global contributor
CASTRIES, St Lucia – In a statement issued January 15, 2021, Blue Diamond Resorts announced that effective January 17, 2021, Royalton Saint Lucia Resort & Spa will be temporarily closed. The closure is expected to last until March 31, 2021.
"The company indicated that the health and safety of employees and guests is the number one priority," stated: "Through ongoing collaboration with the government of Saint Lucia, combined with Blue Diamond's internal screening process, a number of COVID-19 cases were identified among Royalton Saint Lucia Resort staff in recent days. Hotel management is currently working closely with the relevant government ministries on contact tracing and to safeguard the health of employees and guests during this unprecedented time."
The company also announced that guests scheduled to arrive in Saint Lucia on or after January 17, 2021, will be relocated to its newest boutique resort, Mystique Saint Lucia by Royalton.
Blue Diamond Resorts is also offering the following options for all guests arriving after January 15, 2021:
Guests may keep their current reservation and choose to stay at Mystique Saint Lucia in a comparable or higher room category;
Guests may reschedule their current booking for a later date at their discretion;
Guests may change the destination of their trip free of charge to any open Blue Diamond Resort located in Cancun in Mexico, Punta Cana in the Dominican Republic, Jamaica, Costa Rica or Antigua;
Guests may cancel their booking without incurring any cancellation fees.
"During this difficult time, Royalton Saint Lucia Resort and Spa will continue to support staff members and follow the guidance from the Centers for Disease Control and Prevention (CDC), the World Health Organization (WHO), and the local Ministry of Health, all in an effort to ensure their continued health and safety," Blue Diamond Resorts stated.
On January 13, 2021, the ministry of health in Saint Lucia confirmed its sixth COVID-19-related death alongside confirmation of 12 new cases of COVID-19 advised the public that, "one of the twelve cases is a non-national which has been recorded as the country's sixth COVID-19 related death. The individual is a 52-year-old male, a national of the United Kingdom. He arrived in Saint Lucia on December 30, 2020, and died on January 9, 2021, and was not in care at the time of his passing. Condolences are extended to the family and loved ones of this individual on their recent loss."
The folic of the prime minister of Saint Lucia an a dysfunctional government 'update to the nation' did not address concerns and measures to curb the surge in COVID-19 on the island.
He, however, infamously said: "While the activities at Christmas and New Years by themselves are not responsible for the numbers that we're seeing, it is and has been a large contributor to the numbers that we're seeing," he added. "And what we need to recognize is that the sacrifice that we have to make, we must minimize our social activity; and the government has continued to try to work with the population to make sure that we minimize the impact on our economy. Because, there is no point in saving people – if in fact – their livelihoods are being affected, and we're repeatedly, say that, there will be a difficult and daunting task for any government in the world to survive a full shutdown, to the extent that we had in the months of April and May 2020."
Following what every one heard and public push-back, attempts to spinning and mopping-up were unsuccessful.
Related: Saint Lucian lives matter, says opposition leader
"… We cannot allow COVID to define us as Saint Lucians'. But we as Saint Lucia must define COVID. We must rise to the challenge of overcoming this purge that has been put on the world and in Saint Lucia," prime minster Allen Chastanet.