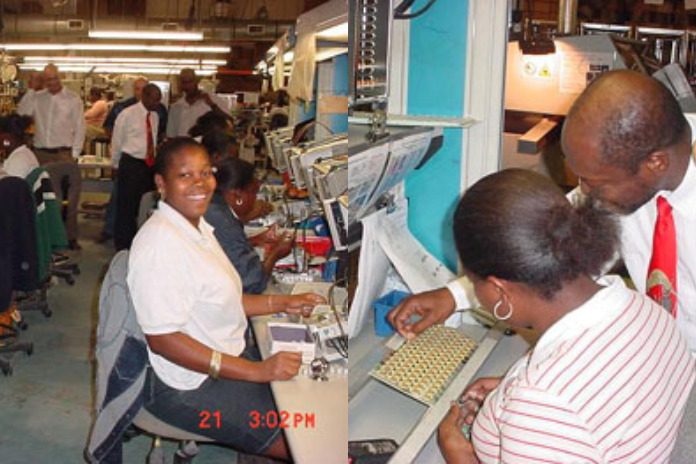 By Caribbean News Global contributor
BASSETERRE, St Kitts – Another manufacturing plant on the C A Paul Southwell Industrial Park will close its doors soon, putting approximately 98 persons out of work. The disclosure comes from the leader of the opposition, Dr Denzil L Douglas during his weekly radio programme "Ask the leader" on Kyss 102.5 FM. Electrofab (St Kitts) Limited, the oldest manufacturing plant in St Kitts and Nevis makes resolvers for the robotics industry.
"Our factories are closing down slowly with no less than 98 workers on the industrial park about to lose their jobs at Electrofab," Dr Douglas disclosed, who expressed concern that most of the workers are single young women who are heads of households and would lead to an increase in unemployment and poverty.
He pointed out that when the company closes, some, if not most of the women may not even benefit from the EC$500 each month under the Poverty Alleviation Programme (PAP) as it is being used as a political tool. The programme is administered by the office of the prime minister instead of the ministry of social and community development.
"I am very concerned. I am very, very concerned. A lot of our people are seriously suffering. The people who are working on the Industrial Estates are females and heads of households and are finding it very difficult to meet the demands of their families," said Dr Douglas.
He pointed out that the PAP introduced last December is an admittance that since the Harris-led coalition took office some 4,000 families have become poorer.
"It is grossly politicised. Persons of different political persuasions are poor. Labour people are poor. People's Action Movement (PAM) people are poor, Concerned Citizens' Movement (CCM) people are poor, People's Labour Party (PLP) people are poor and Nevis Reformation Party (NRP) people are poor, yet the prime minister has selectively decided that he must deal directly with this programme in determining who qualifies and who is given the EC$500 monthly and he uses it as a political tool and as a re-election tool in order to try to reverse the hand of time which is already against him and will condemn him to a one-term prime minister," Dr Douglas said.
He said some of the ladies have husbands or boyfriends already unemployed as a result of the drastic downturn in the construction industry due to the fall in foreign direct investment.
Dr Douglas said the real estate option in the citizenship by investment (CBI) programme has virtually collapsed.
"People are selling shares in the CBI programme. Shares are minimal in value and not enough to start up construction activity of new hotels. Although revenue is coming in from the CBI from fees being paid, what about the traditional spin-offs of employment opportunities from the construction of new hotels in St Kitts and Nevis," Dr Douglas said.
Life in St Kitts and Nevis has become harder under the Harris government said Douglas.