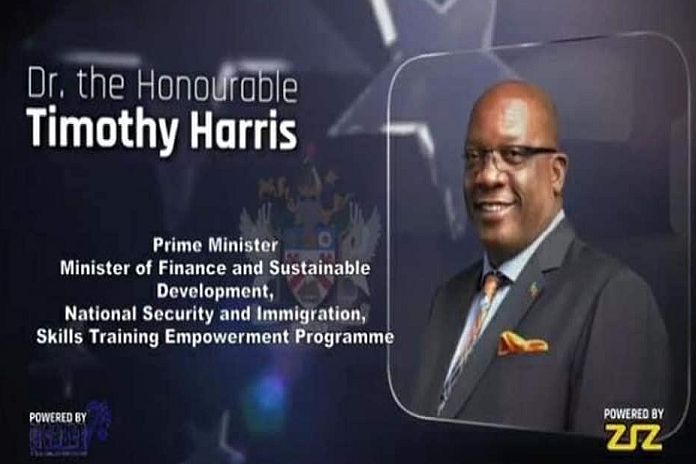 By Special Correspondent
BASSETERRE, St Kitts – For those on the outside watching the televised swearing-in-ceremony of the new St Kitts and Nevis government on Sunday, June 14, it appeared to be all sweetness and light except for Reverend Hilton Joseph of the Moravian Church who seemed knowledgeable on happenings behind the scenes and what portends for the future.
His powerful theme seemingly portrayed that politicians were still putting themselves first and the country second. He demanded change from the 'selfish' to a selfless caring approach to their responsibilities to the people of St Kitts and Nevis. He had his audience riveted, with many in shock at his bravery for calling a spade a spade.
Counting the ballots
The result of the much-disputed Constituency #8— the contest between Eugene Hamilton and NextGen SKN candidate Dr Terrance Drew — were not announced until almost 08:00 pm on Saturday, June 6, 2020, a delay of over 24-hours after the closing of the polls. While the investigation into the cause, as well as the concerns about the conduct of the election in that Constituency and the other seven in St Kitts, was taking place, Dr Timothy Harris was facing a potential mutiny or a diminution in power over his People's Action Movement(PAM) and Concerned Citizens' Movement(CCM) colleagues.
Looking for Brantley
Few people knew that while the ballot "count" was still going on in Constituency 8, Dr Harris was frantically trying to catch up with Mark Brantley whose Concerned Citizens' Movement (CCM) had won all three of the Nevis seats. As reported, they ostensibly were "not willing to support or bow to the outrageous demands by Dr Harris which included remaining as prime minister with Shawn Richards as deputy prime minister". Instead, PAM members (Lindsay Grant, Eugene Hamilton and Jonel Powell) and the CCM trio from Nevis were "leaning to an agreement in support of Brantley as the prime minister with PAM's Lindsay Grant as the deputy prime minister".
Jonel Powell, one of the three PAM 'dissidents' was required to contact Cabinet Secretary, Josephine Huggins, and inform her about the decision, and that, "the swearing-in-ceremony set for Sunday, June 7, must be postponed and arrangements should be made for Brantley and Grant to be sworn in on Monday, June 8."
As if that was not enough trouble for Dr Harris and his ambitions, Powell made it clear to the Cabinet Secretary that the majority of elected members were from PAM who had four seats, and because of their numerical majority over Dr Harris and his one other elected supporter, they did not support Vincent  'Juicy' Byron to be the attorney general. Powell allegedly advised that Marissa Hobson would replace Byron. Even though staunch PAM insider, Natasha Grey was in contention for the post, it is understood that the appointment of Marissa Hobson, the sister of Damion Hobson, the man who had put up the US$400,000 for Grant and Powell to repay the client they had "fleeced", was non-negotiable.
The plot thickens
Hastily on the morning of Sunday, June 7, without any previous announcement, Dr Harris was sworn in by Governor-General, Sir Tapley Seaton, and Justice Trevor Ward, Q.C, and contrary to custom and norms, the attorney-general was not sworn-in. Needless to say, 'the six-member majority' were extremely upset and were said to have advised Dr Harris that "they do not accept him as prime minister and that he had to step down". And it is claimed that Dr Harris referenced "ungrateful Judases who had ridden on his shoulders to be elected".
The 'six-person majority' presumably added to their demands the termination of Michael Powell's employment as ambassador and special envoy in the office of the prime minister. They deemed Powell a "political vagrant" and claimed that he had caused the downfall of the PAM government in the 1990s.
Meantime, Dr Harris was reeling and desperately trying to put together a Cabinet. Monday evening, June 8, he failed and 'the six majority members' made it clear to him that they, and not him, would be allocating the ministries. Dr Harris ostensibly had been told to carry out their wishes "without any excuses or changes". Dr Harris was so stunned, he called in Nurse Garnett to pray for him. Feeling slightly better after Nurse Garnett's intervention, Dr Harris begged 'the six members' to let him continue with Shawn Richards as his deputy. He saw it as the only option if they were to keep Team Unity from falling apart.
Instead of agreeing, the six gave Dr Harris an ultimatum – "Step down now." Dr Harris retorted that he had the option to call new elections in 90 days, and his People's Labour Party (PLP) would field candidates in all eight constituencies. This shook up Grant, Powell and Hamilton and they reluctantly agreed to support Dr Harris with the promise to step down after three years, after which Richards would replace him as prime minister.
On the back-end, it is said that Dr Harris has no intention of resigning after three years, but instead, close friends have revealed that after three years an election is likely with PLP candidates being fielded in each Constituency.
A temporary truce
Meantime, Dr Harris has outwitted 'the six-person majority' and is presumably demanding that the Cabinet must include Ian 'Patches' Liburd should his court-action questioning the results of his loss in Constituency #1 is victorious.
The PAM trio is unyielding that Liburd, who they perceive as "toxic", should not be a member of the present Cabinet or a PAM candidate in any future election. It is understood that Natasha Grey is being considered as PAM's representative for Constituency #1 in any future election. It is believed that 'Patches' may have secrets holding for people and that they don't want to anger him, given his 'hot' mouth and vindictiveness.
Governor-General
Troubled, even shaken, by internal problems, Dr Harris also has to deal with the retirement of the Governor-General, Sir Tapley Seaton. Dr Harris has seemingly assigned the post to a long-time supporter, Vance Amory, and it is believed that he is already in advanced discussions with a chef to take care of his needs. However, the four PAM elected members' choice for Governor-General is Michael Morton, currently the Governor- General's deputy who happens to be Jonel Powell's Uncle-in-Law.
Winning the battle but not the war
Unpleasantly, a combination of hazards, prime ministerial power, and promises won Dr Harris the first round. But the unhappiness on the faces of all those present on that stage during their swearing-in ceremony reveals a story of things to come.
Richards, who as the PAM leader, demanded the post of minister of finance in 2015, again did not get his wish. In the absence of Liburd, Richards was handed part of Liburd's portfolio with Grant getting the Ports. Despite their protests, 'the six members' not only quietly took their places while in the public eye on Sunday but had to accept that the people they wanted out, are in.
Michael Powell, the bone of contention with the PAM trio, is back, after throwing 'some wud' and threats on his radio program in response to having heard of an effort to oust him from his sinecure. Also, the attorney-general and Cabinet Secretary remain in place and are most likely laughing at the six who now meekly sit as if they're waiting for communion.
Jonel Powell who has been held by the Courts to have "misappropriated" a client's funds, is rewarded with the ministry of education, youth, sports, and culture, while many wonders what the youth will learn from him.
Rumbling, tumbling and grumbling
It is very clear that hostility has not ceased but will get worse. Strains are visible, Dr Harris is walking a tightrope from a variety of opponents.
PAM members are unhappy because they did not get what they wanted; and they know that after three years of building up a national organisation and a war chest, Dr Harris will not need them. Nevis people are unhappy because their candidates have not been treated fairly for their contribution to the Team Unity victory.
Dr Denzil Douglas and his St Kitts Nevis Labour Party (SKNLP) are quietly accumulating evidence from a large number of voters and others who participated in the June 5 general election. This is expected to add more pressure on Dr Harris.
After Reverend Joseph had his say and the ceremony ended, a lady said, "even Nurse Garnett, good as she is, cannot help Dr Harris now."