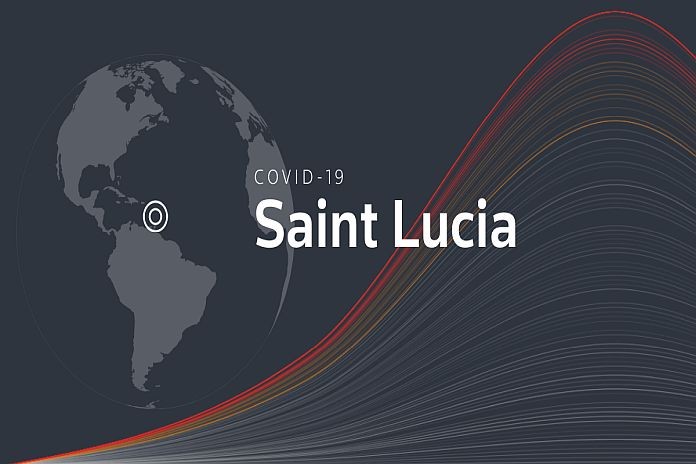 By Caribbean News Global contributor
CASTRIES, St Lucia – The numbers 426, 568 and 464 reflects three consecutive days of new COVID-19 cases, described as a  COVID-19 storm" by medical experts with knowledge of the health care system. The numbers don't lie and as such, embodies an alarming and frightening public health crisis (population 180,000).
As previously reported in the US and Canada, COVID-19 and in particular, the Omicron variant is spreading rapidly. Notable, both countries are tourism hot-spots for Saint Lucia, and in the wisdom of tourism policymakers, Saint Lucia can benefit from Air Canada temporarily suspended service to 14 sun destinations.
But, to date, (January 14, 2022) said the Ministry of Health, Wellness and Elderly Affairs (MOH), "a total of 50, 350 individuals have been fully vaccinated. Another 6, 095 are partially vaccinated and 5, 248 have received their booster shot."
On Friday, January 14, 2022, MOH confirmation of 464 new cases reflects "positive cases make up 55.57 percent of all the samples processed on that date. These new cases bring the total number of cases diagnosed in the country to date to 16, 969."
According to the MOH: "This brings the number of active cases in the country to date to 2, 867. Currently, there are 23 positive cases of COVID-19 admitted at the Respiratory Hospital, of which one of these active cases is in critical care and four of them are severely ill." In addition, "the total number of COVID-19 deaths in the country is 242 and the total number of COVID-19 related deaths is 72," reads the press release Friday.
The current storm of COVID-19 infections facing Saint Lucia is seen across the world, however, there cannot be complacency amid uncertainty and a steady increase in cases.
The fifty wave is happening six months into a new administration and on the watch of the entire apparatus of the health care system – policy, operations and management. And, whereas Saint Lucia is not unique, the health care infrastructure cannot accommodate additional capacity. Already, COVID-19 has overwhelmed the health care system, and the need to strengthen health care systems is paramount.
The new government has been encouraging people to get vaccinated, and as announced by the MOH: " Saturday, January 15, 2022, at the Vigie Sports Complex and the Vieux-Fort Wellness Centre from 9 am to 2 pm.," vaccination continues.
It is without question that the current COVID-19 storm was expected after the festive season. Many warned of scenarios and are now asking, " who dropped the ball", and what's the reason behind the " pedestrian posture" in this COVID-19 storm?
The rapid spread of COVID-19 has elevated the erosion of trust and public confidence in health-protection measures, and that is without the confirmation of the Omicron variant ( more transmittable) across the country.
Understandable, we live in a globally connected environment and what happens in the US, Canada, and Europe also impact Saint Lucia. However, wisdom and experience are not found in amateurs, in the pursuit of solutions in life and death.
A commentor on social media with the handle 'Time for decisive leadership' writes:
"What kind of leadership is this? […] Something has to be done quickly or we may be facing a crisis never seen before. I'm very concerned with the almost 3,000 active cases who are not hospitalized because I know that about 80 percent of them go about like its business as usual. One who recently died and was supposed to be on home quarantine was out in the public playing dominos three nights before his death. We are a careless, reckless, stubborn people and measures must be in place or else we will continue to fail."
St Lucia health authorities bamboozled: Is it COVID-19 or the flu?