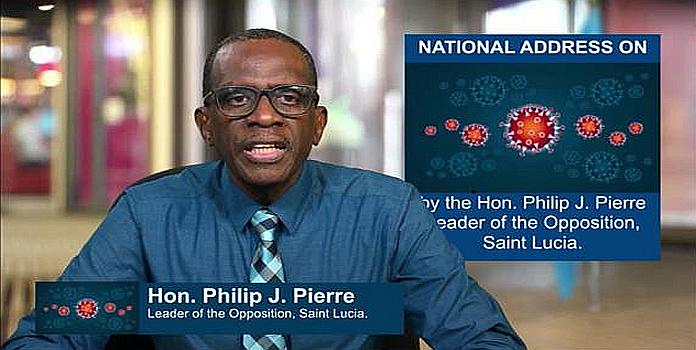 By Philip J. Pierre
The announcement on Friday, March 13, that Saint Lucia had recorded its first case of the COVID-19 virus who arrived in the country on March 7, and then another announcement on Saturday evening of a second case has caused great concern and fear about the real threat posed to our people.
The labour party has championed and will continue to advocate strongly on healthcare matters and we have done the same on COVID-19 despite criticism and political banter in certain circles. In such crises, honesty and transparency are paramount. People need to be engaged openly and regularly so that they will have confidence and trust in the process.
On Thursday, the prime minister telephoned me to discuss the situation and we met and had an exchange of views. The opposition was invited to the first meeting of NEMAC and we are due to attend the second on Monday morning. Last night I received a call from the cabinet secretary to attend the stakeholders' meeting at 3:00 pm today. The Saint Lucia labour party was in attendance.
The Saint Lucia labour party stands ready to support all meaningful efforts to prevent the spread of Covid-19 in Saint Lucia. I urge the government to put together a Covid-19 Special Task Force involving government agencies, the opposition, civil society, churches, health professional bodies to provide guidance and oversight.
I urge all to listen to the chief medical officer (CMO) as she is the authority on such matters at this time. At the same time, the CMO must be fully empowered and resourced to take decisions quickly, communicate speedily and accurately and manage a modern command and control centre.
I wish to share with you tonight some of the recommendations that I will be proposing at the NEMAC meeting tomorrow morning and our perspectives on the way forward for our country.
Travel advisories and restrictions
The first and most immediate step which must be taken is to ensure that travel restrictions are placed on countries worst affected by the virus. This has already been applied by many Caribbean countries that do not even have confirmed COVID-19 cases.
The Saint Lucia labour party strongly recommends to the government that additional travel advisories be applied to all persons with a travel history from the United Kingdom, the United States of America and all affected European countries. Persons from these countries should be discouraged from travelling to Saint Lucia at this time. These should be reviewed regularly.
Facilities for the quarantining of persons from potentially infecting others in the population through local transmission are urgently required; but such facilities must be humane, supported by trained and adequately equipped staff who can administer to the needs of those quarantined.
Returning nationals from countries where travel advisories have been imposed should be properly monitored. We should also close our borders to all cruise ships for the next two months and limit the number of ports of entry into Saint Lucia.
Testing and Surveillance
Essential to the control of our ports of entry and the containment of the disease is the ability and capacity to screen arrivals and quickly test potentially infected persons. Appropriate technologies such as infrared scanning thermometers are required to improve screening. It is said that testing is like turning on the light on the disease. The ability to do testing on-island is crucial in the battle to contain the spread of Covid-19.
Widespread testing is vital but costly. However, when the lives of our citizens are concerned; cost must not a determining factor. Republic on China (Taiwan) has been very successful in containing the virus and the government should approach Taiwan with a view to procuring the necessary equipment and support that is required. Saint Lucia should also engage the government of Cuba for assistance with medical support.
Reducing local transmission
We must do everything in our power to prevent the spread of this disease in our country. For local transmission to be prevented, it requires all of us to practice good hygiene and social distancing.
We, therefore, recommend an immediate suspension of all mass crowd events and large gatherings in the country for the time being. While Carnival is still four months away, the responsible action for the future of the activity in July is to be postponed to later in the year, discuss with the bands, health officials and other players another timing of the event. businesses such as cinemas would have to practice social distancing in their operations.
While we welcome the early closure of educational institutions, it would have been better that, our form IV and V students would have been going home with their laptops to complete their assignments and SBAs.
As a responsible organisation, the Saint Lucia labour party will suspend all its public meetings and town halls and observe social distancing at smaller internal meetings.
Furthermore, the government should create a corps of sanitation crews with the right equipment to help disinfect busy public places such as public transport, markets, public buildings and the like. The government should also pursue the installation of handwashing areas to aid in better hygiene.
We advise businesses to ramp up their sanitation and personal protection efforts – ensure that all staff and trained in keeping surfaces clean.
We must also prepare for the eventuality that we will have to close down the country for at least a short period to contain the virus.
Once a case has been suspected, the work of tracing who this person has come into contact with begins. We recommend that the government communicates honestly and truthfully with the population as to the details on all aspects of the disease generally.
The government must move speedily to ensure that the Hotline is up and manned 24-7 so that persons can quickly give and receive information related to Covid-19. It is essential, that there is messaging in Kwéyòl on the disease, particularly for the older segments of our population who are most vulnerable to the virus.
Treatment
We are relieved that after being placed on hold for over three years, the government may be forced to commission the Owen King European Union (OKEU) hospital.  We hope that the government will commit the necessary funds to acquire in short order more ventilators, respirators, and ICU equipment. Our healthcare system will be stronger in the long run.
The government should also reconsider its position regarding the St Jude hospital.
Access to goods and food supply
While it is true that we should prepare for any eventuality including large scale self-quarantining or even self-isolation, the government must assure the public that there is sufficient food on the island to provide a reasonable amount of cover. The government must also guard against price gouging of certain items. It would be a good idea for the government to purchase supplies such as soaps and sanitizers for broad distribution.
There must also be special support at this time for those who are most vulnerable (the poor, seniors and persons with disabilities) so that they can access food and other essentials. Now would also be an opportune time to ramp up local food production!
Support for jobs and the economy
We must find means to overcome the economic shock particularly on our tourism industry from COVID-19. There will be options available to the government. The World Bank has already indicated its willingness to support countries in quick time. However, we will require a sizable fiscal stimulus to counteract the loss in tourism revenue.
Therefore, the Saint Lucia labour party will support the government if it goes to parliament to break the lockbox which has been collecting airport tax revenue for nearly three years now. We believe it is the only large pool of funds the government can easily mobilize towards the costs of directly fighting COVID-19 as well as providing the kind of support necessary to businesses, employees and the unemployed.
We believe that the National Insurance Corporation (NIC) should play a role in providing "sick leave" benefits to persons who are quarantined, isolated or temporarily lose their jobs.
We must remember that there can be no economy without people.
Conclusion
This, therefore, is a time when we must put all our minds, our ideas, and our prayers together to save our country from the disastrous scenarios that we have witnessed elsewhere from a laissez-faire approach to dealing with the virus. Our recommendations are based on consultations and sound advice from medical experts and best practices from other countries that have been affected by the COVID-19.
We must be resilient against this virus. It will take discipline. It will take the giving up of some liberties for a while to secure them for everyone in the future. It will take you to change habits and adopting new social norms. It will take you to keep away from crowds more, and practicing social distancing. It will take all of us to keep an eye on everyone. It will take perseverance.
That will be an emotionally stressful time, the Saint Lucia labour party stands with the people of Saint Lucia. No one should panic. Yet we must be vigilant and take every precaution.
We shall overcome this but we must all be really in it together. I urge the government to take a bipartisan approach in defeating COVID-19.
We in the labour party are ready. Thank you and may God bless Saint Lucia.