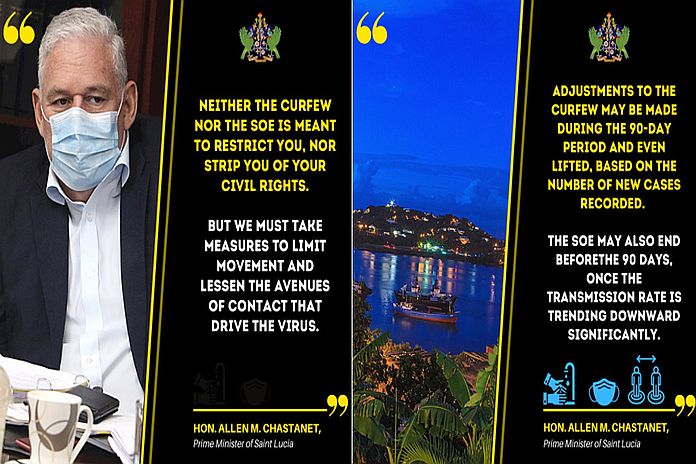 By Caribbean News Global contributor
CASTRIES, St Lucia (CNG Health) – While the parliament of Saint Lucia approved the State of Emergency (SOE), a change to the country's arrival protocols for international visitors and toggled on the debate over COVID-19 vaccines and procedural matters, February 9, 2021 – the Ministry of Health (MOH) confirmed 110 new cases of COVID-19 and three related deaths.
"The total number of deaths recorded in the country to date to is 22. Death #20 is a 69-year-old male from Anse La Raye with underlying medical conditions.  He was admitted on January 22, 2021, and was in critical care when he passed away on February 9, 2021.
"Death #21 is an 85-year-old female from Babonneau with underlying medical conditions. She was admitted into care on January 19, 2021, and passed away on February 8, 2021.
"Death #22 is a 63-year-old male from Castries with underlying medical conditions. This individual was admitted into care on February 1, 2021, and passed away on February 7, 2021," the MOH said in a press release February 9, 2021.
According to the MOH formulation and statistics, "there are currently 712 active cases with three being in critical care at the respiratory hospital. All of the other cases are presently stable. The new cases which have been confirmed now bring the total number of cases diagnosed in the country to date to 2137."
The debate in parliament lead by prime minister Allen Chastanet his servants and agents were at there lowest-ebb, at odds to reflect the reality of COVID-19 and "putting people first".  A concept the prime minister is at odds to understand. The alternative reality espoused in parliament proffers the people of Saint Lucia as "collateral damage".
"I believe our children are safer at school that some of the homes they are at," said Guy Joseph, minister for economic development, housing, urban renewal, transport and civil aviation.
Fabricating the truth is a natural manifestation of the government of Saint Lucia that coincides with "we are on the right track … Saint Lucia will succeed to bring this virus under control" is committed to "co-exist with COVID-19". #StaySafe #LetsKeepWorking 
#CNG Insights
In a related article St Lucia: SOE – Curfew to restrict opposition campaign ahead of general elections CNG stated that this is a ridiculous narrative.
Simply put; how can one co-exist with coronavirus that is likely to kill you?
Saint Lucians are losing the COVID-19 battle to death, community spread and a surge in coronavirus cases.
In a closing statement to parliament Tuesday, prime minister Chastanet disclosed that Barbados is donating 1,000 vaccines to Saint Lucia.
"On Monday, during a virtual engagement with members of the media, Indian High Commissioner to Guyana Dr K. J. Srinivasa noted that a quantity of these vaccines are already being transported to Barbados and Dominica. These countries, he explained, were among the first to engage India on securing vaccines."
PCR Test
Prior protocols called for a PCR test seven days before arrival, including five years of age or older, parliament approved a change in the country's arrival protocols for international visitors.
Effective February 10, all travelers must obtain a negative COVID-19 PCR test five days before arrival in Saint Lucia:
Must complete and submit a Travel Registration Form, which is found on the Saint Lucia COVID-19 Travel Advisory page at www.StLucia.org/Covid-19; print and travel with a copy of the auto-response email;
Must adhere to all safety protocols in place throughout Saint Lucia, including wearing a mask in public places;
Shall be subject to mandatory screening and temperature checks at ports of entry and throughout your stay;
Shall be transferred by certified taxi to COVID-19 approved accommodation.
"In order to co-exist with COVID, we must constantly evaluate our safety and travel protocols. In due consideration of all factors affecting the health of Saint Lucian citizens and international visitors, we are tightening testing protocols based on our current conditions," said Dominic Fedee, minister of tourism, in a press statement.
Health system strengthening project
In a related matter, the MOH and the World Bank announced their cooperation to strengthen the islands health care sector:
"The Health System Strengthening Project is a four- year project funded by the World Bank, being implemented by the ministry of health. It basically looks at strengthening our primary healthcare system as well as strengthening our preparedness for any public health emergency that we may have as well as the implementation of National Health Insurance."
"Citizens can expect to have a more strengthened primary health care system in terms of being able to access services there in terms of certain tests, doctors being available, regarding supplies, there is no shortage of supplies, we are also looking at persons not having to pay out of pocket to access services, so there will be a pre-payment mechanism which is really what the health insurance is and based on your package of services then you will be able to access care without having to think of how you getting those services. We can also expect to have a more strengthened public health response so that when we experience things like COVID-19 that we are not scrambling to try to put structures in place," MOH said in a press release Monday.