By Caribbean News Global contributor
CASTRIES, St Lucia – As the parliament of Saint Lucia completed a choreography passage of motions and bills, Tuesday May 4, 2021, the events of the police state outside parliament – expecting a planned mass crowd event witnessed the wasteful display of police resources for an entire day guarding themselves, fingering cell phones searching for enthusiasm.
The parliament of Saint Lucia was surrounded with police tape, barricades, armed SSU officers, [Special Services Unit] in battle gear and vehicles – perhaps expecting some type of riot with civilians.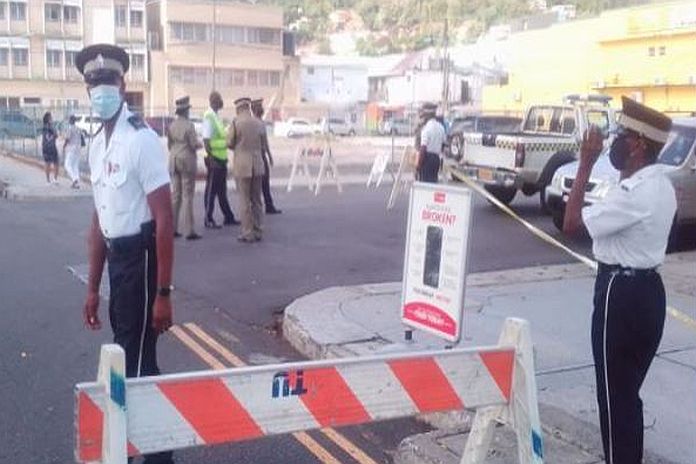 It turned out that the large gathering were members of the Royal Saint Lucia Police Force (RSLPF) policing themselves, in full battle gear and back-up positioned throughout the city of Castries. All of this was based on 'Facebook intelligence' that expected a mass gathering outside parliament, and expected to be in contravention of the COVID-19 (Prevention and Control) (Prohibition of Assembly) (No. 4) Order.
Tuesday turned out to be a massive false flag, that exposed a show of force and provided insights into police operations. This can also be seen as an exhibition on what to expect leading into the general elections. The prime minister usually refers to the RSLPF "as my police".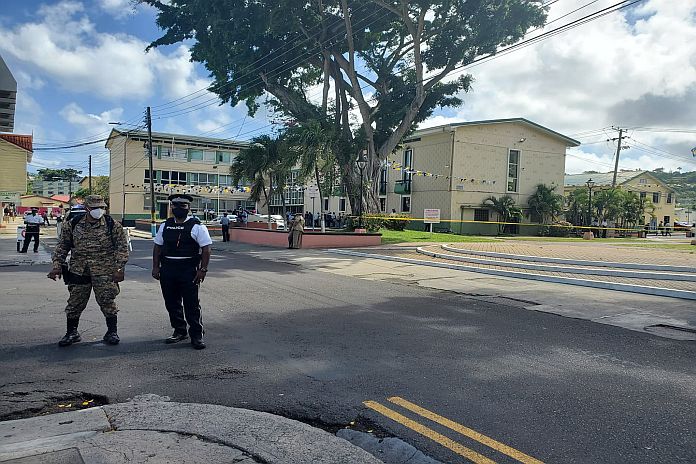 Facebook had a thrilling day, when 'not even the usual suspects showed up' outside parliament and in Constitution Park, where the debate/conversation is more productive/educational than parliament.
Instead, a 'virtual banging of pots and pan event' could be heard all over the island. #panthem #potsandpans
Perhaps the world-renowned [RSLPF] police band should have been invited to the correct response – May the force be with you.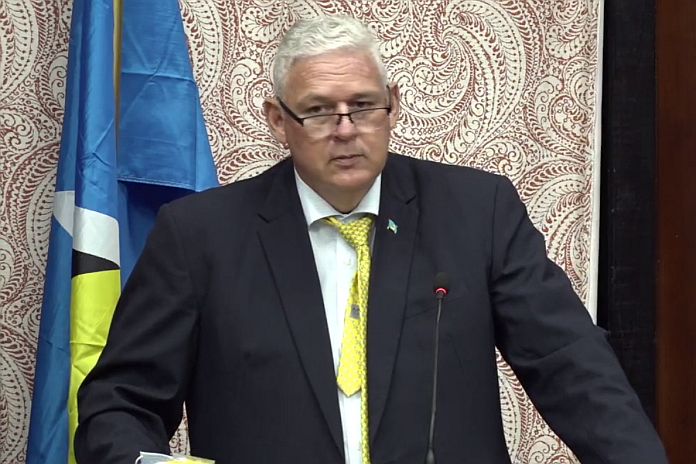 Saint Lucia is in an election year, however, the unpopular Allen Chastanet-led administration is attempting every conceivable means to delay the general elections.
According to Chastanet, on Tuesday, in defence of the extended State of Emergency (SOE) until October 16, beyond the 30 days extension to which election must be held, said:
"The state of emergency is required to be the legislative tool to allow us to implement a curfew system."
Such bologna is not surprising from 'a not too bright prime minister" [according to his peers].
Prime minister Chastanet, added: "The state of emergency is only being used to regulate the curfew times. As you have seen, the curfew times along with the economic activity are the two things we use to try to keep the COVID-19 under control."
While that illogic was being submitted, the Ministry of Health (MOH) records 12 new cases, Tuesday, May 4. A total of 74 COVID-19 related deaths; 100 active cases and a total of 4, 585 diagnosed in the country to date.
As of May 3, 2021, a total of 24, 473 individuals have received the first dose of the COVID-19 vaccine and 4, 982 individuals have received the second dose. Reportedly, there is widespread hesitancy and reluctance to get vaccinated. Saint Lucia requires approximately 110, 000 fully vaccinated persons to quality as 'herd immunity' to fully open the economy and its borders.
Meanwhile, the country is unable to source and pay for vaccines [totally dependent on donated supplies] the prime minister and the minister for tourism are talking 'tourism ' , 'Caribbean Bubble', cruise tourism and 'false hope'.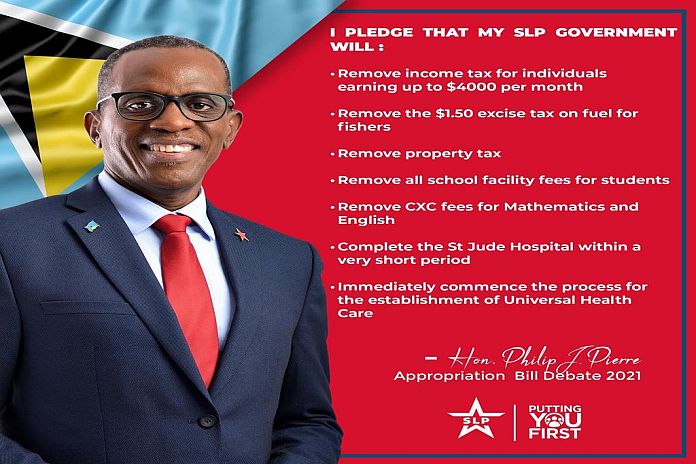 Leader of the opposition, Philip J. Pierre is consistent in his thought process, legal understanding and presentation of the facts, as delivered in parliament Tuesday.
The extension of the SOE is 'not necessary', Pierre said. "It is a ploy by the government using COVID as an excuse … to political manoeuvring." And while the Chastanet-led administration has "mismanaged COVID-19 response, they continue to make the people of Saint Lucia suffer."
Pierre's composure was focussed, as he compared facts vs fiction, taking apart the prime minister's dull and misguided inference to many infractions of an augmented reality.
Opposition leader Pierre, assured Saint Lucians' that "deliverance day is nigh", and as June 6 approaches, marking five years since the last general elections, "the Saint Lucia Labour Party (SLP) is preparing to deliver the people and country from a wicked and uncaring administration."