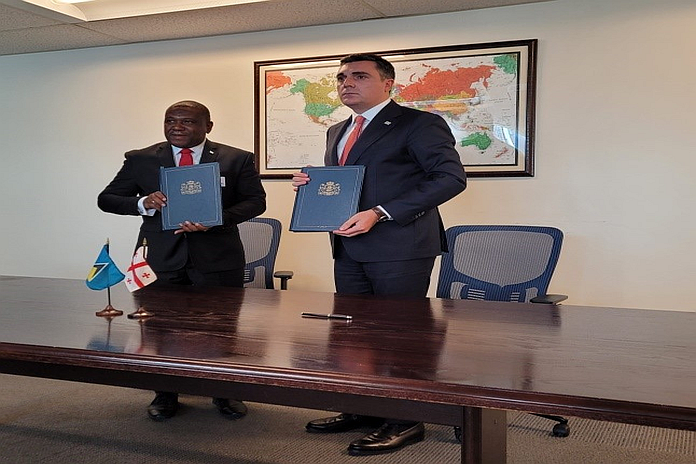 By Caribbean News Global

NEW YORK, USA – Saint Lucia's minister for external affairs, Alva Baptiste, and Georgia's minister of foreign affairs, Ilia Darchiashvili, signed a visa waiver agreement, Monday, September 19, that will facilitate travel between the two countries.
According to the ministry of external affairs, the agreement will facilitate the travel of nationals of the two countries to each other's territory without a visa not exceeding 90 days in any 180 days.
But really, the question is: "What drives that thinking?" How does this improve the lives of Saint Lucians? And whose interest does this serve? Is it foreign kleptocrats?
Reportedly, Georgia, a country at the intersection of Europe and Asia, is a former Soviet republic that's home to Caucasus Mountain villages and Black Sea beaches.
BBC report on Georgia's country profile reads in part:
"Since emerging from the collapsing Soviet Union as an independent state in 1991, Georgia has again become the arena of conflicting interests. Increasing US economic and political influence in the country has long been a source of concern for neighbouring Russia, as have Georgia's aspirations to join NATO and the EU."
Currently, 20 percent of Georgia's internationally recognized territory is under Russian military occupation. Thus, is Saint Lucia about to immerse itself in tense relation with Russia?
"Minister Baptiste noted that this latest initiative with Georgia sets the stage for further meaningful contact, and people-to-people exchanges, which are extremely useful in international relations, adding that the agreement signals his administration's commitment to meaningfully strengthen ties with countries with which Saint Lucia shares bilateral relations."
The meaning of this conflated "diplomatic language" is any ones guess! And most notable, in New York for the 77th Session of the United Nations General Assembly.
International observers have noted Saint Lucia's low-level diplomatic relations and the "foreign ministry interventions", which the intelligence community continues to put under scrutiny.
Moreover, in the interest of Georgia – Saint Lucia to facilitate visa-free travel: Who are the real beneficiaries of such and what is the socio, trade and investment, and economic value?
There seems a global disconnect!
According to a new Asian Development Bank (ADB) report, the Georgian economy is expected to slow to 3.5 percent in 2022 because of the Russian invasion of Ukraine, after promising double-digit growth in 2021.
Asian Development Bank (ADB) Country Director for Georgia Shane Rosenthal, said:
"Georgia is going to see the effect of Russia's invasion of Ukraine in the form of diminished tourism, exports, and remittances," adding, "To help the economy grow, the Georgian government needs to carefully prioritize expenditure after 2 years of expanded pandemic-related spending. It should also invest in urban areas in line with decentralization and invest in social sectors. And to ensure that all can participate in the economy, it is crucial to ensure high-quality education that reaches all parts of the country."
The biggest industries in Georgia are mining, agriculture, tourism and energy. However, inflation is forecast to slow to 7 percent in 2022 and 4 percent in 2023.
ADB, press release dated 6, April 2022, cites Georgia, "current account deficit is projected to widen to equal 10 percent of GDP in 2022 with a forecast rise in oil prices before narrowing to 7.5 percent in 2023. Exports are projected to increase by 12.1 percent in 2022 and 14.9 percent in 2023. As economic sanctions cut growth in the Russian Federation, remittances are forecast to decrease to $1.8 billion in 2022 and $1.7 billion in 2023."
Budget 2021 revealed Saint Lucia's overall unemployment rate was 21.9 percent in 2021, (with over 15,000 young people unemployed), while the youth unemployment rate stood at 37.0 percent. The current level of public debt now stands at 90.6 percent of GDP of EC$4.13 billion."

Declining GDP – 12.2; 9.1; 5.8; 2.1;1.7;1.5 %;
On current policies, public debt is projected to remain close to 90 percent of GDP – currently 90.6%;
Medium-term potential growth estimated at 1-2% per year
Inflation is expected to reach 6.4%;
Vulnerability to liquidity pressures.
Examination of commonalities between Georgia – Saint Lucia is the tribute of "conflicting interests" and "external realities" that shape the fates of both countries.
Saint Lucia needs to do better to avoid unnecessary risk. There is a need to practice deeper thinking, alongside its policy formulation and – "supposed accomplishments and interventions" – on the diplomatic front, which is neither forward-thinking nor inspirational.