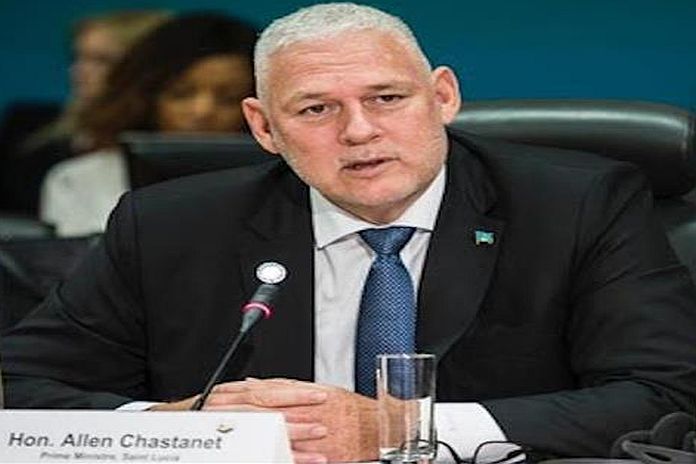 By Caribbean News Global

CASTRIES, St Lucia – Prime minister Allen Chastanet yesterday presented a statement to parliament on the motion to extend the State of Emergency, to September 30, 2020, accompanied a COVID-19 status report, more in-keeping with the descriptive alternatives for invariant.
The prime minister's motion was extensively debated by opposition parliamentarians, however, unaffected by a designated operation or transformation, no member on the governing side of parliament contributed to the debate.
This restores the government campaign slogan (Yo-Pere) meaning –  They are afraid.
The question is why? #YoPere #VoteTheWorkers
Outside parliament yesterday, security forces sealed the parliament building – separating the people from there representatives, all be it for a moment until common sense prevailed, and police barriers were re-adjusted.
On Facebook earlier today, Claudius J. Francis inquired:  "Nearly three months into the State of Emergency a four-month extension was granted yesterday – I again ask what I have asked for the past three months; What is the power required by the prime minister to handle the COVID-19 pandemic that does not already reside in the Public Health Act Cap11:01 and the Quarantine Act Cap 11:16 that he needed a State of Emergency declaration?"
Dr Stephen King replied:" The Public Health Act and the Quarantine Act give authority to the Ministry of Health to do all that is necessary in a health emergency. It is true that regulations specific to this type of health emergency (COVID 19) need to be developed however the Acts give the Ministry of Health the power to do so. Regulations are approved by Cabinet and do not need to gain parliamentary approval. This was why in my notes on an exit strategy, I made the point that the Ministry of Health should ensure that the Public Health Board be strengthened for it to be a truly multisectoral "competent authority" and that this board should oversee the COVID-19 emergency health response. There is no need in my opinion for the state of emergency if we establish the public health board properly and give it the mandate with the necessary regulations."
Meanwhile, the international marketplace depicts the following: "St. Lucia's announcement of a June 4th welcome date is great news for those hoping to visit, but the draconian measures sound somewhat like a very expensive trip to prison, albeit a beautiful palm tree-filled one," adding, "if you've got more questions than answers, the country did do a wonderful job creating a FAQ, writes godsavethepoints.
According to the prime minister, "We never thought for a minute that Saint Lucia would be spared from the spread of COVID-19 and so we carefully planned and prepared to minimise its impact on Saint Lucia", albeit, the government of Saint Lucia has demonstrated that "economics has no conscience …  colonialism had a conscience," ~ prime minister Chastanet.