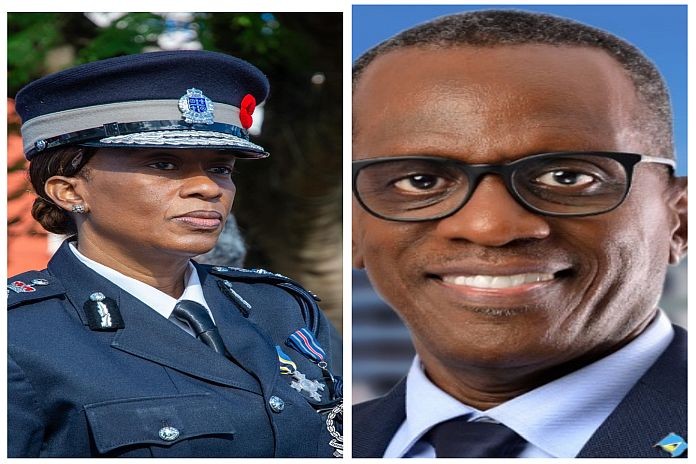 St Lucia records 62 homicides and counting
Guns, drugs, and gangs operate at will
National security minister has 'no disciplinary powers'
Commissioner of Police (Ag.), is a decorated police officer
By Caribbean News Global

TORONTO, Canada – Prime Minister of Saint Lucia, Philip Pierre has apparently said [ if the audio interpretation is correct, and that he did not mis-spoke] courageously pointed out that, "fundamental changes in the police force that are necessary, are beyond my control," during an appearance on HTS programme 'What Makes You Mad', on Thursday.
Caribbean News Global (CNG) has repeatedly conveyed that the image and functionality of The Royal St Lucia Police Force (RSLPF), is tattered and complex.
Reference can be made of many publications including:
St Lucia's Gazetted police offices should be sent packing: and
To reiterate, it is my view that the RSLPF must be disbanded in much the same as Minneapolis disbanded its police department seven years ago.
Further, the contemptible press release issued by the RSLPF, Monday, June 15, says it all – the RSLPF is unfixable, devoid of norms, and must be disbanded forthwith. And if the RSLPF represents law and order, then it is worthy of note the reputation of the police force, the connotations of IMPACS, and that the future of the police force is undeniable – it must be disbanded forthwith.
Prime minister and minister for national security may have also inadvertently announced that the "only change he could make in the police force is at the level of Commissioner".
Thus it resonates to re-examine policy agenda, the continuation of a flawed and broken RSLPF and a national security system, operating at an unbearable cost to taxpayers – delivering unsatisfactory service.
On Monday, October 17, prime minister Pierre, announced the appointment of Crusita Descartes-Pelius as the Commissioner of Police (Ag.), to succeed police commissioner Milton Desir, who commenced pre-retirement leave on October 14.
Crusita Descartes-Pelius, Commissioner of Police (Ag.), is a decorated police officer with more than three decades of experience in law enforcement. She previously served as the Assistant Commissioner of Police (ACP) responsible for corporate services and strategic operations.
Last evening, Saint Lucia recorded its 62nd homicides with 2.5 months left in 2022, on target to break its all-time record. Meanwhile guns, drugs, and gangs operate at will,  state authorities say nothing, do nothing and see nothing.
Prime minister and national security minister Pierre also disclosed some measure of displeasure with the Public Service Commission/Chairman, as explained – what is within his control is providing the police with resources, boosting their morale and speaking to them about unacceptable practices, admitted: "But I have no disciplinary powers."
As CNG explained in previous publications, the RSLPF and public service are arcade and dysfunctional vestiges of the colonial system, that pivots the governance of the country and cajoles the political system for legitimacy.
Commenting on the subject matter: The Honorable Lucian Highgrade November 17, 2022 At 2:07 pm, wrote:
"Typical British System most honorable to the untrained psych and those Masa lovers they would not understand why we need to be a republic to get away from these British institutional control system."
As substantial matters now stand – the RSLPF and the public service; two vestitures of colonial systems – have become the elephant in the room and needs to be disbanded.
There is benefit in shrewdness #putting people first and #protecting the victory, which requires prime minister Pierre to be fearless in standing up to squander #protecting the country's resources.
That might is right, to restore poor decision-making over the years.